The document titled "A Study of Active Shooter Incidents in the United States Between 2000 and 2013" was released by the FBI in 2014 to provide data to law enforcement and private security professionals.
This document, as well as others from ASIS International, are outstanding resources for all dedicated to prevent, prepare, respond, and recover from senseless tragedies reflecting America's culture of trauma.
Mass shootings are often used interchangeable with active shooter, understood according to the FBI as a situation in which a shooting is in progress. An aspect of the crime may affect the protocols used in responding to and reacting at the scene.
The antidote to this culture of trauma is police-community unity, indispensable to the security of our society.
Active Shooter: An American Reality
According to the FBI document, the agreed-upon definition of an active shooter is "an individual actively engaged in killing or attempting to kill people in a confined and populated area."
Tragically, the active shooter is an American reality that can take place at any time, and at any place, including malls, schools, campuses, open spaces, government properties, residences, houses of worship, health care facilities, cultural locations, or tourist sites.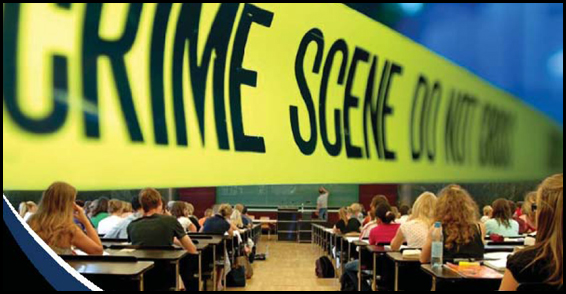 Mass Shootings: Alarming Uptick
According to published reports, and certainly indicated by incidents with disturbing consequences, mass shootings are happening at an accelerated pace in 2016, compared to 2015.
So far this year, 49 mass shootings in America have resulted in 73 fatalities and 178 wounded.
One of these tragedies was at the Excel Industries plant in Hesston, Kansas, on Feb. 25, with three people killed and 14 wounded.
Another incident included a 5-hour rampage in Kalamazoo, Michigan, on Feb. 20, with an Uber driver charged with 6 counts of murder.

Security: Basic Principles
As detailed in my article titled "Mass Shootings: America's Public Health Crisis," published in the Epoch Times on Dec. 10, 2015, vigilance is critical and "a robust security program must be comprehensive, proactive, and continually updated. Security must never be piecemeal, negligent, or have its importance minimized."
The article argued that security must include security vulnerability assessments, background checks, investigations, training (including warning signs), physical security, personnel security, procedural security, and informational/cybersecurity.
Police Fatalities: Alarming Uptick
Compounding the mass shooter incidents traumatizing American communities, the National Law Enforcement Officers Memorial Fund (NLEOMF) reports an alarming uptick in firearms-related fatalities of law enforcement officers in 2016.
As of Feb. 29, there have been eleven law enforcement officials killed by firearms for an increase of 1000 percent compared to this time period in 2015.
These senseless killings of those called to protect America as ethical sentinels have wounded communities and broken the hearts of families in Colorado, Mississippi, Georgia, North Dakota, California, Maryland, Oregon, Florida, Ohio, Utah, and Virginia.
Every death of a police officer is a tragedy as America's law enforcement is a national treasure, but the recent killing of police officer Ashley Guindon of the Prince William County Police Department in Virginia on Feb. 27 is particularly heartbreaking.
Officer Guindon was shot and killed while responding to a domestic dispute call and two other officers responding with her were also shot and wounded.
It was her very first day of work as a police officer, since Officer Guindon had just taken her oath to protect and serve the day before.
She was also a member of the U.S. Marine Corps Reserve.
As a news conference, Chief Stephan Hudson stated that Officer Guindon "did share with us that she felt like she wanted to do this job. She could not get it out of her blood. She clearly had a passion to serve others in a way that went beyond herself. We were struck by her passion to do this job."

Police-Community Unity: Culture of Trauma Antidote
Violence has been unleashed in America, as video allows us to witness horrific mass shooting incidents and reprehensible killings of law enforcement officials.
The pervasiveness of violence has no end in sight and every community, citizen, and police officer is a potential victim.
The antidote to this culture of trauma is police-community unity, indispensable to the security of our society.
Citizens and law enforcement must unite and turn the tide of this culture of trauma. America's healing will only be possible with ethical leadership, unwavering collaboration, and moral courage. We must vigilantly work together for the common good.
When our communities and police are infused by an ethical compass, a unity of effort that builds bridges rather than walls, and a passion to do what is right for America, we will be on the path to reawakening the nation.

Vincent J. Bove, CPP, is a national speaker and author on issues critical to America. Bove is a recipient of the FBI Director's Community Leadership Award for combating crime and violence and is a former confidant of the New York Yankees. His newest book is "Listen To Their Cries." For more information, see www.vincentbove.com
Views expressed in this article are the opinions of the author and do not necessarily reflect the views of The Epoch Times.