Mass evacuations have been ordered in coastal areas of North and South Carolina, Virginia, and Maryland, as Hurricane Florence barrels toward the region on Tuesday, Sept. 11.
States of emergency have been declared in all four regions, with an evacuation order in place for around 245,000 residents in coastal Virginia from 8 a.m. local time.
"This is a serious storm and it's going to effect the entire state," Virginia's Governor Ralph Northam told a news conference. "Everyone in Virginia needs to prepare."
In South Carolina, more than a million residents have been ordered to leave starting at noon on Tuesday.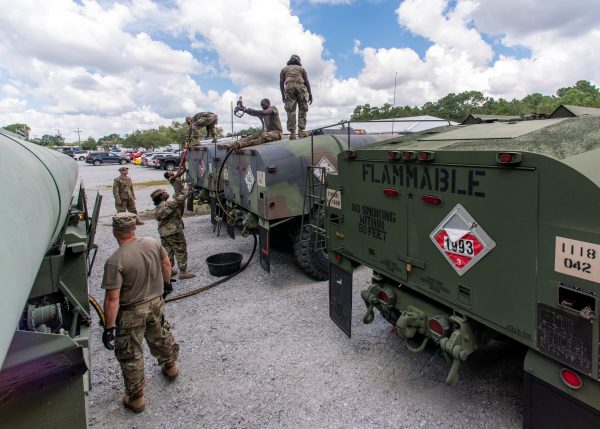 Hurricane Florence has already been measured at 140 mph, but is expected to grow even stronger by the time it makes landfall on Thursday, Sept. 13. Most likely it will hit first in southeastern North Carolina near the South Carolina border, the National Hurricane Center (NHC) in Miami said.
Over 50,000 people were ordered to be evacuated on Monday from Hatteras and Ocracoke in North Carolina, with another 250,000 set to leave from the northern Outer Banks on Tuesday.
Authorities have warned of the potential for widespread flooding and torrential rains if the storm lingers inland for several days.
There could be "staggering" amounts of rainfall, said NHC Director Ken Graham, with possible flash floods across the mid-Atlantic region.
Graham forecast 10-15 inches of rain in the hardest-hit areas.
Residents in the Carolinas began preparations for what could be a deadly storm, boarding up windows and stocking up on water, gasoline, and groceries.
Jennifer Oosterwyk, who owns the Sugar Britches boutique on Holden Beach in North Carolina, has been securing her home and possessions.
"It's scary to all of us. We know we can't play around with this," she said.
Florence is the first storm of its size to target the Carolinas since 1989, when Hurricane Hugo swept over Charleston, South Carolina.
Reuters contributed to this report.