Secondary school students are to be mass tested for the CCP virus in parts of London, in Essex where it borders the capital to the northeast, and in parts of Kent to the southeast.
Health Secretary Matt Hancock said in a press briefing from Downing Street on Thursday that cases are on the rise in all three areas but "by far the fastest rise is among secondary school age children, 11 to 18-year-olds."
He warned against waiting for the review of the current 3 Tier restrictions that is due on Dec. 16 and said testing needed to start straight away.
"We are therefore surging mobile testing units and we will be working with schools and local authorities to encourage these children and their families to get tested over the coming days," he said.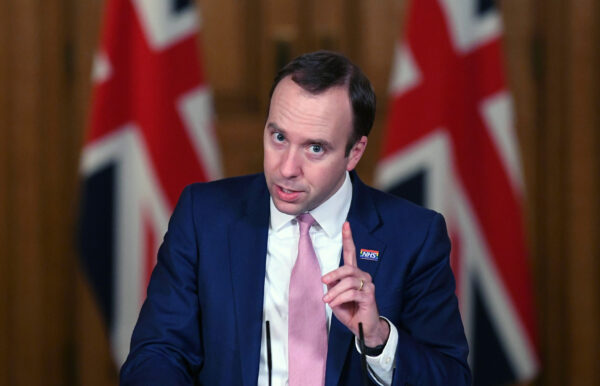 He said the 11 to 18-year-olds should be tested irrespective of whether they have symptoms.
"Around 1 in 3 people with COVID have no symptoms at all but they can still pass it on to others," he said.
London is in Tier 2 of the current curbs put in place to slow the spread of the virus, going into the "high alert" category on Dec. 2 when Britain's second national lockdown ended.
In the most recent week of complete data up to Dec. 5, 191 new cases per 100,000 people were recorded in the capital, up from 158 the previous week.
The rising cases have provoked fears that London could be moved up into the "very high alert" category of restrictions before Christmas.
'Tipping Point'
"Londoners have made monumental sacrifices this year. None of us want London to move into Tier 3," London's mayor Sadiq Khan wrote on Twitter on Friday.
"But with cases rising, we're at a tipping point."
Since the first lockdown in the UK, the government has adopted a "first to open last to close" stance on schools.
On Thursday, Hancock said keeping schools open was "both right for education and right for public health," triggering the need to "take targeted action immediately" on the testing plan for secondary schools.
Medical expert opinion has given the plan a cautious welcome.
Paul Hunter, professor in medicine at the University of East Anglia, said that apart from school closures, which would be unpopular, testing was the only way to address the higher transmission rates in the secondary school age group.
He said, however, that to safeguard pupils' education, the programme would have to be delivered in the right way.
"Any form of mass testing will not achieve its objectives unless properly targeted and those found to be positive managed and supported to self-isolate in a way that minimises any damage to their education," he said in a statement.
Vaccination Roll-Out
Hancock's plan for testing in secondary schools comes after Britain on Tuesday began vaccinating patients against the CCP (Chinese Communist Party) virus, becoming the first country in the world to roll out the Pfizer/BioNTech COVID-19 vaccine.
But despite being able to see that "we've got help on the horizon," Hancock said it would still be some time before the population would be protected by immunisation.
"Even with this mass vaccination programme, for the next few months, we will not have sufficient protection through the vaccination programme," he said, and urged people to "keep respecting the rules."
"We can't stop that now, just because the vaccine is here," he said.
Alexander Zhang contributed to this report.