California officials have again extended the deadline for delivery of protective N95 respirator masks as part of Gov. Gavin Newsom's $1 billion deal with a Chinese company after the masks failed to pass safety certification for the second time.
State officials amended the contract a second time on June 5 to give the company responsible for providing the masks, BYD (Build Your Dreams) Auto Co., until June 12 to receive certification for the masks, said Brian Ferguson, a spokesman for the Governor's Office of Emergency Services, according to The Associated Press.
BYD was forced to return half of the initial $495 million down payment in early May when the first batch of masks they delivered in April failed to get the required approval of the National Institute for Occupational Safety and Health (NIOSH).
Following an amended contract, BYD had until May 31 to deliver N95 masks that passed NIOSH certification standards, or they were required to return the remaining $247.5 million to the state by June 5. The deadline was not met.
The original contract was for a total of 300 million N95 masks, used to protect health care workers and medical first responders during the COVID-19 pandemic, at a cost of $3.30 per mask.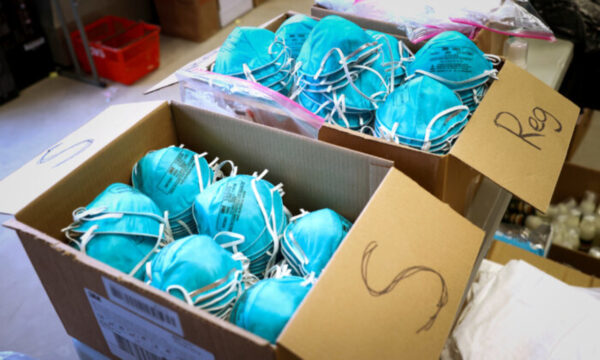 Assemblyman Kevin Kiley (R-Rocklin) told The Epoch Times that the contract should be voided.
"The contract says that if they miss this deadline, that the contract is void. They didn't make the deadline, and so, per the terms of the contract, it's void, and we're owed a refund," Kiley said.
Kiley said he warned Newsom that there were known problems with BYD's reputation for quality, and questioned the company's ability to deliver masks that would meet federal safety certification standards on time.
"The mask deal illustrates very clearly why we can't have the governor acting unilaterally," Kiley said. Newsom "made so many mistakes and didn't keep the legislature informed," he added. "He negotiated on his own."
At a press briefing on June 5, Newsom focused on a separate contract with BYD for loose-fitting surgical masks.
"Over 90 million masks have come in off that contract," Newsom said. "And, as a consequence, we've been able to distribute tens of millions of masks throughout our economy, different sectors of our economy, including commitments we're making to our public education system, our child care providers, and essential workers that are disproportionately represented in the black and brown communities."
Newsom did not address the ongoing status of the N95 contract, but said his office would be able to provide clarification about the deal soon.
"We pay for what we get; we don't pay for things we don't get," Newsom said. "We've been working with other providers, and we'll have a backup to that backup."
Newsom first announced the billion-dollar deal April 7 on MSNBC's Rachel Maddow show. He then faced bipartisan backlash for making the deal without legislative approval. Despite repeated requests by lawmakers, Newsom's office did not release the contract until May 6.
Critics of the deal have questioned both the cost of the masks and the choice of the company, while proponents have cited the timely need for protective equipment.
Ferguson told The Epoch Times on May 8 that the original set of masks didn't fail the NIOSH test, but rather had not passed certification at that time. He had not responded to The Epoch Times since the May 31 deadline passed.
"It shows you why we don't have one-man rule as our form of government, because you have these kinds of problems," Kiley said. "This failure of a deal should be a wake-up call that the governor cannot continue to act like he is the only source of authority in our government."
Representatives for BYD had not replied to a request for comment prior to publication.