The New South Wales government will make it compulsory for all attendees to wear a mask at the Sydney Cricket Ground for the upcoming test match. And will increase police presence in and around the stadium to enforce public health orders.
State Health Minister Brad Hazzard has said unequivocally that face masks must be worn at all times.
"From the moment effectively you get into the transport to there and get in the queue at the front of the SCG and go to your seat … you must wear a mask," he said. "The only exception to that is if your eating or drinking."
The new rule comes after Victoria's Health Minister Martin Foley reported that one spectator at the Melbourne Cricket Ground test match on Dec. 27 tested positive for the CCP (Chinese Communist Party) virus (novel coronavirus.
Hazzard noted that the news that a spectator with COVID-19 had attended the Melbourne stadium had influenced the NSW government thinking on increasing the test match's health regulations.
"The evidence that's come off this morning from the Victorian situation is such that the public health officials were of the view we need to step it up to that higher level," Hazzard said.
In addition to the $200 fine for not wearing a mask, Hazzard noted that there would also be a $1,000 fine if people from any of the COVID-19 hotspots attempt to attend the SCG test.
Currently  Berala and nearby suburbs and Wentworthville and Belmore are on the do-not-attend blacklist. Any person who sat in zone five of the MCG's Great Southern Stand in Melbourne is also banned from attending the SCG Test.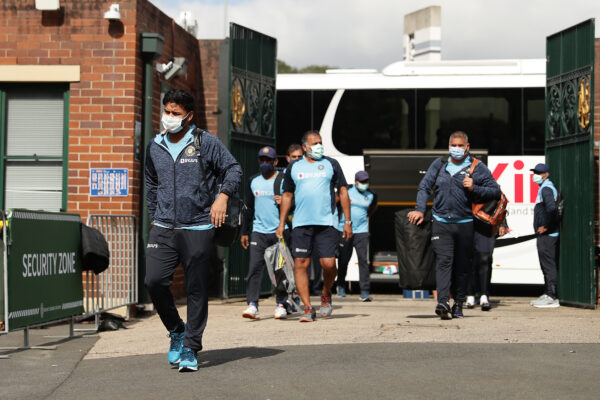 The increasing health measures come as the NSW government has been increasing its health regulations for the Greater Sydney Area, including Wollongong, Central Coast and the Blue Mountains.
On Sunday the state government implementing a compulsory face mask rule for certain indoor settings after sustained pressure from the Australian Medical Association and opposition ministers.
NSW police told The Epoch Times that as of midday on Wednesday 8 people have been issued on-the-spot fines for not wearing a mask.
Read More
The Australian Medical Association led calls for the third Test to be played in front of no fans because of the risk it poses as a potential coronavirus super-spreading event.
NSW has reported six new cases of COVID-19 with no record of anyone in ICU or deaths according to COVID-19data.com.au.
The AAP contributed to this article.