Maryland Healthcare Consumers to Receive Summer Rebate
July 1, 2013 7:51 pm Last Updated: June 24, 2015 8:40 pm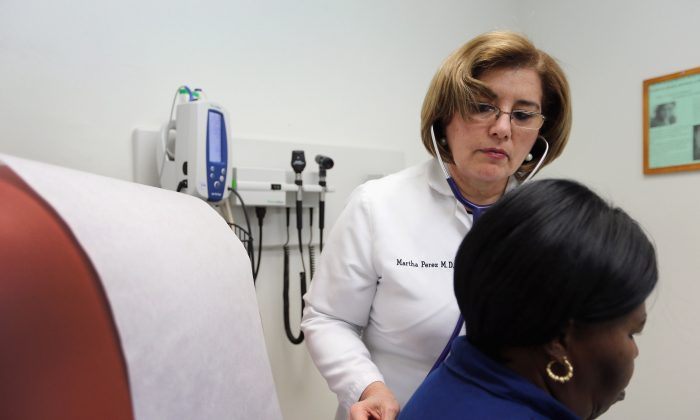 GAITHERSBERG, Md.—Department of Health and Human Services Secretary Kathleen Sebelius announced last week that Maryland residents will benefit from more than $ 13 million in rebates from insurance companies this summer.
The Department of Health and Human Services expects each insured family will receive an estimated average of $143 as a result of an Affordable Care Act provision. Rebates will go to people in every state.
In a recently issued report HHS attributes consumer rebates to the Medical Loss Ratio, known as the 80/20 rule of the Affordable Care Act. The rule requires that insurers spend 80 cents of every premium dollar on improving the quality of patient care. If insurers spend more than 20 percent of premiums on salaries, bonuses and other expenses unrelated to patient care, they're required to return the money to consumers, according to HHS. 
"The health care law is providing consumers value for their premium dollars and ensuring the money they pay every month to insurance companies goes toward patient care," Sebelius stated in a press release. "Thanks to the law, 8.5 million Americans will receive $500 million back in their pockets and purses."
According to reports, to avoid rebate payouts, insurers have lowered the cost of insurance premiums and made other efficiency modifications to health care programs. Premiums were reduced to the extent that 77.8 million healthcare consumers saved $3.4 billion on premiums in 2012. 
"This is what the American people deserve," said Congressman John Sarbanes, referring to the 80/20 rule and the rebates in statement released by his office. 
However, the reduction in premiums in 2012 has some industry analysts questioning whether insurance premiums will increase in 2014 as a result of other provisions in the health care law.
Gary Cohen, the director of the Center for Consumer Information and Insurance Oversight stated that insurance premiums are largely affected by competition, with states with more health insurers in the market offering more competitive rates in a report on ModernHealthcare.com.
Maryland Health Care Exchange
Maryland's state government is rushing to prepare for the launch the new Health Care consumer website, the Maryland Health Benefit Exchange set to launch on Oct. 1, 2013. The deadline comes from the January 2014 implementation of the Affordable Care Act Provision that will require that all Maryland residents have some form of health Insurance or face fines. 
On the Health Care Exchange website, Maryland residents will be able to compare public and private healthcare policy options and determine their eligibility for assistance programs. 
Carolyn Quattrocki of the Governer's Office of Healthcare Reform discussed the reforms set for in January 2014 at a Latino Health Forum in Silver Springs, Maryland on May 15. 
" We're aiming to increase enrollment in PAC, [Primary Adult Care], said Quattrocki. The Primary Adult Care program that is currently offered is limited, according to Quattrocki.
The Health Benefit Exchange is one of 16 recommendations made by Health Care Reform Coordination Council, established by Executive Order in 2010 to examine the Affordable Care Act and assess how Maryland should implement what it requires.
Maryland residents may see additional changes to their health care policies as new provisions in the Act start in 2014. Essential health benefits defined by the AFA must be covered in programs inside and outside of the Maryland Health Exchange. Hospitalization, prescription drug coverage, and mental health and substance abuse treatment are defined as essential, so the law requires health insurance coverage for all those services. 
Lt. Gov. Anthony Brown announced that six agencies in Maryland are assigned to help residents understand their private and public health care choices. The six agencies comprise the Maryland Health Connection program, according to Brown.
"Creating a customized outreach program for each region will allow the navigators to address the specific needs and resources of Marylanders throughout the state," stated Dr. Joshua M. Sharfstein, Secretary of the Department of Health and Mental Hygiene and Chair of the Board of the Maryland Health Benefit Exchange in a press release.