Martin Luther King III, son of the civil rights leader, said that if fans didn't watch NFL games, Colin Kaepernick would get signed by a team.
King told TMZ that the free-agent quarterback, who is best known for kneeling during the national anthem before games, that he would be playing the league if fans united behind him.
"What would change it overnight is if the public decided, 'Okay, we're not going to watch,'" he said, referring as to whether Kaepernick would get signed.
"The industry did blackball him, which is not good," King added. "He certainly is one of the most talented quarterbacks even today, probably."
"There are times when you need strategic quarterbacks who have a proven record," King added. "And, certainly, Colin Kaepernick is one of those."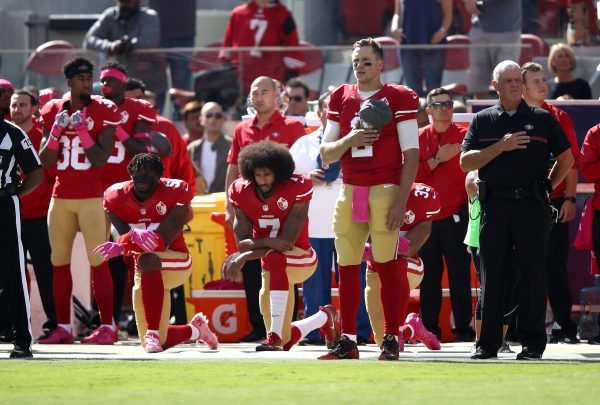 Overall, Kaepernick had 58 starts during his six-year career in San Francisco, leading his team to multiple playoff berths and a 2013 Super Bowl loss against the Baltimore Ravens, according to ESPN.
But before Kaepernick became a free agent, then-San Francisco 49ers coach Chip Kelly benched Kaepernick in favor of back Blaine Gabbert during a loss to the Chicago Bears after he completed only five passes for 4 yards.
During the previous season, former coach Jim Tomsula benched him for Gabbert due to poor play in the 2015 season.
"Kaepernick is a clearly regressing quarterback who has struggled not only with the rudimentary passing elements such as accuracy, anticipation, and touch but also with protections, field vision, and decision making. His startling lack of field vision and awareness in Week 8 was perhaps the last straw," the NFL Network wrote at the time. That was written before Kaepernick began kneeling during the playing of the "Star-Spangled Banner."
Reaching Out to Teams
CBS Sports reported that three teams were contacted by Kaepernick's agent. The same report said he is willing to be a backup.
A SportsNet New York reporter, Chris Williamson, also wrote that Kaepernick's agent has reached out to several unnamed teams.
"Colin is literally in the best shape of his life. He's been working out five days a week at 5 a.m. for three years. He wants to play and his agent has been contacting teams in need of a QB," a source told him, he wrote on Twitter.
Source close to @Kaepernick7 in light of all the QB injuries: "Colin is literally in the best shape of his life. He's been working out 5 days a week at 5 am for 3 years. He wants to play and his agent has been contacting teams in need of a QB."

— Chris Williamson (@CWilliamson44) September 17, 2019
ESPN commentator Stephen A. Smith also said that Kaepernick's agent reached out to the Jets, Saints, and Steelers.
"I am being told that he has contacted—Colin Kaepernick's agent and others—have contacted the Pittsburgh Steelers," Smith said. "Essentially, they're not interested. They've contacted the Jets, no word on them yet. They've contacted the Saints. They didn't get their phone calls returned."
It comes as injuries to Pittsburgh Steelers quarterback Ben Roethlisberger, New Orleans Saints quarterback Drew Brees, and Jacksonville Jaguars quarterback Nick Foles during the first two games of the 2019-2020 season. Roethlisberger is expected to be out for the rest of the season, and Brees is expected to miss several games.