Mars or Bust: 8,000 Canadians Sign Up for Mission to Red Planet
September 10, 2013 9:13 pm Last Updated: September 12, 2013 1:19 am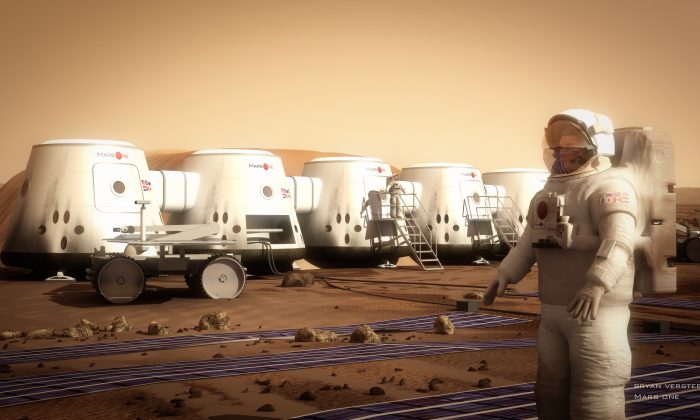 Despite extreme temperatures, barren terrain, and no chance of returning to Earth, over 8,000 Canadians have signed up for Mars One—a one-way space mission to colonize the red planet. 
The first round of the Mars One Astronaut Selection Program began in April and closed Aug. 31, attracting 202,586 applicants from around the world. Of those, Canada had the sixth highest number of mission hopefuls—8,241 in all.
Canadian applicants have given a multitude of reasons for choosing to desert their home planet—from adventure and scientific exploration to seeking the meaning of life—and all are now waiting to find out if they will pass through to the next stage of the application process.
One of the first Canadian applicants, Ottawa native Andrew Rader, a spacecraft systems engineer and winner of Discovery Channel's "Canada's Greatest Know-it-all," has called the mission "the most important endeavor in human history" and believes it will be successful.
"Humans have been in space for 52 years. Now is the time for us to embark on this great adventure," said Rader, 34, in his Mars One application video. "There's a new world out there waiting for us, we know how to get there."
Mars One, the brainchild of Dutch entrepreneur Bas Landorp, aims to establish a permanent human settlement on Mars in 2023. If the first settlement, which will cost about $6 billion, is successful, the mission is designed to expand by bringing new people to the planet every two years. 
Organizers have said the mission can only be one way because the technology for a return mission to earth "does not exist."
The key qualities that will define successful candidates for the mission are resilience, adaptability, curiosity, ability to trust, and creativity/resourcefulness, according to Mars One. The astronauts will also need to be emotionally and psychologically stable, with a "capacity for self-reflection."
'Hope for tomorrow'
One of the youngest Canadian applicants, 19-year-old Conner Martz from Waterloo, Ontario, says he wants to go to Mars because the survival of the human race depends on colonizing other planets. 
"This is something I've always had great passion for," he wrote on his application profile. "As a child I would stare at the night sky and wish only to explore. This mission is the perfect chance for my dream to become realized."
Applicant Pamela Nicoletatos, 40, a Canadian mother who currently resides in the Netherlands, says she wants to be a part of the mission to inspire her two young boys, whom she home-schools. 
"The skills that I've built from home-schooling and life experiences I think would be of great benefit to any Mars One colony team," she said.
Michael Naum, 54, says he applied for Mars One because it would "push mankind forward into space travel and give our children hope for tomorrow and beyond."
"I have always wanted to do something extraordinary with my life to make the world a better place," he said. "This would complete my life's dream without any regrets."
Mars One had hoped to attract up to a million applicants from around the world when it first launched, but fell far short of that goal, ending up with just over 200,000.
The top 10 nationalities to apply for the mission include the United States (47,654 applicants), India (20,747), China (13,176), Brazil (10,289), Great Britain (8,497), Canada (8,241), Russia (8,197), Mexico (7,464), Philippines (4,365), and Spain (3,722).
Candidates selected from the first round will be given a medical assessment and undergo extensive interviews with a Mars One selection committee. Those who pass to round two will participate in challenges that will be broadcast on TV and the Internet to demonstrate their suitability for the space mission. Audience members will vote on some of the winners for each region.
The final round be will an internationally broadcast event where 24-40 remaining participants will be chosen by demonstrating their ability to live in harsh conditions and work together under difficult circumstances.
The selected applicants will undergo an extensive training program of six to eight years that will prepare them for the mission.