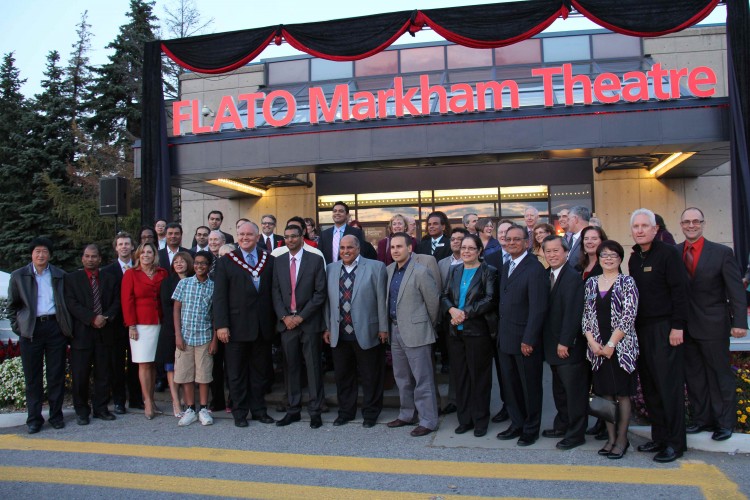 MARKHAM, Ontario—Markham mayor Frank Scarpitti wants people to share in the joy of arts and culture, and hopes every child in the city will experience live theatre.
The opening of the Flato Markham Theatre on Sept. 28 promised an impressive lineup of more than 300 performances over the season, including big names like Matt Dusk, The Temptations, and the Blues Brothers.
Mayor Scarpitti was joined at the opening by Eric Lariviere, the theatre's general manager, and businessman Shariq Rehmatullah, president of Flato Developments Inc., a Markham-based real estate company that signed a $1 million sponsorship agreement with the theatre in exchange for naming rights.
"We are proud, everyone in my company—we are proud and we are honoured to enter into a sponsorship agreement with the city. [It's] something that is going to give back to the community, something which is going to add to the arts and culture of our community," said Rehmatullah at the unveiling.
Rehmatullah, who lives in Markham, felt the sponsorship to be a good way to give back to the community, particularly since arts and culture holds a special place in his heart.
"I'm always touched whenever I go to a museum or theatre … so that's why I decided to go for it," he said in an interview.
Scarpitti emphasized the importance of arts for the City of Markham, particularly in bringing people together.
"It's amazing how arts and culture really breaks down all of the boundaries that we may think are there—because we all like to dance, we all like to sing, we all like to play, we all like to dream, and certainly the arts and culture within our community allow all of that to happen," he said.
The theatre aims to attract audience members through world class programming, as well as special education programs for young people. The sponsorship agreement will be an important component in realizing this goal, said the mayor.
"We're going to get more kids, and hopefully eventually every child in the city of Markham [will] come and experience art here at the Flato Markham Theatre," he said.
The agreement with Flato Developments is the city's first major step in its naming program, said Scarpitti.
The unveiling marked the season opening of the theatre and featured Ballet Jorgen's rendition of the ballet classic "Swan Lake." The ballet company, which marks its 25th anniversary this year, opened to a sold out performance.
Serving a community of over 310,000 local residents as well as the Greater Toronto Area, the 530-seat venue offers programming in classical, jazz, world music, dance, comedy, pop artists and family entertainment.
For more information and programming, visit www.markham.ca/wps
The Epoch Times publishes in 35 countries and in 19 languages. Subscribe to our e-newsletter.