A U.S. Marine was shot and killed in a Washington barracks on New Year's Day, it was reported.
Marine Corps officials confirmed the Marine died while on duty at Marine Barracks Washington, according to the corps's website. It happened at 5 a.m. on Jan. 1.
The Marine's name has not yet been released pending the notification of family.
The shooting is currently under investigation by Washington D.C. police, officials said.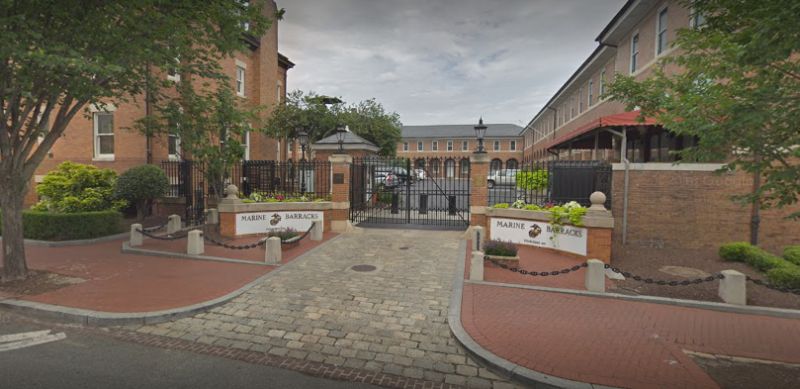 "The command's priorities are to take care of the Marine's family and friends," Col. Don Tomich, commanding officer of Marine Barracks, said in a statement. "We want to ensure these personnel are being provided for during this challenging time."
Capt. Colleen McFadden, a Marine Barracks Washington spokeswoman, didn't reveal whether any foul play was involved in the Marine's death. She also didn't disclose if it was an accidental discharge. Meanwhile, she didn't elaborate on whether other Marines were injured, according to Military.com.
But Marine Gunnery Sgt. John Jackson told CNN the shooting wasn't self-inflicted.
"The command and the Marines here are cooperating with the investigation team, which is the Metropolitan Police Department, at the time," McFadden said, according to Miliary.com.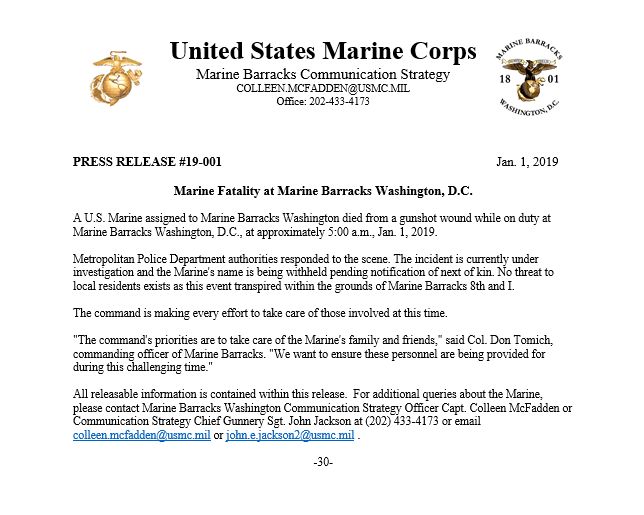 No suspects have been arrested in the shooting, and there is no threat to the public, Fox5 reported.
Following the shooting, officials stated that "due to an unforeseen tragedy at Marine Barracks Washington this morning, today's New Year's Serenade is canceled," according to WJLA-TV.
Other details about the shooting are not clear.
The barracks is located at Eighth and I Street in Washington. It's the oldest active post in the entire Marine Corps.
On June 15, 2018, another Marine was shot at Marine Barracks Washington, suffering nonlife-threatening injuries from a "self-inflicted gunshot wound."
Violent Crime Down Across US
The FBI said that both violent crime and property crime decreased in 2017 compared to 2016. Overall violent crime decreased 0.2 percent from 2016 to last year, while property crime decreased 3 percent during that time, the agency said in September, releasing data from the previous year.
"There were more than 1.2 million violent crimes reported to UCR nationwide in 2017. There was a 0.7 percent decrease in murders and a 4 percent decrease in robberies from 2016 to 2017. Aggravated assaults increased 1 percent in 2017. The FBI began collecting data solely on an updated rape definition last year, and 135,755 rapes were reported to law enforcement in 2017," the FBI said in its report.
"The report also showed there were more than 7.7 million property crimes last year. Burglaries decreased 7.6 percent and larceny-thefts decreased 2.2 percent. Motor vehicle thefts increased 0.8 percent from 2016 to 2017."
These figures were compiled from more than 13,000 law enforcement agencies around the United States that submitted their crime data to the FBI.
In Florida, the FBI said that Jacksonville, Miami, Orlando, Tampa, Hialeah, Tallahassee, and St. Petersburg are the most violent cities, according to WTXL. Jacksonville recorded 106 murders in 2016, the last available data, Orlando had 84 murders, and Miami saw 55 murders. Meanwhile, Tallahassee is considered the 10th-worst city in the United States when it comes to property crime rates, the FBI said, reported FloridaPolitics in June 2018. There were 52 property crimes per 1,000 residents in the state's capital city.