For the first time ever the Marine Corps is planning to assign a female officer to the infantry unit, as she is anticipated to graduate from the program, officials said on Thursday, Sept. 21.
The woman was already a lieutenant. She took part in the Infantry officer course with her male colleagues, and on Wednesday completed an intensive combat exercise at the Marines' training facility in Twentynine Palms, California. It was the final graded requirement of the 13-week-long program, the Washington Post reported.
She is expected to graduate on Monday, Sept. 25.
The course, known as IOC among Marines is considered to be one of the military's toughest training programs. Normally about 25 percent of students fail the course.
The woman is the first female officer to complete the course out of the three dozen who have tried. She is expected to lead an infantry platoon of about 40 marines, a breakthrough role in the organization.
The Marines first opened the course women in 2012 on an experimental basis. It allowed women to attempt the program as part of a research program that examined how to integrate them into all-male units. Thirty-two women had attempted the course before the research closed in 2015, the Washington Post reported.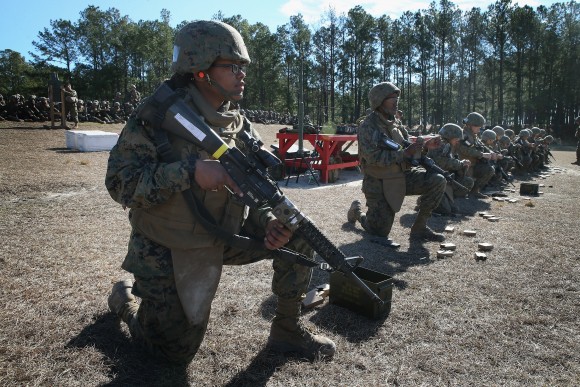 Four other women, including the lieutenant who is set to graduate, have attempted the course since the Pentagon later opened all jobs to women in December 2015.
Officials said that is unlikely the lieutenant will agree to do any media interviews. They told the Washington Post she instead prefers to be a "quiet professional" and just do her job well.
Typically about 10 percent of all candidates fail on the first day of the course. It begins with a combat endurance test and skill assessments such as weapons assembly and land navigation.
Marine Corp requirements obtained by Task & Purpose (a news site run by veterans) reveal that the endurance tests range between 6.4 and 9.3 miles with weight loads of up to 152 pounds, as of October 2016. It is not clear if those requirements were changed following the previous candidate's attempts earlier that year.
According to Task & Purpose, the IOC is considered the most grueling training regimen in the entire Corps and one of the most challenging training courses for U.S. infantry troops.
"It's essentially [The Basic School], but on steroids," an active-duty Marine and recent IOC graduate who declined to be identified told Task & Purpose. "It's the varsity level for a lot of skill sets, techniques and procedures that are refined through the most mentally, physically, psychologically and emotionally challenging situations you'll ever experience."
In other special operations jobs, women have not yet passed the qualifications to get in, including the Navy SEALs and the Army Green Berets, although at least three women have attempted the Army's Special Forces Assessment Selection test, according to the Washington Post.