Mariano Rivera Crying: Yankees Legend Leaves Last Game in Emotional Farewell (+Video)
September 27, 2013 11:20 pm Last Updated: September 27, 2013 11:20 pm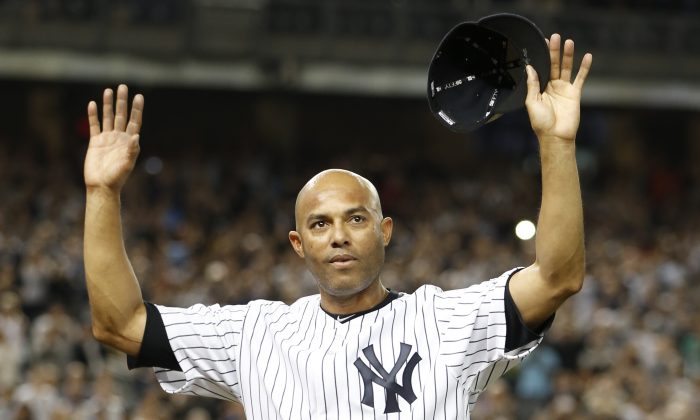 Mariano Rivera was crying when he hugged his teammates in his final game, after 19 seasons with the New York Yankees.
Rivera, born in Panama, has spent most of his career as a relief pitcher, and has been the Yankees' closer since 1997.
He's a 13-time All-Star who has won the World Series five times.
He's played 1,115 games in his long career. 
The Yankees lost on Thursday night, but the fans didn't care. They gave Rivera a big farewell. Rivera walked to the mound after the game, grabbed some dirt, and seconds later, left for the last time.
"It definitely was a magical moment," Rivera said after the Yankees' 4-0 loss to the Rays, reported MLB.com. "I've had an opportunity to play for 19 years and give the best of my talents and my ability to this organization. Tonight it paid off. The fans, they definitely appreciate that. My family, my wife, my kids, the fans — it was amazing. A great night. We lost, so I don't know how I'm saying that, but it was a great night."
Manager Joe Girardi walked out of the dugout in the eighth inning and signaled for Rivera to come in. Rivera's name being announced over the PA system prompted a standing applause from the crowd.
"I've been with Mo since '96," Girardi said. "Had a lot of great times. He made my job fun, he made my job easy. But probably more important than that, he made all our lives better. And we'll miss him."
With Metallica playing a live version of his "Enter Sandman" theme music, New York retired his No. 42 last Sunday during a 50-minute ceremony. And tears flowed Thursday night when he got four straight outs in his final Yankee Stadium appearance — the 465th perfect outing of his big league career, including the postseason.
Chuck Schupp of Louisville Slugger once estimated Rivera averaged at least one broken bat for every two games pitched. During the final inning of the 1999 World Series sweep of Atlanta, Chipper Jones could only chuckle as he watched Rivera break Ryan Klesko's bats three times in a four-pitch span.
"That thing was just wicked. I had never seen anything like it," Klesko said two years ago. "You can't help to laugh. I couldn't believe it. It was like a 97 mph Wiffle Ball that has no rotation. I told Chipper, 'If he breaks one more of my bats, I'm going to have none left.'"
Rivera became a 13-time All-Star and broke Trevor Hoffman's career saves record by more than 50. And in the postseason, he has 42 saves in 47 chances to go along with an 0.70 ERA, the biggest factor in the Yankees' five titles during his tenure.