Marian Anderson Epitomized Dignity
April 14, 2014 6:06 am Last Updated: April 24, 2016 6:37 am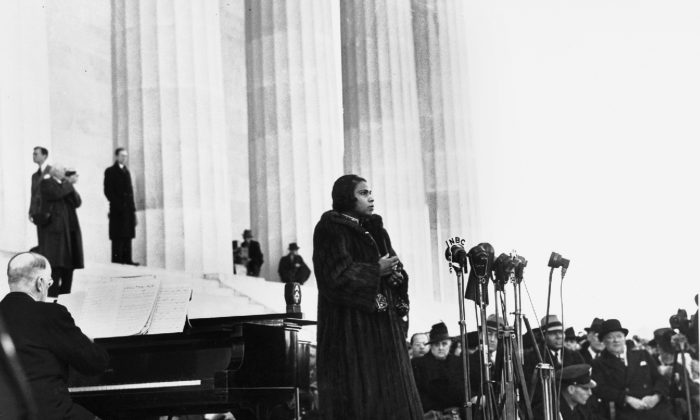 The great diva handled what could have been a bitter humiliation by bringing beauty to even more people than her original venue could hold. Her voice and her smile are electrifying to this day. 
Constitution Hall in Washington is a beautiful place, with gracious neoclassical architecture, a sweeping vaulted ceiling, columns, blue backgrounds, white stars, stripes, and eagles. It seats 3,702 people. It's walking distance from the National Mall. It was built to honor the Constitution.
It's part of the national headquarters of the Daughters of the American Revolution (DAR). To join, one must be a direct descendent of a person who fought in the American Revolution. We all know that the DAR, devoted to honoring its ancestors and to patriotic service, was once on the wrong side of history. That was when it would not allow the great contralto Marian Anderson to sing on its stage in 1939. Black artists were not allowed to perform there. 
Anderson instead performed at the Lincoln Memorial, outdoors, on Easter Sunday. Thanks to the power of the Internet, we who were not yet born can see and hear her.
"My Country 'Tis of Thee," was her first song. She changed one word—she sang, "of thee we sing," rather than "of thee I sing." It was subtle, graceful, and brilliant.
Clothes as an Extension of Her Art
This year, for the 75th anniversary of her concert, the Smithsonian is displaying the outfit she wore that day. It was an orange silk jacket with a mandarin collar adorned with turquoise and gold trim—too fabulous! And a flowing black velvet skirt under a mink coat, because it was very cold that day.
Though the story and the music of Marian Anderson was part of my general cultural knowledge, seeing her ensemble made her dearer to me. She was skilled at sewing—early in her career, she made her own clothes to perform in. 
The outfit is so modest. It presents a womanly dignity that make me think of the ancient Chinese, who brought dress to a high art. 
Anderson showed attention to detail, to what suited her, and that to me was part of her artistry. Her appearance was not a detail, but part of creating an experience of beauty.
It made me think of the value of paying attention to style and to dignity, even for most of us who are not great divas at a historic moment. Like planting window boxes with flowers, it is something that could make a world a little better. 
With her orange silk shantung and her turquoise and gold buttons and braid, she was not playing it safe—it was go big or go home.
And big she went. Though cold is the enemy of the voice, she sang to 75,000 people and NBC radio on that frigid day.
She never disparaged the DAR. Not stooping to its level, she gave her farewell concert there. The Smithsonian quoted her as saying she "chose not to be an aggressive person, 'it is just not who I am and I thought it best to leave a good impression for those who came after me.'"
A 75th anniversary announcement of the concert is prominent on the DAR Constitution Hall website.