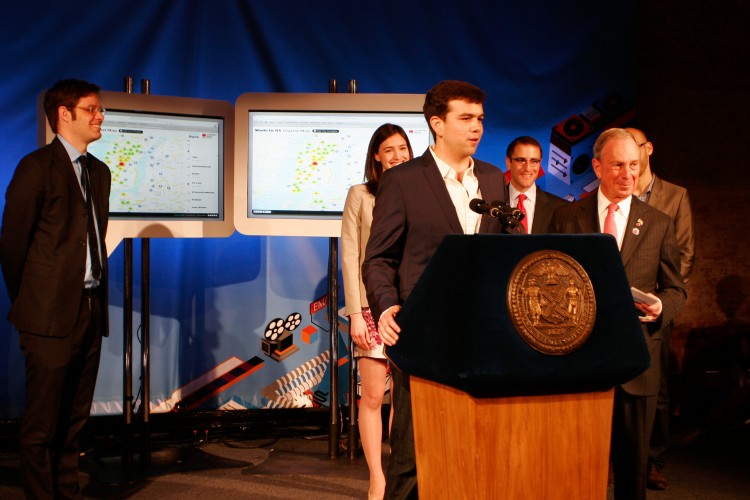 NEW YORK—Tech companies are hiring in New York City, and the whole world should know about it.
That's the gist behind a new "Made in NY" digital map, which charts the locations of digital companies, investors, and co-working and incubator spaces, and includes updated information about who's hiring.
"We want to make sure everyone knows about these jobs," said Mayor Michael Bloomberg on Tuesday at the headquarters for Internet Week New York. "Creative people want to be around other creative people."
On the map, found on the Internet at MappedInNY.com, the greatest concentrations are in or around the Flatiron District, Union Square, NoLita, SoHo, and Little Italy. Almost all are in Manhattan.
"We wanted people who were thinking about becoming a startup entrepreneur, getting into the Internet business, becoming an Internet professional—whether they were engineers who were still in college or people who were living throughout the country—when they were thinking about that, we wanted them to think about New York as a great place to come and pursue that opportunity," said Internet Week New York Chairman David-Michel Davies.
Katherine Oliver, commissioner of the Mayor's Office of Media and Entertainment, conceived of the map, which uses data from a recent report by the Center for an Urban Future and will be regularly updated.
On the New York Tech Meetup's local companies' site, previously the top place to find tech jobs, 148 of 309 tech companies listed are currently hiring. The live feed on the new digital map shows 324 out of more than 500 listed companies are currently hiring. Rachel Sterne, the city's chief digital officer, said this equals more than 1,000 jobs.
Branch CEO Josh Miller came to the release on Tuesday to tout New York City over San Francisco. The 21-year-old moved his tech company to San Francisco after starting it here last fall. Now, they're back in New York City once again.
For Miller, the technology community in New York City, including events such as HackNY, the tech meetup, and General Assembly—a campus where people take classes and work close by other entrepreneurs—made moving back easy. After being questioned by a reporter, he admitted to moving to California specifically to be mentored by the Twitter co-founders, however, Miller added, one of them just came to New York with him.
Germany-based digital strategist Sven Laepple attended the map release. Laepple is in the process of developing a global mobile and social media investment business blocks away from 82 Mercer St., where the press conference was held. His partner already has the space, nearby on Broadway.
"For me, as a European, it is certainly the best place to be, because once you're in California, you break up with all your friends and family and business contacts—the time shift is just too awful," Laepple said. "I had an uncle doing business there and he had to go to sleep every day at 7:00—so that's not life. Here from New York you just take a plane and in seven and a half hours you're in Berlin or London."
Evan Macdonald, a graphic designer currently based in Seattle, came to Internet Week to meet with startups. The map encouraged him.
"I'm considering where my next career move will be, and thinking about how New York could be a place to go, and that helps outweigh some of the concern about moving to New York," he said. "This definitely confirms in my mind that New York has that vibrant startup community."
The Epoch Times publishes in 35 countries and in 19 languages. Subscribe to our e-newsletter.