Many Chinese Pilots Fake Their Credentials
September 10, 2010 1:58 am Last Updated: October 1, 2015 7:05 pm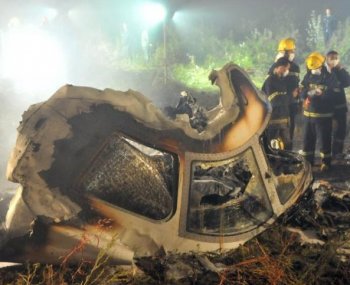 China has earned a dubious reputation for being the source of unsafe, fake, and counterfeit products: from falsified athletes' ages to toxic baby formula and tofu-cement school buildings—the list is long. Now, add to it fake flying credentials.
A recent plane crash in China has brought to light that a large number of Chinese pilots falsify their flight credentials in order to land better jobs, putting the public at risk in the process.
On Aug. 24, 2010 a plane crashed in Yichun in China's northeastern Heilongjiang Province, killing 42 people. The crash has been called the largest aviation accident in China in recent years. An official explanation for the cause of the accident has not yet emerged, but the pilot was flying on fake credentials, according to Chinese reports.
The crashed airplane belongs to Henan Airlines, a subsidiary of Shenzhen Airlines. The pilot, 40-year-old Qi Quanjun, joined Shenzhen Airlines seven years ago after retiring from the air force. His attempt to obtain a commercial pilot certificate failed with Shenzhen Airlines, but he was successful getting it from Henan Airlines.
According to Hong Kong's Apple Daily, Qi used to fly military aircraft, such as the already retired J-6 fighter plane and the K-44 training plane. Last March he started training as a commercial airline pilot for the EMB190, the type of plane that crashed in Yichun. His commercial flight history was only one year. The fatal flight to Yichun was Qi's fifth flight as a commercial pilot, and his first flight to Yichun.
During a recent videoconference held by the Civil Aviation Administration of China (CAAC), referred to widely by Chinese media sources, a Shenzhen Airlines pilot was quoted as saying that Qi had failed to obtain his pilot certificate after an exam at Shenzhen Airlines' headquarters: "It's strange that he was granted the certificate after joining Henan Airlines," he said.
Faking Credentials
The CAAC has identified more than 200 pilots with fake credentials in the past two years. Most of these pilots, as many as 103, are working for Shenzhen Airlines, accounting for one seventh of the company's total number of pilots, an official of the CAAC said during the meeting.
The CAAC's videoconference, where these revelations were made, was quoted widely in Chinese media reports on the topic, though the sources did not explain how they had obtained access to the meeting, nor details about when it was held.
Pilots also falsify their resumes during frequent job changes, or when changing careers from military to commercial airlines—though they are also put through a new round of tests before being able to fly again, China's First Financial Daily quoted a high ranking official from a commercial airline company as saying.
Ticking Time Bomb
Li Jiaxiang, the director of CAAC, also claimed in the same videoconference that Shenzhen Airlines is not the only company that hires pilots with fake credentials. Other airlines, including the three major airlines—Air China, China Eastern Airlines, and China Southern Airlines—all have the same problem. Li described the phenomenon as the "melamine" of China's aviation industry and a "time bomb" that can go off at any time.
The official response to the Yichun crash and the faked credentials has been that the "identified pilots" have stopped flying. As usual, however, the public is not convinced.
Internet users have expressed outrage that passengers' lives have been put at risk due to regulatory system failings, and have argued that the issue is still being taken too lightly.
Read the original Chinese article.