Nearly one in ten California workers is an illegal immigrant, making California the second-highest state for illegal workers at 9.0 percent, after Nevada's 10.4 percent, according to the Public Policy Institute of California.
More than 2 million illegal immigrants are estimated to live in the state.
Former U.S. Senate candidate Karen Roseberry recently attended a discussion hosted by business group Asian Industry B2B in Chino, California, where participants discussed issues related to immigration.
Roseberry said her background as a teacher has allowed her to work with many minority students, some of whose parents are illegal immigrants. She wants a "compassionate yet legal solution" to illegal immigration.
Many Californians agree. A recent poll by the UC Berkeley's Haas Institute for a Fair and Inclusive Society found that most Californians were in favor of establishing a way for illegal immigrants to stay in the country. However, 59 percent of Californians also thought it was either "very important" or "somewhat important" for the U.S. to increase deportations of illegal immigrants.
California's Illegal Immigration Issue
According to the Farm Bureau of Ventura County, an estimated 36,000 field workers are employed in that county alone, especially during the peak spring and summer harvesting seasons for strawberries, lemons, and avocados. Of those 36,000 workers, 95 percent are foreign-born, and of them, 91 percent are born in Mexico.
"Statewide surveys suggest at least 57 percent of California's field workers are in the country illegally," the farm bureau reported.
"This is California, and agricultural farmers will tell you right off the top that they have a need for immigrant labor," said Roseberry.
However, she thinks border security is still critical and that visa overstays should be curtailed.
"We do need to find a way to make sure we have seasonal work visas, that we have temporary work visas that are facilitating a legal way so that they can have employment, they can have their needs met," she said.
This way, she said, it's a win-win for the workers to help their families, and the state can also benefit from the workforce.
E-Verify Prevents Employers from Breaking the Law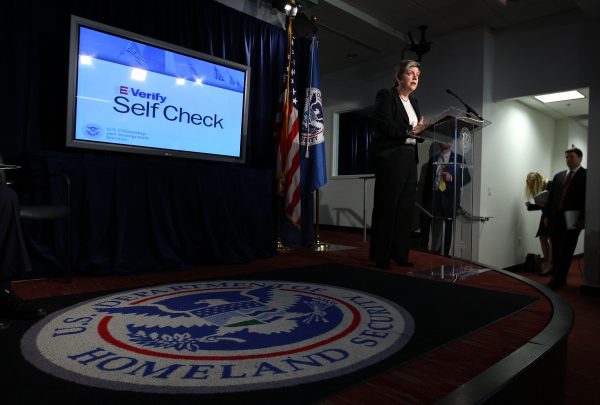 With E-Verify, employers can electronically verify employees' identities and work eligibility, helping ensure a legal workforce across all 50 states in the nation.
"I think we need to crack down on employers," Roseberry said. "We do need to tackle this comprehensively. Immigration, it is a serious issue for all of the reasons that we've discussed—sociologically, educationally, respectful rule of law, economically."
The mayor of Los Alamitos, Calif. also attended the discussion in Chino, and he said the US should be more selective regarding who is allowed into the country.
"I think we want the right kind of workforce, the high-skilled, high-wage type of workers versus low wage workers," said Mayor Kusumoto.
Warren Kusumoto, mayor pro tem in Los Alamitos, Calif., started what's become a recent wave of opposition to liberal California's resistance to the Trump admin. pic.twitter.com/s62Bzc4HMg

— Kirk Siegler (@KirkSiegler) April 6, 2018
"We have housing issues that result from this, too," Roseberry said. "Because you have people trying to stay under the radar, you have the quality of life issues. You have houses that are overcrowded, streets that are overcrowded."
California approved the Immigrant Worker Protection Act, also known as AB 450, in Oct. 2017, which prohibited "employers from consenting to immigration enforcement agents' access to the workplace or to employee records," without a judicial warrant.
However, in July 2018, a federal judge put parts of AB 450 on hold, once again allowing employers to consent to a federal immigration enforcement agent's request to enter nonpublic areas in the workplace or voluntarily allowing the federal immigration enforcement agent access to employee records.
"We need to be compassionate, yet we need to still enforce the rule of law," said Roseberry.