Manhattan's far west side, once a strip of ports and rail yards, has been reclaiming underutilized land for upscale development in recent years. And none to quietly, as construction hammers away on several projects west of Ninth Avenue. 
Just a block away from Penn Station is Brookfield's $4.5 billion mixed-use Manhattan West project, which this week reached the halfway point in creating 120,000 square-feet of new land over active tracks.
Building Over Rails
It's not entirely nothing, as a $7 million custom-built horizontal crane (called "The Launcher") was brought in from Italy especially to lay concrete spans above trains coming in and out of Penn Station. A crane like this is usually used to build large infrastructure like bridges. 
"We had to be a little innovative so we didn't disrupt traffic into the city," said Henry Caso, vice president of Manhattan West construction. 

Concrete segments of the span are cast in New Jersey and brought over the George Washington Bridge one at a time, over night when the traffic is calm. One single span requires 39 of these concrete blocks to be strung together with numerous cables and gallons of epoxy, and when complete weighs about 2,400 tons (or 187 MTA buses, Caso says). 
The Launcher then moves the entire span in position over the rails. 
The blocks are hollow, creating a sort of tunnel in each span that allows for ventilation infrastructure like fans to be placed inside as the concrete spans cover up the trains. 

Seven of the 16 spans are currently in place. Brookfield expects to complete the spanning by the end of the year (after which the Launcher will be dissembled, scrapped, and sold for parts). 
The new land can hold three stories of development, Caso says, and will become the basement floor below a public plaza in the future. When complete, it will allow Brookfield to build the towers on either side of the open space, which will partially extend over the platform.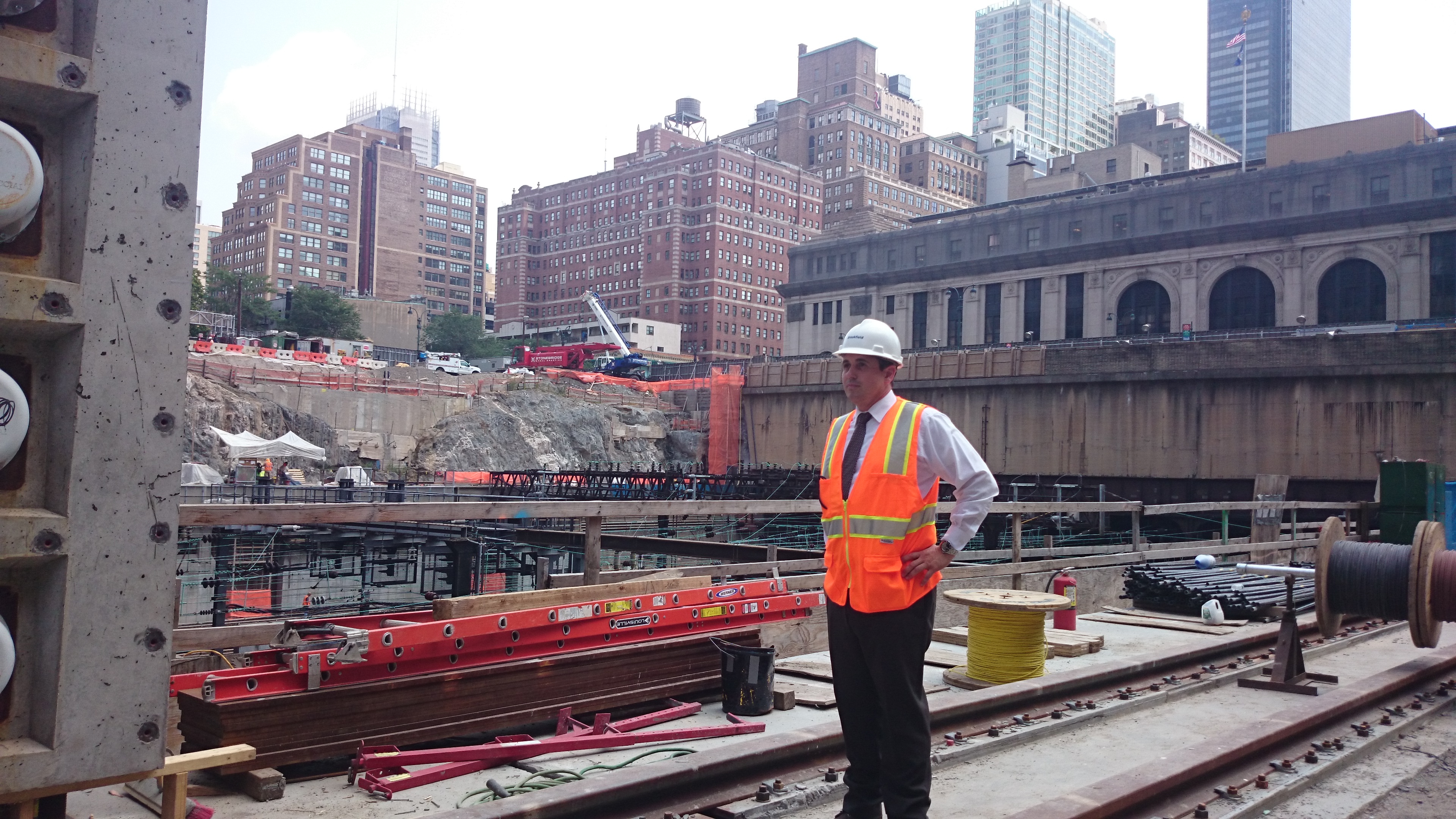 Creating new land over rails has always been a part of New York City development, where land is scarce and expensive. Around Grand Central, the space blocked from Vanderbilt Ave to Madison Ave was built over tracks (though at the time there was less traffic that would have been disrupted). 

Over in Brooklyn, Forest City Ratner's Atlantic Yards development is located over the Long Island Railroad's Atlantic Yards tracks. 
Manhattan West also brands itself as the gateway to the new West Side, which is being built over active tracks as well.
New Neighborhoods
Between Hudson Yards and Manhattan West, 24 million square-feet of new space is coming to Manhattan's West Side. 
Next year, Brookfield will begin construction on Manhattan West's first residential tower, a 60-story building with 800 mixed units and amenities including a pool and spa. The first apartments are expected to open in 2017, and the following year the first office tower will open. 
When complete, the 7 million square foot Manhattan West will consist of two LEED Gold office towers, one residential tower, a boutique hotel, ground floor retail, a central plaza with a two-acre park, and the redevelopment of 450 West 33rd Street. 
Nearby, the $20 billion Hudson Yards development by Related Companies and is the nation's largest private development. Hudson Yards will bring five office towers, 5,000 apartment units, an expected 20 restaurants and over 100 shops, 14-acres of public open space, a 150-room hotel, and a new public school building. 
An expected 24 million people will visit the new neighborhood every year, and the added pressure to the Penn Station-are transportation hub has many calling for infrastructure improvements. 
A number of smaller projects are happening in conjunction as well, capitalizing on the expected success of the new neighborhood. 
On 11th Ave and 38th Street, Black House Development and a Chinese firm bought a parking lot facing the Javits Convention Center for $115 million. Earlier this year renderings of a 320,000 square foot tower was released with reports of 51 apartments and 410 hotel rooms. 
On 39th Street, Rockrose bought a a site adjacent to property the firm already owned, creating a 75,000 square foot site that could support 530 apartment units plus retail.