Mandatory Insurance Looms, Expect to Pay at Least $60
September 6, 2013 11:21 am Last Updated: September 6, 2013 11:21 am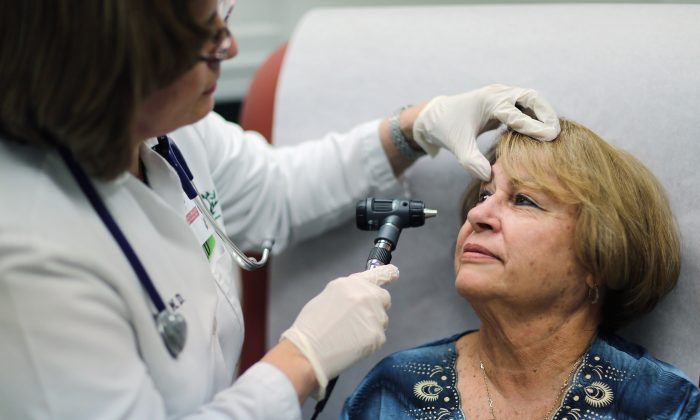 NEW YORK—New Yorkers who earn $25,000 will pay at least $62 a month for mandatory health insurance starting January 2014, if they can't get insurance through their employer.
Under the Affordable Care Act (ACA) almost everyone is required to get health insurance, or receive tax penalties. There are a few exceptions for those with religious beliefs that prevent them from participating, those with incomes that are too low, illegal immigrants, and Native Americans.
A report from the Kaiser Foundation analyzed the insurance premiums for plans offered on health plan exchanges in 17 states and the District of Columbia, which currently have data available.
The rate an individual or family will be required to pay will depend on the plan they choose to buy, and their income level.
Families of four that earn between $24,000 and $94,000 (one to four times the federal poverty level) may be eligible for tax credits to offset premium costs, and some in the lowest income brackets may also be eligible for subsidies to reduce the cost to visit a health provider.
Although New York City has some of the higher premium rates, according to the preliminary data compiled by the Kaiser Foundation, the tax credits available for low- and moderate-income families will bring the level the premium payments for the lower-end plans to basically the same rate nationwide, regardless of the enrollees' geographic region.
Under the ACA insurers are required to organize health plans into five levels of coverage or levels of copayments: catastrophic, bronze, silver, gold, and platinum.
Only people under the age of 30, and those who would be spending more than 8 percent of their household income on a bronze plan, will be eligible to purchase catastrophic plans through the exchanges.
Bronze plans generally provide the lowest levels of cover. They have higher-cost sharing or copayments than silver plans, so the premiums are lower.
Silver plans will cover 70 percent of the patient's health care costs, on average, according to the Kaiser Foundation analysis. In New York City people on lower incomes can expect to pay at least $140 a month for a silver plan, after receiving the tax credit.
State-based exchanges use the second-lowest-cost silver plans that have signed on to determine the tax credits that people will receive on their premiums.
The credits are used to set a cap on the percentage of income someone can spend on health insurance. If eligible for a tax credit, the customer can also get credit to purchase plans that offer higher or lower levels of coverage.
The ACA has set some new requirements for insurers selling health plans to individuals and families through the state-based exchanges. Among these include not being able to deny coverage to patients with pre-existing conditions.
To a limited extent, under the ACA, insurance vendors will be able to stagger premiums by family size, smoker status, and region. New York, unlike most other states, will not allow insurers to vary premiums by age, and this could raise premium costs across the board for New York residents.
The Kaiser Foundation report found that 15 of the 18 regions it analyzed had premiums slightly lower than the latest Congressional Budget Office projections, which suggested an average premium payment of $320 per month for a 40-year-old enrolled in the second-lowest silver plan.
The researchers said that could mean insurance premium costs nationwide could be lower than previously thought.
Under the ACA, businesses with more than 50 employees will be required to buy health care plans for their staff, but some employers may chose to pass on a percentage of the premium costs to employees. Smaller businesses, which pay wages below $50,000, may also be eligible for tax credits to offset costs.
Starting on Oct. 1, New York State of Health, the state's official health plan marketplace, will open for enrolment. Marketplaces are being established in every state under the ACA to provide individuals and families a way to buy different health care plans for more competitive prices than the open market.
Through New York's marketplace people can also determine their eligibility for Medicaid and tax credits, which would immediately reduce their insurance premiums.