Sen. Joe Manchin (D-W.Va.) said on June 16 that he's not sure if he supports ramming another legislative package through Congress after some in his party have tried securing a commitment from him on a sweeping infrastructure package in exchange for their support for a smaller, bipartisan proposal that he helped craft.
"If they don't like it, they should vote against it," Manchin, a Democrat, told reporters on Capitol Hill. "That should not be conditional. It should be based on the merits of what the bill is."
A bipartisan group that includes Manchin and Sen. Mitt Romney (R-Utah) announced last week that they had reached a deal on infrastructure, pending White House approval.
Meanwhile, a segment of the Democratic caucus is growing frustrated with the pace of infrastructure negotiations, and they don't want to wait for the bipartisan group to negotiate with President Joe Biden and administration officials. They want Manchin and Sen. Kyrsten Sinema (D-Ariz.) to promise to back a package that Democrats are seeking to ram through using a budget process, in exchange for supporting the bipartisan plan.
"I would support something like this bipartisan plan only—and I stress only—if we had an iron-clad commitment to do another package," Sen. Richard Blumenthal (D-Conn.) said, according to The Hill.
The process, called reconciliation, would allow Senate Democrats to bypass the 60-vote filibuster—but only if all Democrats approve the package.
"I don't think there's going to be a great fervor for a bipartisan deal unless we're guaranteed that we're going to have a big bill, or second part," Sen. Bob Casey (D-Pa.) told reporters in Washington.
"The most credible path forward is to do as much as we can in sort of traditional hard infrastructure through a bipartisan bill, and have us then proceed by reconciliation to do as much of the Biden agenda, which I strongly support, as we can accomplish with 50 Democrats," Sen. Chris Coons (D-Del.) said, adding that Manchin would likely have to pre-commit to supporting the partisan bill to get support for the bipartisan legislation.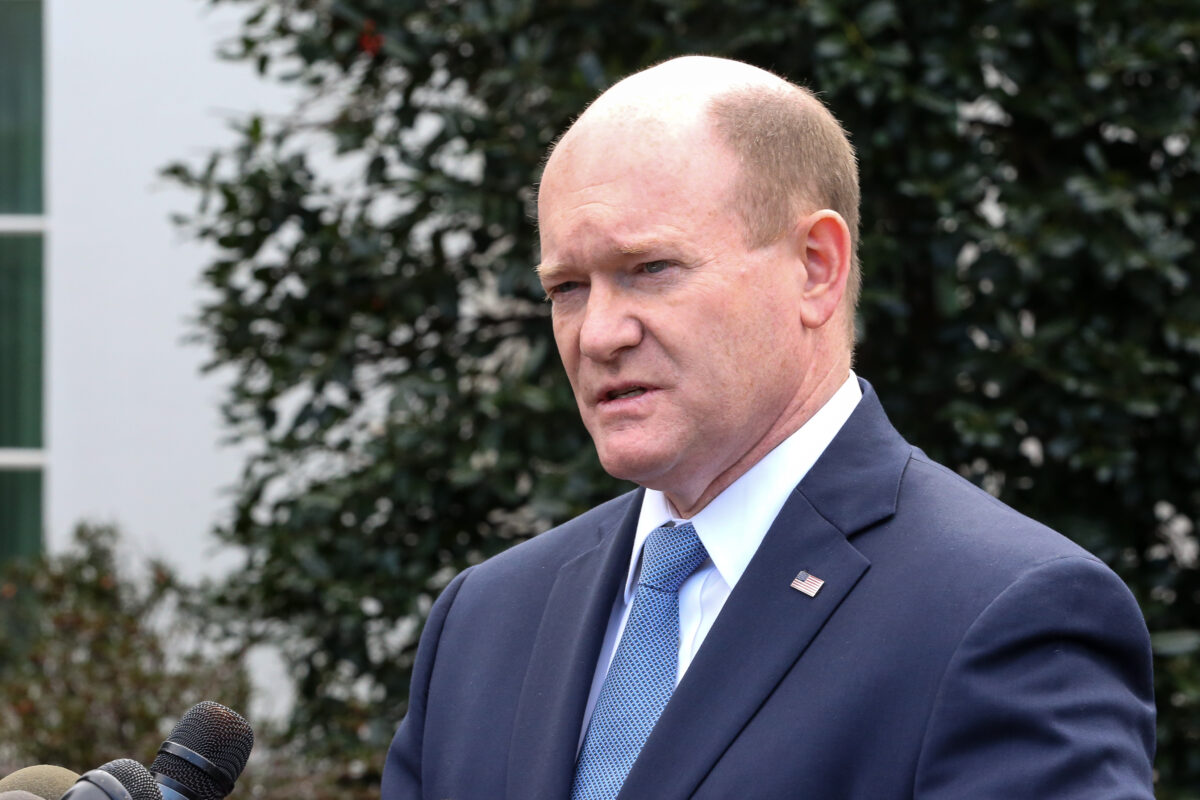 In the 50–50 Senate, Democrats can only pass a bill using reconciliation if all members approve it. Even then, Vice President Kamala Harris would need to go on the floor and cast the tie-breaking vote as president of the Senate.
Manchin said he would "never ask any of my colleagues for an ironclad commitment" but that he understands "the tough situation" that members of Congress are facing. He did, however, hold open the possibility that he'll ultimately side with fellow Democrats to support a partisan bill.
"I'm not a no, not a yes. I'm basically just evaluating everything that they put in front of me," he said.
Manchin and Sinema have favored bipartisan talks on a range of issues during the Biden presidency, while most other Democrats support going without Republican backing after a certain amount of time. Some senators expressed optimism that the two-track plan would work out.
"I'm confident that we will deliver," Sen. Sherrod Brown (D-Ohio) told reporters.
Senate Majority Leader Chuck Schumer (D-N.Y.) on June 16 launched the reconciliation process.
"Bipartisan infrastructure talks continue in our Senate committees and among our members. Remember, discussions about infrastructure both physical and human are proceeding along two tracks. The first track is bipartisan, and I understand there's been some progress. The second track pulls in elements of President Biden's American Jobs and Families Plan and will be considered by the Senate even if it does not have bipartisan support," he said on the Senate floor. "Today we're going to start moving the trains down the second track."