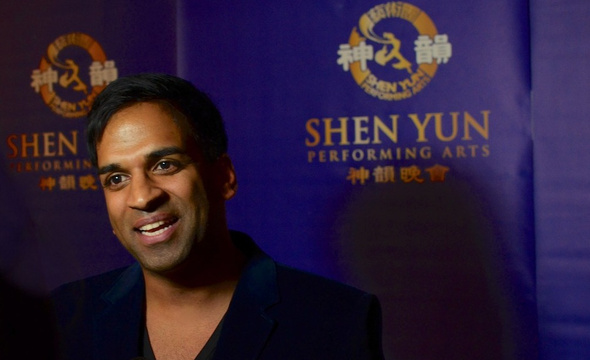 ZURICH—The Shen Yun Performing Arts International Company's third performance at the Kongresshaus in Zurich on March 23 was attended by Ms. Nicole Flach, a manager with Aviapartner and Mr. Frank Mossinger, a manager with Swiss International Airlines.
Ms. Flach and Mr. Mossinger agreed that the artists were very graceful and beautiful and that the show was exceptionally well done.
"One can clearly discern what the choreographer wanted to tell the audience. And, what is great is that watching this show isn't stressful. Everything shown on stage is very easy to follow," said Ms. Flach.
Mr. Mossinger was impressed that the Shen Yun brought the traditional Chinese culture to the stage.
"One is bringing out the old, polishing it, dusting it off and presenting it to the people in a new format. And, I'm not saying that there is only one scene, but many that have been polished and brought to the stage. Then the audience sits there, watches and says 'Wow, that is great.'"
"Shen Yun takes the audience to a world that is good and truthful and where beauty and purity will remain forever," he said.
Ms. Flach is of same opinion and shared her thoughts, "It is a great achievement when the dancers jump at the same time. I must say, well done. The way that these dancers perform is admirable and something I'm seeing for the first time. By what I just said, I am not only referring to the timing, but to the idea that created this performance. This is very unique."
The scene How the Monkey King Came to Be was very impressive, she felt.
"One sees the monkey king sitting in the tree on the backdrop and then suddenly he jumps onto the stage. This was done exceptionally well. This is a refreshing type of entertainment."
Mr. Mossinger had the same thoughts as Ms. Flach, and added some more of his own, "I was captivated and now I'm returning after this intermission and wonder if it will be the same type of performance. But, in the end, I'm sure that is will leave holding the thought—exceptional performance."
Reporting by Alexander M. Hamrle
New York-based Shen Yun Performing Arts has three touring companies that perform simultaneously around the world. Shen Yun Performing Arts International Company will next perform in Frankfurt, Germany from March 30-31.
For more information, please visit ShenYunPerformingArts.org.