Former Trump campaign chairman Paul Manafort has been sentenced to 47 months in prison for tax and bank fraud related to his work advising Ukrainian politicians, which was unrelated to the Trump campaign.
Judge T.S. Ellis III imposed the sentence on March 7, capping the only jury trial following indictments stemming from special counsel Robert Mueller's investigation.
Federal sentencing guidelines had called for a term of roughly 20 years but few observers had expected he would receive a sentence that long.
"Clearly the guidelines were way out of whack on this," Ellis said.

Ellis, appointed to the bench by Republican former President Ronald Reagan, called the sentence "sufficiently punitive" but noted that Manafort's time already served would be subtracted from the 47-month sentence. Manafort has been jailed since June 2018.
The judge also noted during the hearing that Manafort "is not before the court for any allegations that he, or anyone at his direction, colluded with the Russian government to influence the 2016 election."
A jury last year convicted Manafort on eight counts, concluding that he hid from the Internal Revenue Service millions of dollars he earned from his work in Ukraine.
Manafort was prosecuted as part of special counsel Robert Mueller's investigation, but this case isn't related to Donald Trump's campaign.
Before the sentencing, Manafort thanked Ellis for conducting a fair trial. He talked about how the case had been difficult for him and his family.
Manafort, who opted not to testify during his trial, told the court that "to say I have been humiliated and ashamed would be a gross understatement." He described his life as "professionally and financially in shambles."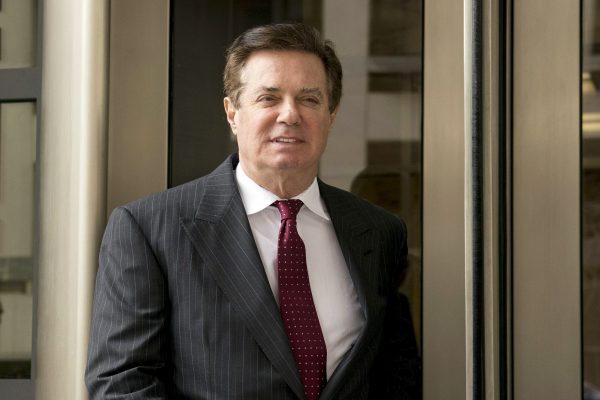 Manafort was convicted after prosecutors accused him of hiding from the U.S. government millions of dollars he earned as a consultant for Ukraine's former pro-Russia government. After pro-Kremlin Ukrainian President Viktor Yanukovych's ouster, prosecutors said, Manafort lied to banks to secure loans and maintain an opulent lifestyle.
Manafort's lawyers argued that their client never lied intentionally and underlined that he corrected errors in testimony when they were pointed out to him.
Manafort, with noticeably grayer hair than just months ago, was brought into the courtroom in a wheelchair holding a cane, wearing a green prison jumpsuit emblazoned with the words "Alexandria inmate" on the back.
Manafort pleaded guilty in September to several charges unrelated to collusion, specifically money laundering, failing to register as a lobbyist for Ukrainian politicians, and obstruction of justice.
Manafort still faces sentencing in the District of Columbia, where he pleaded guilty in a separate case connected to illegal lobbying.
President Donald Trump has consistently criticized the Mueller probe as a "witch hunt" and a "hoax." Trump instead claims that the Clinton campaign colluded with Russia, likely referring to the conclusions of the House intelligence committee's investigation, which revealed, among other issues, that the Clinton campaign secretly paid for an opposition research dossier on Trump. The dossier was compiled by a former British spy using sources with ties to the Kremlin. The FBI used the dossier, without due verification, to obtain a surveillance warrant to spy on a former Trump campaign associate.
The Mueller probe should never have been started in that there was no collusion and there was no crime. It was based on fraudulent activities and a Fake Dossier paid for by Crooked Hillary and the DNC, and improperly used in FISA COURT for surveillance of my campaign. WITCH HUNT!

— Donald J. Trump (@realDonaldTrump) March 18, 2018
The Associated Press, Reuters and The Epoch Times reporter Ivan Pentchoukov contributed to this report.
Watch next:
Is Mueller actually investigating Russian oligarch Oleg Deripaska?
Is Special Counsel Robert Mueller actually investigating Russian oligarch Oleg Deripaska as part of its investigation into Paul Manafort?