A federal judge in Washington ruled on Feb. 13 that veteran political operative Paul Manafort lied to prosecutors with special counsel Robert Mueller's office and violated his cooperation agreement.
U.S. District Judge Amy Berman Jackson ruled (pdf) that there was enough evidence to show that Manafort lied on three topics, including his communications with his employee Konstantin Kilimnik. Jackson ruled that Manafort did not lie about his contacts with members of the Trump administration and Kilimnik's role in an obstruction of justice charge.
The special counsel is investigating allegations of collusion between the Trump campaign and Russia. Mueller has not charged Manafort nor any other person with collusion.
Manafort chaired the Trump campaign for about three months before Trump fired him in August 2016.
While the ruling is split, it will still damage Manafort's chances of a lighter sentence, since Mueller's prosecutors are no longer obliged to call for a lighter sentence. Manafort, 69, could face up to a decade in prison, according to sentencing experts.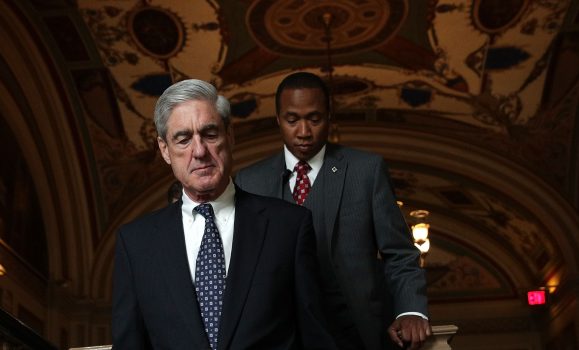 Manafort lied about his discussions with Kilimnik concerning a "Ukrainian peace plan," a proposal that would end U.S. sanctions on Russia. Manafort also lied about sharing polling data from the Trump campaign with Kilimnik.
The judge found that Manafort lied about his interactions with Kilimnik including about the sharing of polling data on the Trump campaign and their discussions over a "Ukrainian peace plan," a proposal that envisioned ending U.S. sanctions on Russia.
Manafort's lawyers argued that their client never lied intentionally and underlined that he corrected errors in testimony when they were pointed out to him.
Manafort pleaded guilty in September to several charges unrelated to collusion, specifically money laundering, failing to register as a lobbyist for Ukrainian politicians, and obstruction of justice. In a separate case in Virginia, he faces sentencing for financial crimes, including failing to pay taxes on $16 million of income he earned for political work in Ukraine.
Manafort's lawyers have said he is suffering from depression, anxiety, and gout while in detention awaiting sentencing. Given his age and health issues, Manafort had been in a position to receive some leniency prior to Jackson's ruling, said sentencing expert Mark Allenbaugh.
"That is gone now," he said. "Manafort will serve a minimum of 10 years' imprisonment, maybe more, for both cases."
Acting Attorney General Matt Whitaker told lawmakers on Feb. 8 that Mueller's investigation is nearly complete.
On Feb. 7, the chairman of the Senate intelligence committee, Sen. Richard Burr (R-N.C.) said that after interviewing 200 witnesses and reviewing 300,000 documents the committee found no evidence of collusion between the Trump campaign and Russia. Anonymous sources on the Senate intelligence committee did not dispute Burr's statement. The House intelligence committee also concluded last year that there is no evidence of collusion.
President Donald Trump has consistently criticized the Mueller probe as a "witch hunt" and a "hoax." Trump instead claims that the Clinton campaign colluded with Russia, likely referring to the conclusions of the House intelligence committee's investigation, which revealed, among other issues, that the Clinton campaign secretly paid for an opposition research dossier on Trump. The dossier was compiled by a former British spy using sources with ties to the Kremlin. The FBI used the dossier, without due verification, to obtain a surveillance warrant to spy on a former Trump campaign associate.
Reuters contributed to this report.