A 23-year-old man has been identified as the person claiming to be missing boy Timmothy Pitzen, according to reports.
On April 4, the FBI said the person, who was found in Kentucky, is not Pitzen who disappeared in 2011, after DNA testing was carried out. It's not clear if he will be charged with a crime.
"DNA results have been returned indicating the person in question is not Timmothy Pitzen," FBI Louisville wrote on Twitter. "A local investigation continues into this person's true identity." The FBI said that federal "law enforcement has not and will not forget Timmothy, and we hope to one day reunite him with his family. Unfortunately, that day will not be today."
One police official revealed to NBC News and News5Cleveland that the person has been identified as Brian Michael Rini, who told police that he had escaped from two kidnappers with bodybuilder-type builds. He said he was staying at the Red Roof Inn with his abductors and ran across a bridge from Ohio into Kentucky.
Angela Ingram with Local12 tweeted Rini's mugshot.
BREAKING: THIS is the man who told police he was a 14-year-old boy who was abdicated years ago. This is Brian Michael Rini of Medina, Ohio who claimed he was Timmothy Pitzen. This is an old mugshot of Rini. @Local12 pic.twitter.com/GPRSFckVA2

— Angela Ingram (@NewsLaw1) April 4, 2019
According to Heavy.com, a person named Brian Michael Rini, of Medina, Ohio, has been in trouble with the law before. He was charged in 2018 with falsification.
"A 22-year-old man called for help Nov. 29 using the vehicle's OnStar system but was vague in the details. Police arrived at a Wadsworth Road parking lot and got a vague report from the man about some acquaintances he'd picked up who started fighting in the car. He didn't produce a driver's license but gave a name and Social Security number," said a report from the Norton Police Department posted on the Norton Post.
"The car itself belonged to a car dealership and was allegedly on an overnight test drive. However, the actual owner of the name and Social Security number used called police dismayed at receiving a citation in the mail, suspecting his brother had used his identity in the incident. The brother, Brian Michael Rini, was in the Medina County Jail at the time and was charged with falsification as well as the original traffic citation," it added.
The Medina Post also reported that Rini had been arrested in Medina twice in 2015 for making false alarms to law enforcement agencies. He also pleaded guilty to passing bad checks—a felony.
Woman who found teen in NKY, possibly missing for years, was acting 'fidgety'https://t.co/C0aIlUfqla pic.twitter.com/gZMgp0aJdz

— FOX19 NOW (@FOX19) April 4, 2019
According to News5Cleveland, last year, Rini was sentenced for a year and six months for burglary and vandalism. He got out of prison last month.
Timmothy Pitzen Case
The police department in Aurora, Illinois, where Timmothy disappeared eight years ago, released a statement.
"As you likely now know, the FBI Cincinnati office has just released a statement indicating that the person in question located yesterday morning was not our missing person, Timmothy Pitzen," the department said.
"Any remaining investigation into who that person is, including any of the allegations made by that person at the time of his contact with authorities down there remains the purview of the local authorities in Ohio. Although we are disappointed that this turned out to be a hoax, we remain diligent in our search for Timmothy, as our missing person's case remains unsolved. As this is now no longer an 'Aurora' case, we will defer inquiries to the appropriate jurisdictions in Ohio."
Authorities and Timmothy's family had reacted cautiously to the latest turn in the case after a multitude of disappointments over the years, according to The Associated Press.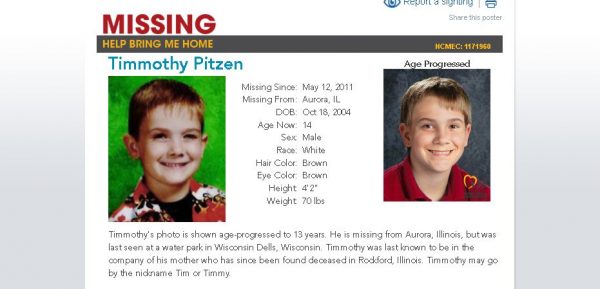 "There have been so many tips and sightings and whatnot, and you try not to panic or be overly excited," said Timmothy's grandmother, Alana Anderson. "Every day you hope, and every day you worry."
She didn't answer a phone call immediately after the FBI announcement.
At the time of Timmothy's disappearance, police said that the boy's mother may have dropped him off with a friend, noting that the boy's car seat and Spider-Man backpack were gone. Police also found credit card receipts showing that she bought children's clothing and toys in Wisconsin.
Timmothy's grandmother said Thursday that her daughter had fought depression for years and was having problems in her marriage to Timmothy's father. Some news reports suggested she was afraid she would lose custody of the boy in a divorce because of her mental instability.
The Associated Press contributed to this report.