The man arrested for trying to ram Republican volunteers in Florida with his van told police that he doesn't like President Donald Trump, a report shows.
Gregory Timm, 27, told officers that he drove at the volunteers in Duval County on Feb. 8 because "someone had to take a stand," according to a police report released on Feb. 11. Timm said he went to a Walmart to get some food and cigarettes before noticing the tent and parking near it.
He showed officers video footage of him driving toward the tent with Republican volunteers standing in front of it. The footage cut out before he struck the tent.
"The suspect was upset that the video ended before 'the good part,' as he described it," a police officer wrote in the report. "The suspect advised that he does not like President Trump and that is part of [redacted]."
According to WJCT, one redaction in the report hides that Timm told officers that he waited to run the tent over until there were no people there, which was in direct conflict with the video footage.
Timm was arrested on Feb. 8 after the incident in Jacksonville.
The Republican Party of Duval County said that the volunteers were working on registering voters. The volunteers were "intentionally targeted," the party said in a statement.
"We are outraged. This is not who we are. This is un-American," Dean Black, chairman of the Duval County Republican Party, said during a press conference on Feb. 10. "We are thankful that no one was injured; no one was killed."
Black called Timm a "coward" and said Timm's aim was to "sweep us from the street."
"He is not going to be successful. We will return in ever bigger numbers on street corners across America," Black said. "Remember, the best revenge is victory; righteous, peaceful victory in November for President Trump and all Republican candidates."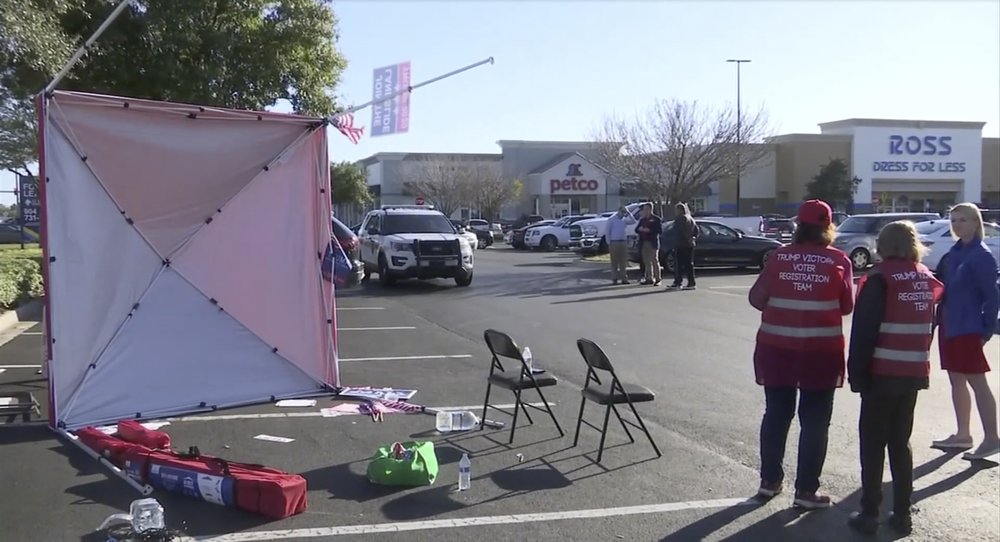 Jacksonville Sheriff's Office Lt. Larry Gayle said at a press conference over the weekend that officers were unsure the attack was "politically motivated."
Timm was charged with two counts of aggravated assault on a person over the age of 65, criminal mischief, and driving with a suspended license.
Republican National Committee Chairwoman Ronna McDaniel said the attack was part of a pattern of "unprovoked, senseless attacks" on Trump supporters.
Trump shared McDaniel's tweet, adding: "Law Enforcement has been notified. Be careful tough guys who you play with!"