In the aftermath of the deadly wildfires that devastated northern California, two men were hiking through the ravaged territory when they found something lurking in the shadows…
Beckyjean Widen's parents woke up in horror as they found a ferocious wildfire raging through their Santa Rosa neighborhood along Wikiup Bridge Way one night in October 2017.
In the moment of chaos, the family's 9-year-old Bernese mountain dog, Izzy, came loose. With just seconds to escape, her "parents" simply had no time to chase after Izzy. They were forced to leave Izzy behind in a life-threatening situation.
"My mom couldn't chase after her without risking her own life," Widen wrote in a Facebook post.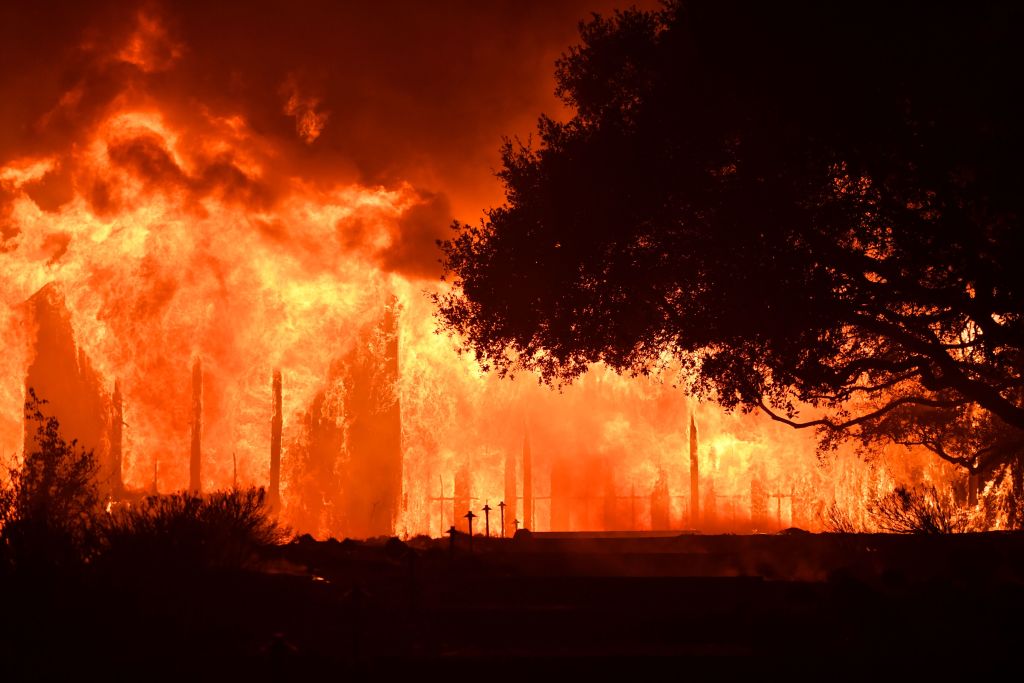 Her parents drove through harrowing walls of fire and across a burning wooden bridge to get to safety.
Their home was completely ravaged by the wildfires, but what was more devastating for Widen's mother, Katherine Weaver, was the loss of her beloved Izzy. She believed Izzy had perished in the raging fire.
But Widen's brother, Jack Weaver, and husband, Patrick, were determined to "see if by some miracle Izzy survived." So, a few days later, they walked around police barricades and hiked 3 miles up through a creek and a hilly road to reach the family property.
Family finds missing dog alive and well at home burned by California wildfire https://t.co/gbSC5qHNq9 pic.twitter.com/yvzFnkGyIG

— FOX31 Denver KDVR (@KDVR) October 15, 2017
Jack Weaver was completely devastated upon seeing the family's house, which had been burned to the ground.
Just then, Weaver noticed a black creature come jumping out of the blackened trees. It was Izzy! She ran toward them, wagging her tail. "Oh my God! Come here, baby!" called out the ecstatic Weaver.
Speaking to People, Weaver said: "We were hoping against hope we'd find Izzy, but based on what my mom had seen, she was certain Izzy was gone. We didn't expect her to be there like she was."
Izzy smelled of soot and was covered in ashes. "She was very happy to see us," Weaver told the Associated Press. "She's such a brave dog. She was panting a lot and clearly stressed. But she was not frantic or anything."
When Weaver called his mother to tell her, she just "lost it."
"She went from being devastated about losing her home to being the happiest person I've ever seen. I couldn't get home fast enough. She was really, really happy … She's still shaken up by the whole thing, but she's in much better spirits now that Izzy is at our house," he recalled.
Miraculously, Izzy was fine and most likely survived due to her thick fur coat, which insulated her from the heat, said the veterinarian. "She didn't have a burn on her," Weaver said to Mother Nature Network. "It definitely lifted my family's spirits."
In fact, Izzy survived once again after triumphing over cancer twice. "She is a miracle dog, she survived cancer twice," Weaver said. "And now she's lived through a fire, she's an incredible dog, and the sweetest dog."
Weaver filmed the joyous reunion on his phone in a video that went viral on Facebook, racking up more than 3.8 million views, over 56,000 reactions, and some 13,000 comments.
"The ending was a delight for your dog. She must have been very stressed out. They're like small children and become terribly lost when disaster strikes," one netizen wrote. Whilst another commented: "Watching Izzy brought tears to my eyes when I saw him running towards them…"
"We are happy this story is bringing so much joy to people in this devastating time for our community," Widen said in an interview with SFGate.
"We have no idea where she hid, but wherever she went, she had an angel watching over her," Widen added. Indeed! And what we know for sure is that Izzy is now alive and well with her family. And that's the best part of this story.
Watch the video:
NOTE: This video contains some explicit language
Just a heartwarming story to share in the middle of all this devastation. My parents woke up with flames surrounding their house in wikiup bridgeway and had seconds to get out. In the chaos of trying to escape, my parent's dog Izzy ran from them. My mom couldn't chase after her without risking her own life. They had to drive through walls of flames and across a burning wooden bridge to get to mark west springs road and to safety. They lost everything, but my mom was most devastated about leaving Izzy. My brother and husband were determined to try to get back to my parents property to see if by some miracle Izzy survived. They were turned away by police officers, but if you know my brother Jack or husband Patrick…neither one likes to be told no. They ended up hiking just under 3 miles to my parent's property. This video shows the last part of their hike up to my parent's house. It's a little long, but the ending is worth the watch.

Beckyjean Widen စာစုတင်ရာတွင် အသုံးပြုမှု ၂၀၁၇၊ အောက်တိုဘာ ၁၂၊ ကြာသပတေးနေ့