An Indiana man who survived brain cancer survived a car crash that left him internally decapitated.
"I have fought for my life this time around, and some days I feel like I still am. God has put me through some crazy stuff, and he's really testing me," Brock Meister, of Plymouth, Indiana, said in a statement via Beacon Health System in August.
The 22-year-old man suffered the injury, which separated his skull from his spine, in January.
"We also just have to think that some people are blessed," said Dr. Kashif Shaikh, who is a Beacon Medical Group neurosurgeon. "Brock somehow survived a brain tumor as a child, and now, only a few years later, he has survived an almost universally fatal injury. It is truly incredible."
The news release stated that Meister was having dinner with friends and left in a truck that later hit a patch of black ice, causing the vehicle to roll on the passenger side. His head smashed into the truck window, causing the internal decapitation.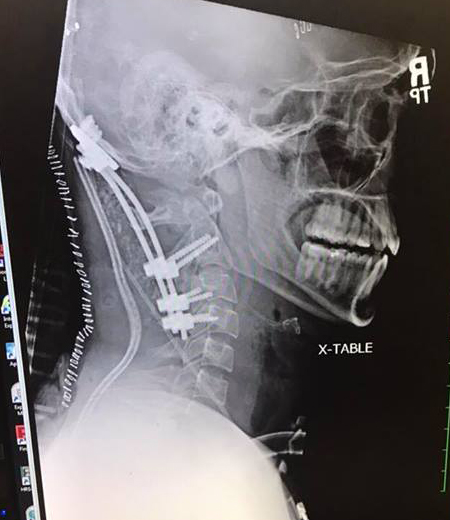 "Brock kept trying to get up and the only words he was saying were 'my neck' and 'ambulance.' I knew that he was in some serious pain and that if it was his neck, I couldn't let him get up and move," friend Ryan Topper, who discovered him after the crash, said. "So I just put my hand over his chest and kept him from getting up. I kept talking to him, reassuring him everything was going to be all right, and that he's 'my boy, Brock,' not letting him move until the ambulance showed up."
Meister was taken to Memorial Hospital in South Bend, Indiana, and doctors stabilized him. They discovered that he suffered a "complete separation of the skull from the spine or internal decapitation," according to the news release.
According to the National Center for Biotechnology Information, internal decapitation cases have a "relatively high incidence of mortality."
Dr. Shaikh, who performed the surgery to treat the neck injury, also treated Meister six years ago when he was 16. That's when a malignant brain tumor was found in the center of his brain. "I had to check twice to make sure I was looking at the right patient's picture–it's such an uncommon injury, and an even less common injury to survive," Dr. Shaikh said.
"It was kind of scary at first, but I have more movement than I thought I would, so that's good. I'm just thankful to be here, so that's all that matters," Meister said.
The surgery was ultimately successful, and Meister was released from the hospital in February 2018.  He's now undergoing physical and occupational therapy at Memorial Hospital to treat medical issues related to the neck injury.