Greased up from head to toe in filthy cooking oil, dehydrated after two days without water, a man is lucky to be alive after getting stuck in a vent in a vacant California restaurant.
It took firefighters about an hour to free the 29-year-old man from his slippery prison, where police said he was unlikely to have survived another day.
But his rescue may come at a price: He is being investigated for possible trespassing and vandalism.
Firefighters were called to a vacant Chinese restaurant in Alameda, California after someone in the neighboring building heard faint calls for help.
"Upon arrival, firefighters heard moaning coming from inside the building," said a statement by the Alameda County Fire Department.
They quickly determined that it was coming from the roof vent on top of the restaurant.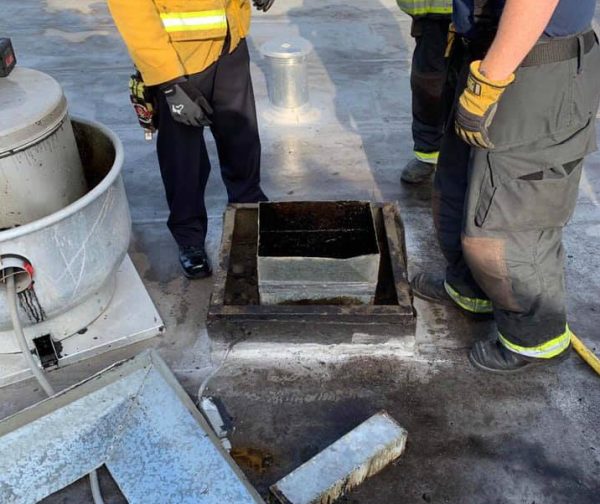 "A ladder was extended and personnel were able to locate a 29-year-old man trapped in a sheet metal grease duct running from the roof to the kitchen," said Ray Kelly of the Alameda County Sheriff's office. "The man was covered in grease and oil and was trapped in such a condition that he could not move."
The man said he had been stuck in the duct system for 2 days,  according to the fire department.
He was taken to the local hospital via an ambulance. "The man was physically exhausted and suffering from dehydration, " said Kelly.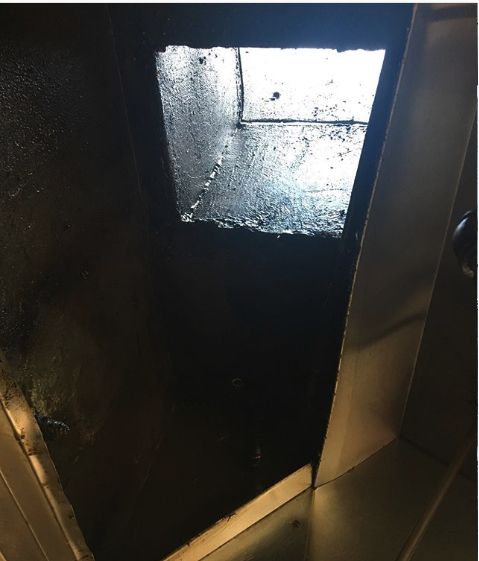 "It is likely he would not have survived another day, given the circumstances," he added.
It is unknown if the suspect intended to commit a burglary, according to Kelly. "At this time, we are conducting a trespassing and vandalism investigation. The case will be submitted to the district attorney."
The man has not been named.
'Criminal Santa'
Last year a California man in a similar predicament resorted to calling authorities on his cell phone from inside the chimney where he was trapped mid-burglary.
Jesse Berube, 32, got stuck as he tried to access a business property in Citrus Heights. He was able to move his arm just enough to be able to reach his phone and call 911.
A photo provided by police seems to show Berube stuck a few meters down the chimney shaft.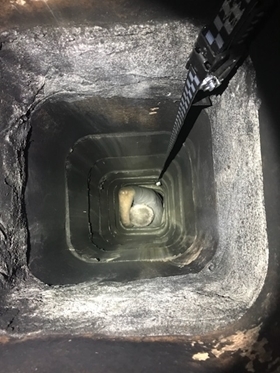 Authorities referred to Berube as a "criminal Santa" who "does not have the same skills as the real deal," Fox News reported.
The lure of the restaurant vent proved the undoing of a suspected burglar last year in Birmingham, England, who also had to call out for first responders to come to extract him from the extractor duct.
Response officer PC Matthew Willocks snapped a picture of the hapless suspect, who had endured 7 hours with his feet sticking out of the vent of a Chicken restaurant.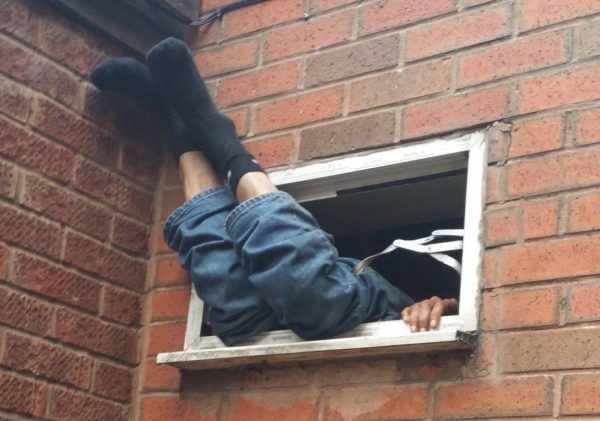 "He was completely stuck and couldn't move at all," he said according to a WM Police statement.
"The fire brigade had to come in and use the jaws of life to pull back all the extractor casing to release him."
Police shared the image with the caption, "Here's what we found when we were called to a burglary in progress today."