A man who was caught on camera whipping and feeding his neighbor's dog using sausages filled with lead filings and shards of glass has been jailed. 
Peter Kevin Kelliher, 64, was sentenced to jail after he admitted causing serious harm to the dog back in March. He said he did it because he was lonely and stressed about the dog's barking, 7 News reports.
The 2-year-old female dog Mia, a golden retriever, is now suffering from lifelong health problems as a result of an attack that spanned months. Mia is no longer able to have puppies as a direct result of the attacks.  
Kelliher, from Adelaide Hills, Australia, pleaded in Mount Barker Magistrates Court guilty to 14 counts of ill-treating an animal after the RSPCA, an animal welfare group, launched legal proceedings earlier this year. 
On Friday, Aug. 4, Magistrate Brian Nitschke sentenced Kelliher to three months in prison immediately.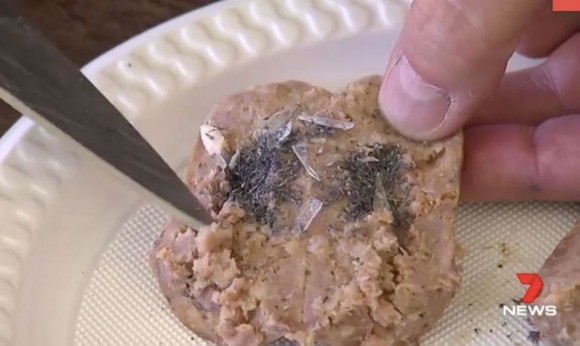 But that sentence was reduced to only one month in jail, as the magistrate suspended the remaining two months as part of a three-year good behavior bond, ABC News reports. 
Kelliher was ordered to pay around $11,000 in compensation to Mia's family, who have been emotionally distraught over the incident. 
In a victim statement offered to the court, the dog's owner and mother of five Heidi Fabian, 45, expressed the trauma her family suffered. 
"I have found it hard to put into words together to concisely articulate the mixed and debilitating emotions that, I, we, our family each experience," she wrote, according to The Advertiser. 
"I was physically ill (when she saw him with the sausages) and still today cannot fully grasp the viciousness and malice that lives within you to do such a vile thing. You are so fundamentally evil."
An Adelaide hills man captured on surveillance camera poisoning his neighbour's pet dog with lead-laced sausages has been jailed for a month pic.twitter.com/437PRLsXSd

— 7 News Adelaide (@7NewsAdelaide) August 4, 2017
Kelliher left the sausages in his neighbor's yard on multiple occasions and also chased the dog before whipping his legs. The dog was purchased in the aftermath of a family death, the Advertiser reports. 
RSPCA chief inspector Andrea Lewis praised the jail sentence and said his cruel actions shocked everyone. 
"This deliberate and deceptive act of cruelty has been met with shock by the community," Lewis said.
"An immediate prison sentence sends a strong message that animal cruelty is a very serious matter that will not be tolerated," she added. 
Kelliher was caught after the dog's family became worried about the animal's sudden and unexplained illnesses. They followed police advice and installed security cameras where they finally uncovered the reason, The Advertiser reported.