NEW YORK— A man who claims that he was forced to leave a New York City bar for wearing a Trump "MAGA" hat says he's considering seeking legal action.
Manny Alicandro, the attorney for Dion Cini, addressed the media in a press conference in front of the bar, Jake's Dilemma, on March 13,
"Mr. Cini was forced to leave Jake's Dilemma for wearing a "MAGA" hat," he said.
Cini was a regular customer at the bar over the past couple of years and had worn his hat there on many occasions. Just a week prior, on March 6, Cini alleges he was berated by several employees for wearing the hat and was asked to leave for refusing to take it off.
In a video taken by Cini, you can see the bartender try to take away the phone and saying that he doesn't like red hats.
Cini said he had already been in the bar for an hour and had placed an order when he was assaulted by the bartender and ultimately removed, solely, he says, for his political beliefs.
"We are concerned with the way we have been treated, and are considering legal redress at the moment," Alicandro said.
Red Hat Intolerance
Cini says he was having a beer and eating fish and chips at the bar, on Manhattan's Upper West Side, when was told he had to leave because of his red "Make America Great Again" visor.
In Cini's video, the bartender and a bouncer can be heard telling Cini he had to leave.
"Because of my hat?" Cini asks.
The bouncer repeatedly tells Cini to leave the bar and acknowledges that he's done nothing wrong.
"Why? Just because I have a red hat on?" asks Cini.
The police were eventually called by the bartender and Cini left after paying his tab.
Apologetic Dilemma
Jake's Dilemma issued an apology on the bar's Facebook page after the incident.
"We would like everyone to know that we strive to remain completely apolitical and welcome customers with all beliefs and affiliations with the same first-rate level of customer service. Jake's Dilemma is not a place promoting any specific political ideology nor a place where we want anyone to feel unwelcome," the Facebook post said.
The bar acknowledged that the bartender was out of line.
"We do fully acknowledge that one of our employees took it upon himself to wrongly promote his political views. We can assure everyone that this employee has been disciplined and will be retrained before being allowed to serve at Jake's Dilemma," the Facebook post said.
At the press conference, Cini's attorney said that after the apology, the spokesman for the bar claimed Cini made anti-Semitic comments, which Cini says is false.
Political Harassment
Other cases of MAGA hat harassment have been reported across the United States, including when a woman assaulted a man in a restaurant in Falmouth, Massachusetts. In another incident, a school bus aide yelled for a student to remove their MAGA hat before grabbing it off his head in Martin County, Florida.
In November 2018, a man wearing a MAGA hat was assaulted while walking in Tucson, Arizona.
A man wearing a MAGA hat was assaulted while walking around downtown Tucson. https://t.co/vlONO10e57 pic.twitter.com/CGvKk0xMOv

— KVOA News 4 Tucson (@KVOA) November 14, 2018
At the center of recent MAGA hat attention is Covington Catholic school student Nicholas Sandmann, who has moved to sue CNN and the Washington Post for defamation.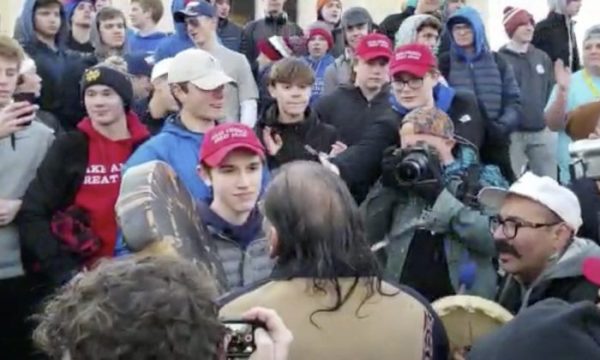 Another example is the case of Jussie Smollett, the "Empire" actor who is charged with filing a false report of a hate crime to police. He alleged that two white men,  shouting slurs and wearing "MAGA" hats, had assaulted him in downtown Chicago.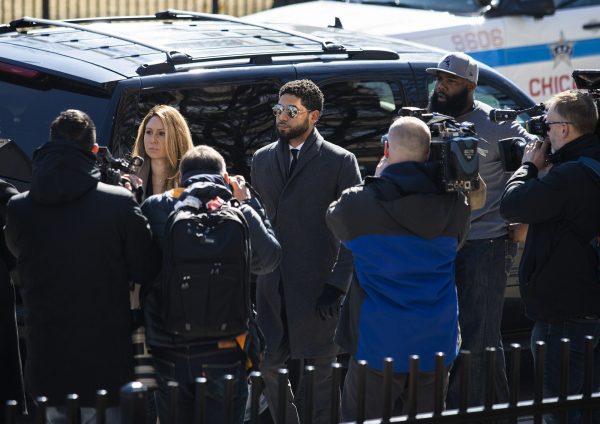 Detectives in Chicago later determined that Smollett allegedly staged the attack, which was highly publicized by media outlets, politicians, and celebrities.
Authorities say Smollett had actually directed two men to purchase rope, masks, and a hat at a store in Uptown Chicago, and to then assault him. Police say Smollett committed the act to further his career.
Smollett has since been indicted on 16 counts for allegedly lying to authorities of lying to the police. He was also charged with disorderly conduct.
He has since been released on $100,000 bail.
From NTD.com