Like many residents who live within a few miles of Norfolk Southern Railway's Feb. 3 train derailment, Jerry Corbin evacuated before the railroad decided to conduct a controlled burn of five freight cars containing the toxic vinyl chloride on Feb. 6.
When he returned to his home in Darlington Township, Pennsylvania—around 1.4 miles from the crash site—Corbin discovered two surprises. Black debris that resemble ash was strewn all over his yard and on his roof, and an "undetonated blasting cap" landed in a pasture near his house.
On the evening of Feb. 3, a Norfolk Southern train carrying 151 cars derailed in East Palestine, a village of 4,761 located in eastern Ohio near the Pennsylvania border.
According to the National Transportation Safety Board (NTSB), "38 rail cars derailed, and a fire ensued which damaged an additional 12 cars."
Of the cars that derailed, 11 contained hazardous materials, the NTSB said.
Seeking to avoid an explosion, Norfolk Southern decided to release and burn vinyl chloride from five rail cars, which sent flames and thick black smoke billowing into the sky once more.
Corbin believes the blasting cap, which has a wire and is filled with cotton, was used to help detonate the cars in the controlled burn.
"It's not real big. It would blow your hand off," Corbin said of the blasting cap. "I contacted someone in the military and asked him about it. He said don't have any static electricity around it, don't drop it."
Vinyl chloride is a chemical used to make PVC pipes and other products. The National Cancer Institute notes that vinyl chloride has been linked to cancers of the brain, lungs, blood, lymphatic system, and liver.
Other rail cars contained ethylene glycol monobutyl ether, ethylhexyl acrylate, isobutylene, and butyl acrylate, which are all used in the making of plastic products.
"The night of the crash, my wife and I were driving into East Palestine to go to the store, and we saw the fire and the smoke," Corbin explained. "I have asthma, so even before there was an evacuation order, we packed a few bags and went to a hotel away from the area."
Before the controlled burn, Ohio Gov. Mike DeWine urged residents in a 1-mile by 2-mile area surrounding East Palestine—which included parts of Ohio and Pennsylvania—to evacuate.
DeWine described the urgency as a "matter of life and death."
Three days later, DeWine held a press conference announcing that the evacuation order had been lifted and residents could return to their homes. Norfolk Southern trains resumed their routes through East Palestine, and federal and state officials said testing showed that the air and water are safe.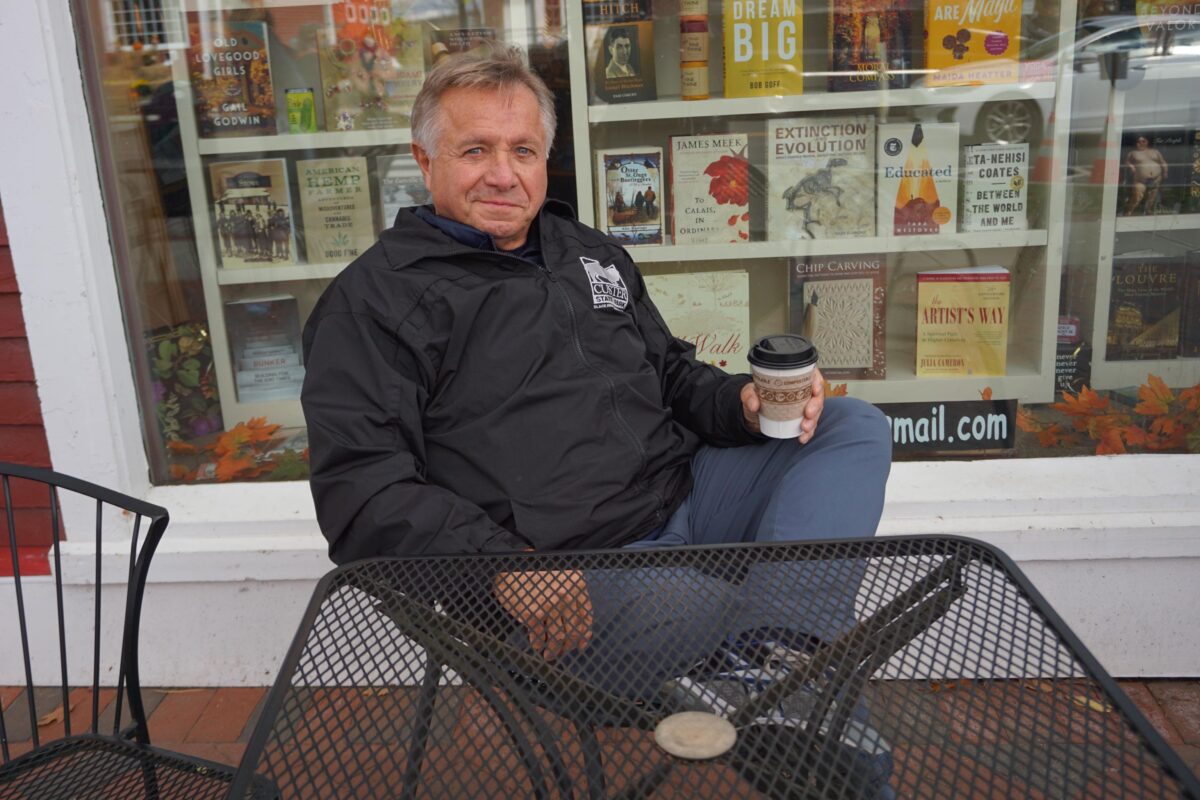 Corbin and his wife returned to their house on Feb. 9, which was his 73rd birthday.
During an initial phone conversation, the EPA said the ash on Corbin's property was not from the derailment, Corbin said.
"Then they sent some people out, and they were astonished about what they saw," Corbin said, adding that the EPA representatives took samples of the ash before they left.
"A few days later, some more people from the EPA stopped by and took more samples," Corbin said. "I asked them to let me know what is in that ash before we plant our garden. We haven't heard anything from them since."
Norfolk Southern is facing scrutiny over many aspects of the derailment, including the decision to release the vinyl chloride.
A lawsuit filed last week in U.S. District Court by Morgan & Morgan alleges that the railroad dumped more than 1.1 million pounds of vinyl chloride into the surrounding area because of the controlled burn.
Burning vinyl chloride creates phosgene gas, which is a chemical warfare agent used in World War I by the Germans and was banned by the Geneva Convention.
"Norfolk Southern blew holes in its vinyl chloride cars, and dumped 1,109,400 pounds of cancer-causing vinyl chloride directly into the environment," the lawsuit contends.
In a TV interview on Feb. 21, Norfolk Southern CEO Alan Shaw defended the decision to conduct the controlled burn.
"I was at unified command, and I can tell you that the governors of Ohio and Pennsylvania, [East Palestine] Mayor [Trent] Conaway, [East Palestine] Fire Chief [Keith] Drabick, the National Guard, and Norfolk Southern were aligned," Shaw said. "The controlled burn—controlled release was the safest course of action for the citizens of East Palestine."

The ash scattered around his yard, and the undetonated blasting cap, show the recklessness of the controlled burn, Corbin said.
A neighbor showed Corbin the undetonated blasting cap, he explained.
"I put it in a bucket, and put that bucket in another bucket, and then put it in a shed in my backyard," Corbin said. "This, and the ash, are proof that the controlled burn wasn't as safe as they are saying it was.
"I want to know what's in the ash, and if my soil is contaminated, and I want it off my property," Corbin added. "I didn't put it there. Norfolk Southern put it there. They should remove it. We shouldn't have to live in these conditions, wondering whether or not we can breathe the air, plant our garden, or even take a shower."
Corbin is a radio personality for WXED 107.3 FM in Ellwood City, Pennsylvania, and the author of "Family Gold," a book that chronicles a Civil War story.
"My headaches, sore throat, coughing, and nerves have been such that I have not been able to write since the train explosion," Corbin added. "Many of us have been unable to work, so it costs us money. The anxiety of dealing with this on a daily basis is frustrating, and we need help."
Derailment cleanup work around East Palestine is producing "a lot of dust in the air, which could be contaminated," Corbin said.
"In the evenings, many of us smell smoke from the wreckage. We don't know what they are doing, but it is concerning," he added.
Corbin believes Norfolk Southern can offer a solution if the ground is found to be contaminated with toxic chemicals.
"They keep telling us the water and the air are safe, but people all around here are feeling sick," Corbin added. "They have not given us answers about the soil or even tested our soil. If the ground is contaminated here, we deserve to know. If that's the case, they should buy our property so we can relocate to somewhere safe."