Guo Baojun, a 63-year-old man passed away in custody after being held for 14 months for his faith in Falun Gong in central China's Zhengzhou city on March 14.
The man's son received a text message saying that his father had died when he woke up at 7:27 a.m. on March 14, according to minghui.org, a U.S.-based website dedicated to reporting on the persecution of Falun Gong in China.
The devastated son called Zhengzhou City No.3 Detention Center that morning, and the guards confirmed his father had died.
His father had been held in the detention center since November 2019.
Guo, based on the report, was from Zhengzhou city of Henan Province, a central region of China. He started practicing Falun Gong in 1995 while he was working as an accountant in a local hospital.
Falun Gong, also known as Falun Dafa, is a spiritual practice composed of slow-moving meditative exercises and moral self-improvement based on the principles of truthfulness, compassion, and tolerance. An estimated 100 million people were practicing Falun Gong in China by the end of the 1990s.
The rapidly growing popularity of Falun Gong was regarded as a threat by the Chinese Communist Party (CCP). In July 1999, the CCP launched a brutal persecution, resulting in millions of Falun Gong practitioners being prisoned, abused, tortured, and an unknown number killed.
Since then, Guo had been repeatedly arrested and detained. The family experienced great hardship.
Now, even families are not allowed to see the body of their loved one.
Guo's son, sister, and brother-in-law were directed to the No.3 Detention Center when they demanded to see Guo's body later that day.
The guards said they had to wait until a forensic doctor had examined the body and that only five family members would be allowed after filling out applications. Moreover, they were told that taking photos or videos would not be permitted, but the detention center would record everything, the report said.
It is not clear whether the families have seen Guo's body yet.
Sentencing and Hunger Strike
Guo was arrested on the evening of Nov. 10, 2019, while distributing Falun Gong information materials otherwise unavailable in the mainland due to the persecution.
After being held at the Xinmi City Lockup for a few days, he was transferred to the detention center in Zhengzhou. The local prosecutors indicted Guo on Jan. 9, 2020, and moved his case to the Zhangyuan District Court in Zhengzhou city.
On June 13, Guo attended a video hearing at the detention center with a feeding tube in his nose. Guo had been holding a hunger strike for nearly seven months. He was being force-fed every day. His son told the reporter that Guo's voice was weak but in a good spirit.
The judge sentenced Guo to two years and 20,000 yuan ($3,074) fine on June 29, 2020, although he denied any wrongdoing in practicing his faith and speaking up about it.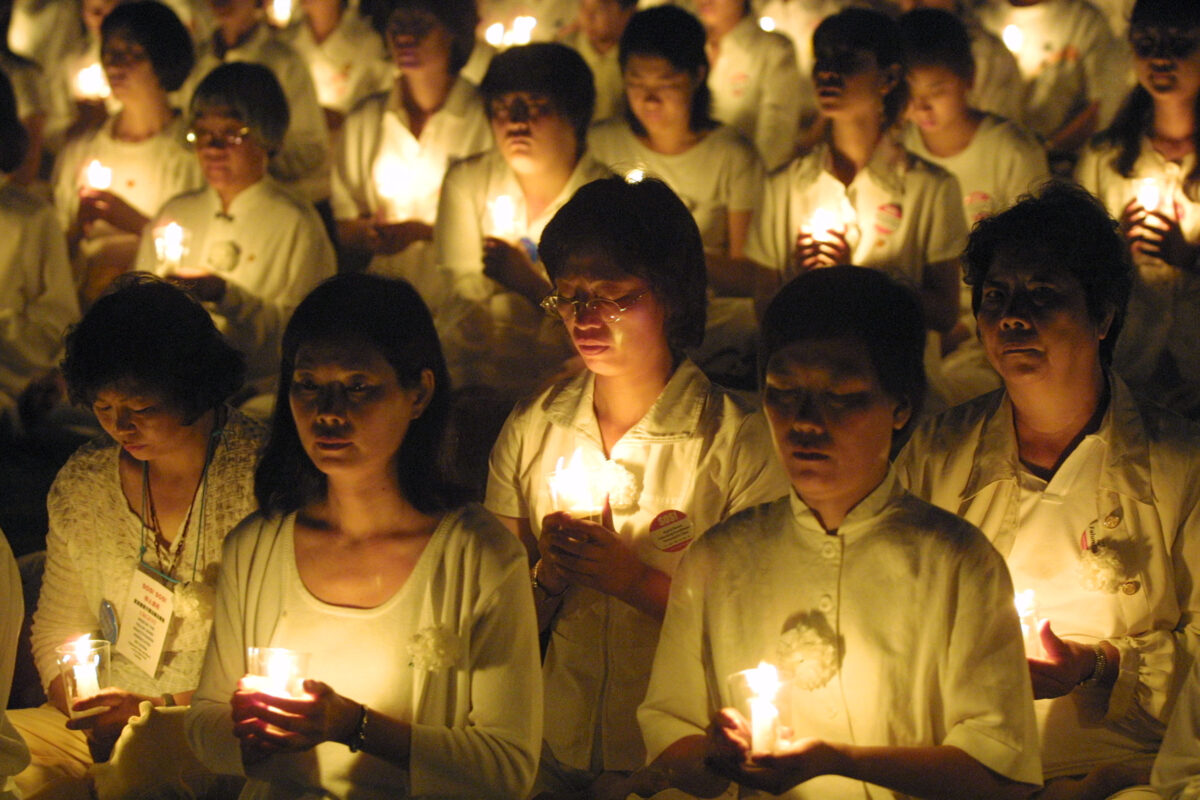 Critical Condition
Since he was arrested, his relatives had been denied the right to visit him until he was on the verge of death.
On Dec. 3, 2020, the guards called his son and said Guo was in critical condition in Zhengzhou City No. 2 People's Hospital, according to a report on Dec. 8, 2020.
For the first time, Guo's son was able to visit his extremely emaciated father since he had been arrested. The report mentioned that Guo, only weighing 88 pounds, coughed while he tried to talk.
The son described his father's condition—he had a feeding tube in his nose, bruises and needle wounds on his arms, cracked skin, swollen eyes, and he had a urinary catheter connected.
When the son called the detention center three weeks later, the guards said Guo was better but still in the hospital. The son was referred to doctors when he asked more about his father's condition. The guard also stated he had to get permission if he wanted to visit.
Later, the son went to the hospital, but the doctor refused to disclose any details. The doctor said any discussions had to be supervised by guards. When the son said it was the guards who sent him there, the doctor asked for an approval letter.