The political consultant accused by his wife of having an affair with Rep. Ilhan Omar (D-Minn.) denied the claim in a new court filing as a report indicated that Omar's own husband is seeking a divorce.
Dr. Beth Mynett, 55, said that Tim Mynett, 38, told her he loved Omar and left her for the lawmaker. She filed divorce papers in late August.
Because Omar's campaign paid Mynett's company nearly $223,000 since Aug. 2018, a legal group filed a complaint with the Federal Election Commission alleging she used campaign funds for personal expenses.
Omar denied the affair, saying questions about what happened are "stupid."
Now Tim Mynett is denying the affair as well, saying in a counterclaim filed in Washington and obtained by the New York Post that his wife is trying to derail his career.
"Since the time of Mr. Mynett's departure from the marital home, Ms. Mynett began a negative campaign against Mr. Mynett, seemingly in an effort to ruin his career and permanently damage his relationship with William and his step-daughter," the court papers stated. "Mr. Mynett denies that he told Ms. Mynett he was leaving the marriage for Representative Ilhan Omar ('Rep. Omar') or that he was in love with her."
He said his wife made him get married to her in 2012 and that their differences over how to take care of their child led to the split, in addition to the expensive renovations Beth Mynett allegedly ordered for their house.
Following the allegations of an affair, Omar's husband Ahmed Hirsi has been telling friends that he won't go to jail for Omar, sources told Powerline, a blog that broke open parts of the story of Omar's checkered past, which includes filing tax returns with Hirsi while still being married to another man.
Hirsi is also saying that he did not know that Omar married the other man, Ahmed Elmi, at the time, but he allegedly knows now that Elmi is allegedly Omar's brother. Hirsi is allegedly being threatened by Omar that he would also be in trouble if the truth were to emerge and has been asked to state publicly that he is still married to Omar despite the fact they are separated and have been divorced under Islamic law.
A longtime friend of Omar and Hirsi told the Post that Omar asked Hirsi to divorce her in March because she didn't want to be the one filing but he declined, telling her she should be the one to file.
But Hirsi has changed his mind after finding out about the alleged affair.
"I'm surprised he hasn't filed already," the source said.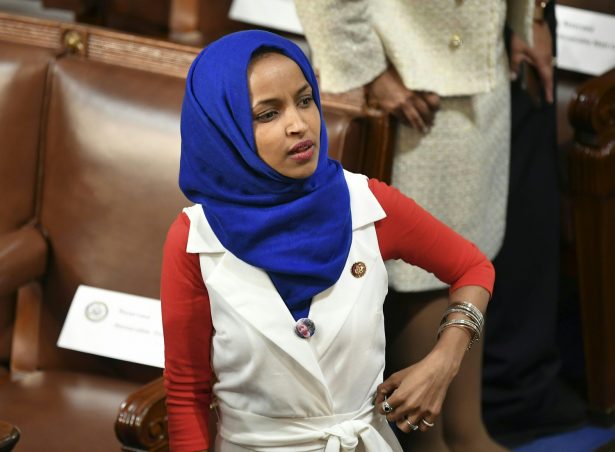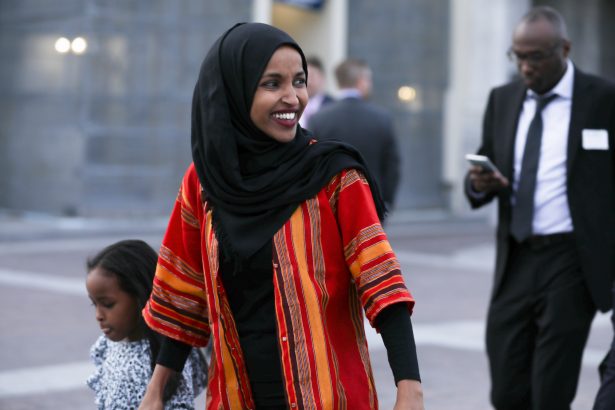 The source said Hirsi is "very confused."
Omar's marriage history has drawn nationwide attention and calls for probes as address records indicated that Omar, Hirsi, and Elmi were living together in North Dakota for at least one year.
Omar and Hirsi were married in 2002 in what they described as a religious ceremony before splitting in 2008.
Omar married Elmi in 2009 and was legally married to him until 2017. Omar married Hirsi in 2018.
Omar and Hirsi filed joint tax returns in 2014 and 2015. She was ordered this year to repay thousands of dollars for violating campaign finance laws earlier this year.
Omar has not responded to requests for comment from The Epoch Times.
Omar released a statement in 2016 after initial reports about the marriages emerged, saying, "Insinuations that Ahmed Nur Said Elmi is my brother are absurd and offensive."
She said the timeline of her marriages that she offered was for "clarity" and that she hoped "we can put these rumors to rest."