*DETAILS OF THIS STORY MAY BE DISTURBING*
DOYLESTOWN, Pa—A Pennsylvania jury will decide on life or death for a Pennsylvania man who pleaded guilty in the 2016 rape, murder and dismemberment of his girlfriend's teenage daughter.
Jacob Sullivan, 46, pleaded guilty to all charges last month in a case that raised questions about the child welfare system's failure to protect 14-year-old Grace Packer, who spent years in an abusive home before she was sexually violated, drugged and then, finally, strangled in the attic of a suburban Philadelphia home.
Prosecutors have said that Grace's adoptive mother, Sara Packer, watched Sullivan act out a rape-murder fantasy they shared.
Sara Packer, a former foster parent and county adoptions supervisor, has agreed to plead guilty in exchange for a life sentence and could be called to testify at the penalty phase of Sullivan's trial, which opens outside Philadelphia on Friday, March 15.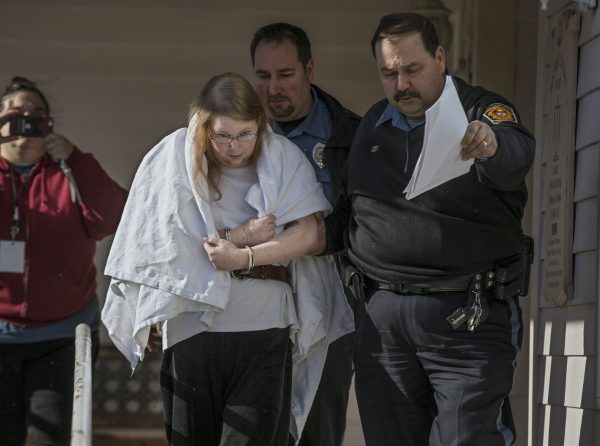 Sullivan's attorneys plan to argue that Sara Packer masterminded the plot against Grace and that Sullivan should be sentenced to life.
Packer and her husband at the time, David Packer, adopted Grace and her brother in 2007.
The couple cared for dozens of foster children before David Packer was arrested in 2010 and sent to prison for sexually assaulting Grace and a 15-year-old foster daughter at their home in Allentown, about an hour north of Philadelphia.
Man could get death in Grace Packer's rape, murder, dismembermenthttps://t.co/85fC8xYe7S

— FOX 29 (@FOX29philly) March 15, 2019
Sara Packer lost her job as a Northampton County adoptions supervisor in 2010 and was barred from taking in any more foster children. But she wasn't charged with a crime related to her husband's, David Packer's abuse.
Jacob Sullivan, Sara Packer's new boyfriend, beat and raped Grace, and she was tied up, drugged, and left to die in a sweltering attic, authorities have said. Returning the next day and finding Grace was still alive, Sullivan strangled her, court documents said.
The couple stored her body in cat litter for months, then hacked it up and dumped it in a remote area where hunters found it in October 2016, police have said.
Sullivan entered his guilty plea as jury selection was about to get underway. The jury that will decide his sentence must be unanimous in order to impose the death penalty; otherwise, Sullivan will get life without parole.
Abuse Was Routine In Dismembered Teen's Home
The abused foster daughter, now 25, said that the sexual abuse by David Packer began when she was 15, shortly after she moved into the home, and went on for years.
David Packer moved the woman to a third-floor bedroom near the one he shared with Sara Packer, she said. He would tie her to the bedpost and leave her there all night, she said. He would tie her to a chair and gag her. He dressed her in revealing outfits and made her go on a diet. He sexually abused her.
"After a while, I just gave up, mentally and physically. What was I supposed to do?" said the woman, adding she twice tried killing herself while living in the home and was hospitalized.
Sara Packer, the woman said, had to know about the abuse. Prosecutors say Packer was aware of her husband's sexual contact with the foster daughter at least by the time the girl became an adult.
The now-grown foster daughter said she was unaware at the time that David Packer was also abusing Grace. But, she said, she did see Sara treat Grace horribly.
????caucasians…Grace Packer was murdered in 2016 at the age of 14. Her adoptive mother, Sara Packer w/her boyfriend, Jacob Sullivan. Grace was raped, beaten, bound, and gagged. Packer plead guilty & Sullivan is currently on trial. RIP Grace????????????????????????https://t.co/sP8mZmbROk… pic.twitter.com/NBaTNQVAZ4

— ure_too_close (@ure_too_close) February 22, 2019
"Some parts of Grace's brain didn't work like ours, and you'd have to tell her more than a few times to do things. And Sara didn't like that. She yelled, she screamed. She hit her. She was just a big bully to her," the woman said.
Crystal Rodack, a third former foster daughter, spent only a few months in the Packer home. But in January 2010, she said, she looked at David Packer's phone and found photos and videos showing him sexually abusing the other foster daughter. She alerted relatives, who immediately called the police.
Rodack said she always felt uncomfortable in the home. And, like the other former foster children, she said Grace took a back seat to her brother.
"They were really mean to Gracie in the home. She was always in trouble," Rodack said. "They would hit her, they would ground her and take stuff from her and keep her in her room. I felt bad for her."
"Gracie was never in a bad mood. Gracie was always happy and fun, and she always wanted to be with the girls," she said. "She was warm. She would open her heart to anyone and everyone. If you gave her the chance, she would be your best friend."