A legal battle has been quietly unfolding in the Milwaukee County Circuit Court over a citizen's request to examine Milwaukee's voting records from the 2020 presidential election.
In the months following that poll, Peter Bernegger filed four major requests under the Wisconsin Open Records Law to obtain, examine, and copy information—such as absentee ballot applications, envelopes for them, and voter registration applications relevant to or used in the conduct of the 2020 election in the state.
Bernegger told The Epoch Times that he has reason to believe that there were serious violations of Wisconsin and federal law based on the eyewitness accounts of four whistleblowers and several sworn affidavits from election observers assigned to Milwaukee's central counting facility on Nov. 3, 2020.
He said the data he's seeking through his open records requests may contain additional evidence corroborating his allegations of misconduct on the part of election officials.
"It's clear from what we know already that Milwaukee Election Commission officials partnered with out-of-state nonprofits, operating under the guise of COVID-19 mitigation, in creating a sophisticated and well-executed 'Get Out the Vote' operation for the Democrats," Bernegger said.
He said data showing who requested an absentee ballot application, who turned it in for an absentee ballot, and who returned a voted ballot is valuable information in the hands of partisan operatives known as "navigators"—workers who go out and try to boost the vote in politically targeted areas.
Municipal officials and their election departments are supposed to be completely nonpartisan and maintain the strictest neutrality in the administration of elections.
To date, Bernegger said he has received very little of the data he asked for.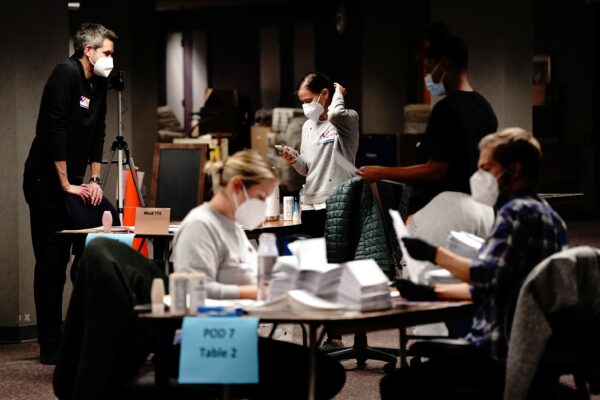 Worried about the federal law that authorizes local election officials to destroy documents of a past federal election after 22 months, Bernegger took legal action to ensure their preservation.
On Dec. 16, 2021, Bernegger, who isn't an attorney, went before a judge to petition for a writ of mandamus.
If granted, the mandamus order would require the City of Milwaukee to provide the documents requested. The suit also prevents the destruction of the records as long as they're the subject of litigation.
Bernegger said it was the city's denials, delays, and slow and incomplete response that prompted him to sue to enforce his right to examine the data before it's destroyed.
In charge of the records is the Milwaukee Election Commission's executive director, Claire Woodall-Vogg. She's the respondent in the civil case.
Woodall-Vogg is represented by Milwaukee assistant city attorney Peter Block.
On Jan. 25, Woodall-Vogg answered Bernegger's petition and asked Circuit Judge Laura Gramling Perez to dismiss the case with prejudice.
The brief in support of Woodall-Vogg's motion to dismiss reads in part: "The petitioner has alleged that the Milwaukee Election Commission engaged in a far-reaching nefarious scheme. … The Milwaukee Election Commission categorically denies the petitioner's ludicrous allegations.
"The integrity of the Nov. 2020 election has been examined and litigated. … Investigation after investigation has debunked all of the ridiculous far-fetched claims that have been asserted."

Perez rejected the motion to dismiss on March 23, and the case moved on to discovery.
"It was a good victory for us," said Bernegger, who told The Epoch Times that nearly every election fraud lawsuit filed across the country has been dismissed by the courts on procedural technicalities before any consideration of the merits of the case.
According to Bernegger, the commission isn't the only government office slow-walking and obstructing his quest for the election data.
When he requested three signed blank subpoena forms from the county clerk's office, it took more than six weeks to receive them, despite numerous written requests and a telephone call.
"I got the subpoena forms nine days before the end of the 60-day period allotted for discovery. That left me nine days to have three subpoenas served, set up depositions, get transcripts back, and write pleadings," Bernegger said.
"When I moved for an extension of the discovery period, my motion was denied by Judge Perez."
He then filed a motion to have the judge recuse herself as unable to be impartial because she conducted her own investigation of the county clerk's delay in mailing out the subpoena forms.
Bernegger said the judge questioned clerk's office personnel about the delay without notifying him or providing any supporting documentation of what she learned, and from whom, during her investigation.
He said the judge's actions, in effect, made her a witness in the discovery extension proceeding.
Good Faith Effort
Perez has acknowledged her communication with clerk's office personnel concerning Bernegger's motion to extend discovery.
Perez denied his extension motion.
On June 1, Bernegger filed a complaint against Perez with the Wisconsin Judicial Commission, which is still pending.
On April 13, Woodall-Vogg, accompanied by her lawyer, was deposed by Bernegger for two hours.
The Epoch Times has obtained a transcript of Woodall-Vogg's deposition.
During questioning, Woodall-Vogg insisted that she and her staff of seven full-time employees were making an ongoing, good faith effort to comply with Bernegger's Open Records requests.
She repeatedly said that much of the data requested by Bernegger was nonexistent.
Woodall-Vogg also said it would be "unduly burdensome" to provide Bernegger with the 200,000 absentee ballot applications he asked for.
Absentee Applications
Under questioning, Woodall-Vogg said she provided "aggregate data of registered voters by ward, absentee applications, and absentee ballots" to National Vote at Home and Quickbase.
She said in the deposition that she did this "two or three times," that the uploads took place in mid-July and mid-September 2020, and that she didn't recall if she did a third upload of data.
National Vote at Home is a nonprofit organization advocating for the transformation of the way voting is conducted in the United States.
It cooperates with the Zuckerberg-funded Center for Technical and Civic Life and has partnered with several George Soros-funded organizations.
Emails obtained by The Epoch Times demonstrate that Woodall-Vogg worked on an almost daily basis with representatives of National Vote at Home in the months preceding the Nov. 3, 2020, election.
Woodall-Vogg said Quickbase was a tech team working on a project for the Milwaukee Election Commission.
According to its website, Quickbase is an application development platform specializing in getting "business data into the hands of those who need it most."
Woodall-Vogg said under oath that she may have provided as many as 300,000 addresses of registered voters to National Vote at Home and Quickbase, but there were no names to go with them.
She said the data wasn't required to be paid for because there was no identifying voter information (names) connected with the addresses.
Campaign Contribution?
"It was addresses of voters who had absentee applications, but nothing identifying the voters," Woodall-Vogg said.
In an about-face, on July 15,  she submitted a correction of two statements she made in her April 13 deposition.
Woodall-Vogg now says the data uploads to National Vote at Home and Quickbase took place in July and October 2020, not July and September and "that the first upload did contain the names of individuals and other information besides addresses."
Wisconsin's Badger Voters Manual states that members of the public can purchase voter data for a fee of $25 plus $5 per thousand names.
Bernegger questions whether voter data provided to National Vote at Home and Quickbase by a Milwaukee city official free of charge may amount to a campaign contribution to the Democratic Party.
He told The Epoch Times that, thanks to the generosity of friends, he was able to pay about $70,000 for the voter lists needed for his investigation.
Why Bernegger was charged $70,000 for voter lists and National Vote at Home got them for free remains unclear.
Woodall-Vogg explained her corrections: "I testified to the best of my recollection, knowledge, and information. That while gathering and reviewing records that were responsive to a public records request, I recently discovered that my recollection as to two items was incorrect."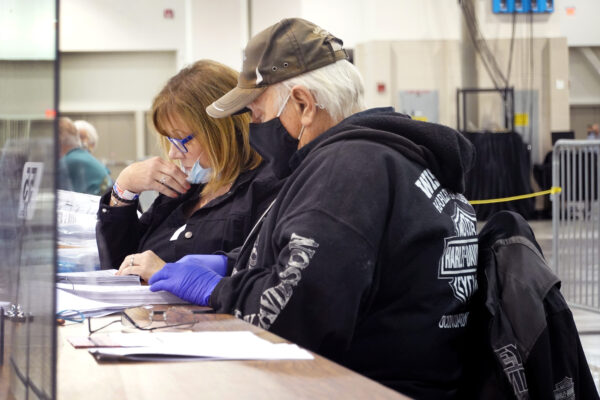 Although Perez denied Bernegger's motions to extend the discovery period and to recuse herself, the case will go on without her.
Perez has been taken off Bernegger's case by what Milwaukee County officials describe as a "pre-scheduled routine" rotation of judges between varying branches of the circuit court system.
On May 11, Chief Judge Mary Triggiano issued Directive 22-04, effective on July 30, rotating Perez and several other judges in both the criminal and civil divisions to other dockets.
Bernegger told The Epoch Times that he'll file a motion to extend discovery with the new presiding judge, Thomas McAdams.
"If the discovery period is extended, the next move is to prepare briefs for the mandamus request," he said.