A Utah man confronted a woman who was caught on camera stealing a package from his porch.
According to KSTU-TV, the man tracked the woman down before she handed it over to him.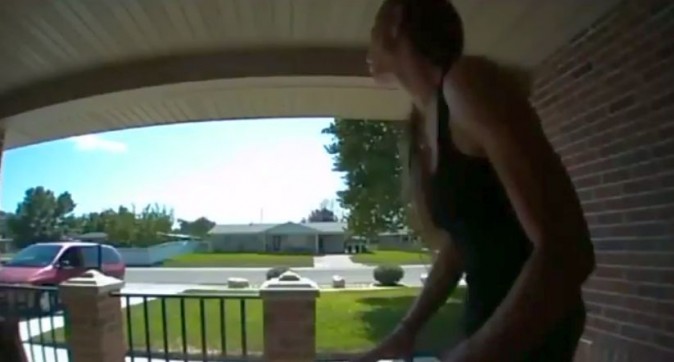 "I was determined to find the lady, and I had the inkling to drive around the neighborhood and look for her," the man said.
He said that a package for his pregnant wife arrived at his home Monday, Aug, 28, 2017, but security cameras captured a woman approaching the porch and stealing the item.
The man, who was only identified in the KSTU report by his last name, Salmon, posted the video on Facebook. A neighbor then spotted the woman's van.
"Honestly, two streets down? Stupid criminal. If you're going to steal something in a neighborhood, why would you stay in the same neighborhood," Salmon said in an interview.
Then, he asked the woman about the package.
"I was like, 'We have proof that you took it' and she said 'No.'" Salmon replied, "No, look," and pulled out his cell phone with her picture on it.
The woman then handed the package over. Salmon, noticing more suspicious packages in the woman's car, then called the local authorities.

"She took off and did a U-turn on somebody's lawn to get away," Salmon added.
Police haven't been able to identify and arrest the woman.
According to FindLaw, stealing a package constitutes as tampering with mail—a federal offense. It says:
"Theft of a letter, post card, package, bag, or mail from a US post office or a collection center associated with USPS is subject to fines and up to five years imprisonment, according to the United States Code, Section 1708. Receiving mail that was stolen is similarly punishable.

The United States mail belongs to the federal government and is protected by it. But that does not mean that you can steal from other delivery services. Although not all packages come with the heft of the feds behind them, it is still a crime to steal.

Last year, a Texas woman caught a man stealing a package from her porch on camera. "Just backed up like they belonged here. Gentleman comes out the back of the car, grabs the package, puts it in the car and they leave," explained the theft victim. The thief was later arrested and charged with theft."