A 31-year-old man said he was "intrigued" by the mass murders in Ohio and Texas when deputies arrested him for calling in a fake threat to open fire inside a Florida Walmart, forcing 1,000 people to be evacuated.
Wayne Lee Padgett, 31, was tracked down and arrested on Aug. 4, "just hours" after phoning in a fake threat to the Walmart in Gibsonton, just 10 miles south of Tampa, according to the sheriff's office.
Padgett is charged with a false report of using a firearm in a violent manner, a second-degree felony under Florida state law, according to a statement from the Hillsborough County Sheriff's Office.
Hillsborough County Sheriff Chad Chronister told a press conference that Padgett admitted to making the call, telling officers "he was intrigued with the shootings over the last couple of days."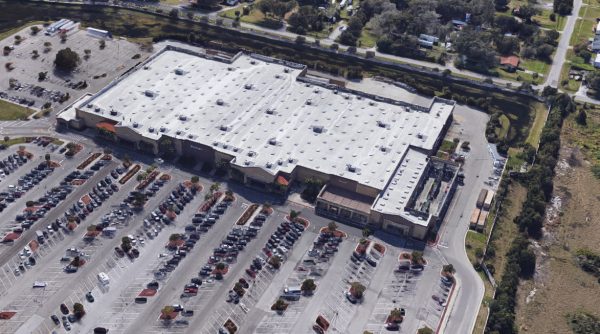 Twenty-nine people were killed in two mass shootings over the weekend that could have been much worse if not for the swift intervention of armed officers.
One of those shootings in El Paso, Texas, took place at a shopping center, with most of the 20 who were killed inside a Walmart at the time.
Padgett is unemployed and has no criminal history. Law enforcement found no firearms located at his home.
"After the events over the last week, we all fear for our safety to begin with so to have an individual who for whatever reason wants to be a copycat, or wants to instill fear in people for whatever that motive may be is disturbing," Chronister told reporters, according to WFLA. "If you make any type of threat, know that your sheriff's office is going to take it extremely seriously, expend whatever resources in a timely fashion to find that threat."
Padgett's mother works at the Walmart, and was at work during the time of the call, according to deputies.
Managers at the Walmart received a call just after 1 p.m. on Aug. 4, reported the Tampa Bay Times, from a man threatening to enter the store and shoot everyone.
Staff at the mall initiated an evacuation of nearly 1,000 customers inside the store.
Deputies were on the scene within five minutes, checked for injured customers, then headed into the store to check for hidden people or weapons. They determined that the threat was not credible within an hour.
The sheriff praised his deputies for their response to the threat.
"They arrived within moments and immediately gained control of the chaotic scene, evacuating large numbers of patrons while simultaneously and without hesitation, searching for the shooter," he wrote on Twitter on Sunday night.
He is being held in Hillsborough County Jail on a $7,500 bond, according to jail records.
Mass Shootings Condemned by President Trump
President Donald Trump condemned the two mass shootings that took place over the weekend in an Aug. 4 proclamation that honored the victims in Dayton, Ohio, and El Paso, Texas, as he ordered the U.S. flag to be flown at half-staff at the White House and all other public buildings.
"We condemn these hateful and cowardly acts," Trump said in the proclamation. "Through our grief, America stands united with the people of El Paso and Dayton. May God be with the victims of these two horrific crimes and bring aid and comfort to their families and friends."
"Our nation mourns with those whose loved ones were murdered in the tragic shootings in El Paso, Texas, and Dayton, Ohio, and we share in the pain and suffering of all those who were injured in these two senseless attacks," he said.
In Dayton, nine people were killed and dozens more were wounded after a man clad in body armor fired into a downtown district on Aug. 4. He was shot dead by police shortly after opening fire. A motive wasn't immediately clear.
In El Paso, Texas, Gov. Greg Abbott and law enforcement said 20 people were killed and 26 others wounded on Aug. 3 in a shopping center attack. The suspect is currently in custody and his motives are under investigation.
Epoch Times reporter Bowen Xiao and The Associated Press contributed to this report.