A woman was hospitalized with life-threatening injuries when her ex-boyfriend—already under a restraining order—drove into the side of her car at 50 mph in Washington state.
Both were trapped inside the wreckage of their vehicles following the crash in Parkland on the morning of Dec. 30, according to Pierce County Sheriff's Office, while emergency services rushed to the scene.
"When deputies and firefighters arrived, a 34-year-old female was trapped inside a Honda and a 37-year-old male was trapped inside a Volkswagen that had flipped over onto its roof," said the sheriff's office in a statement. "Both vehicles had significant damage and the occupants had to be extricated by firefighters."
"Both drivers were transported to hospitals with life-threatening injuries," the statement said.
He has since been charged with various crimes for the incident, including first-degree domestic violence assault.
Photographs released by the sheriff's office show the Volkswagen lying upside down next to a house where a hole has been punched through the wall. The woman's Honda is deeply crushed on the driver's side, with only dents on the passenger side.
The man was later named as Christopher Walker by Fox.
As sheriffs began to investigate, it emerged that the crash had been no accident.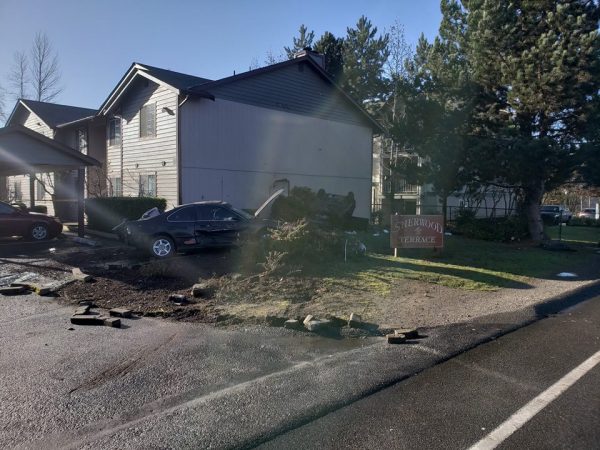 "The female victim reportedly was seen in her vehicle by the male suspect as he was driving in Parkland," according to the sheriff.
"The male suspect T-boned the female victim's Honda at speeds estimated to be at least 50 mph, crushing the side of the vehicle and critically injuring the victim," he continued.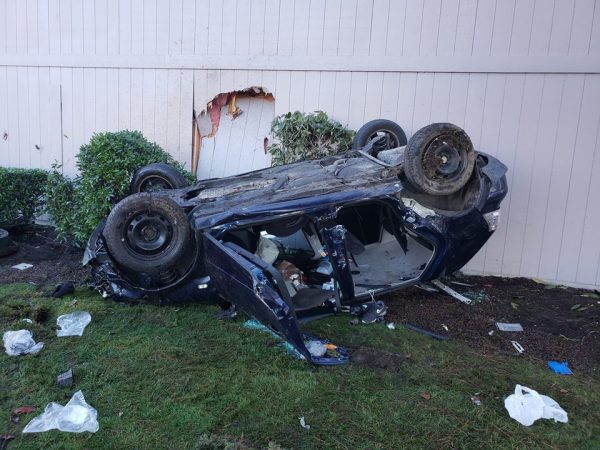 The sheriffs later learned that the two drivers had been in a previous relationship and that the woman had recently taken out a restraining order against the man.
Knife Clipped to His Waistband
A witness heard Walker yell, "I'm gonna [expletive] kill her," according to court documents, reported Fox. Walker had a knife clipped to his waistband when he was arrested, deputies reported, according to Fox.
He has been released from the hospital and booked into Pierce County Jail, facing a list of charges: domestic violence assault in the first degree; assault in the second degree; felony violation of a domestic violence no-contact order; three counts of reckless endangerment; violation of a domestic violence protection order; and driving with license suspended.
The woman had been granted a restraining order against Walker just three days before he slammed into her, according to the News Tribune, after she claimed he had threatened multiple times to kill her, had been violent, and was stalking her.
He had thrown her across a parking lot and pinned her against a car by the neck, according to court documents cited by the Tribune, and had rammed a vehicle because she was inside.
According to the restraining order, reported the Tribune, he waited outside homes to see if she was with anybody and would send threats to her friends and co-workers via text.
"He threatens every couple days to kill himself if I leave him or don't talk to him," she wrote, according to the Tribune, describing him as her estranged husband or ex-husband.
According to the Tribune, he has prior convictions for second-degree assault, harassment, second-degree robbery, second-degree unlawful possession of a firearm, forgery, and bail jumping.