A man campaigning against "puberty-blocking drugs" for children was stormed by a group of masked individuals in downtown Montreal on the evening of March 12.
Christopher Elston said he was wearing signs warning about the harms of "puberty blockers" for children and was having conversations with passersby on Rue Saint Catherine, near Concordia University, when the assailants approached him in what he described as a "premeditated attack."
"I had no time to react. In about on second there were several people on me," Elston told The Epoch Times. "They were ripping off my signs. I got punched in the face, and then it's all kind of a blur, it happened really quickly. Another man punched me in the back of the head, people were pushing, it was just a crazy scene."
He said there were roughly seven attackers who were wearing hoods and masks. The attackers took away his sign that had a body cam attached, but Elston was able to shoot a video with his phone.
I'm all good. Just waiting for an x-ray on my forearm but I'll be fine. I used it to block several pylon hits.

They took my sign with the bodycam but I managed to film them with my phone during the tail end of the assault. pic.twitter.com/CELzJ31Zef

— 🅑🅘🅛🅛🅑🅞🅐🅡🅓 🅒🅗🅡🅘🅢 ❤️🇨🇦 (@christophelston) March 13, 2021
The video shows a man swinging a large traffic cone, shouting profanities at Elston and demanding he "get out of the neighbourhood." Another male attacker squirted mustard from a bottle, while a female threw snow.
Elston said he blocked several blows from the traffic cone with his left forearm, which was later found to be broken. In the video his lips are bloodied, as he and another man try to get away from the assailants. The man wielding the traffic cone throws it on the ground and walks away in the other direction.
Elston said he has reported the incident to Montreal police, who will review CCTV footage from nearby stores. Montreal SPVM told The Epoch Times that due to security reasons, it cannot confirm or deny whether an investigation is underway. So far, the attackers have not been identified.
Elston said that aside from the injuries, he's feeling "really good" because his campaign to protect children has received a lot of attention since the incident.
"What these violent thugs have done is exactly the opposite of what they were trying to do, which is to silence me," he said.
"Now we're reaching a thousand times the people I could have reached out on my own. Because of their attack, so many people are now learning the truth about these harmful puberty-blocking drugs and cross-sex hormone that we are giving to children on experimental basis."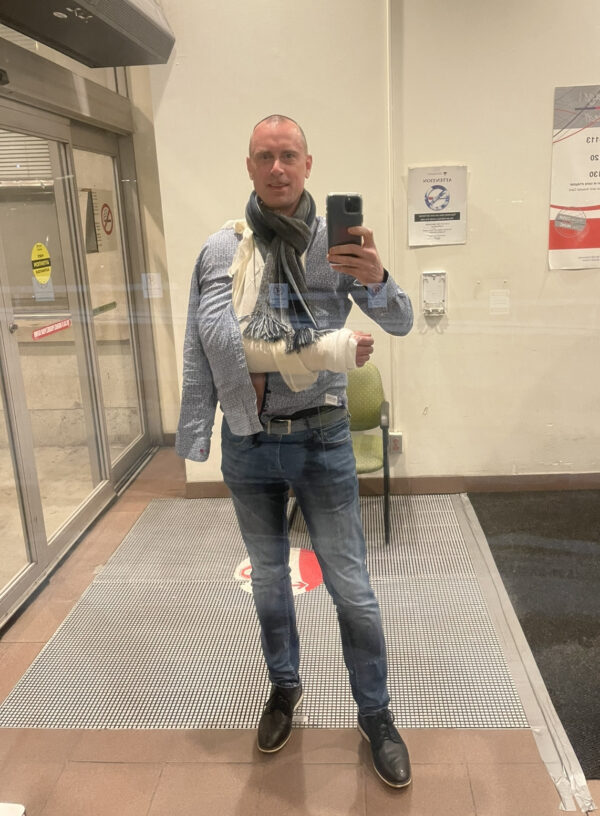 Elston noted that his campaign is not about "hate against transgender people," but an effort to get the truth of these harmful drugs out to parents. He said the schools and social media are indoctrinating children with "gender ideology" that tells them that they were "born in the wrong body."
"Now we are telling them they are actually the other gender, and we are medicalizing these children, giving them drugs, and then performing surgeries on them," he said.
Elston has put up billboards warning about the drugs in British Columbia and numerous cities across the United States, including San Francisco, Los Angles, and New York City. He also did an awareness campaign in the Metro in Washington, D.C.
"We are constantly lied to about the effects of [the drugs], children are lied to, parents are lied to, and in my opinion this is the medical abuse of our times. I don't think there's been anything like this on children and we have to put a stop to it," he said.