French police detained a man who allegedly wounded seven people in a knife attack in downtown Paris, a judicial source said on Sept. 10. Four of the victims are in critical condition.
The attack happened at about 11 p.m. local time on Sept. 9, along the Canal de l'Ourcq in northeast Paris, AFP reported.
A cinema security guard said that he saw the alleged assailant being chased by two men who had intervened when the assailant attacked three people.
"He had an iron bar in his hand, which he threw at the men chasing him, then, he took out a knife," the guard told AFP.
Youssef Najah, 28, who also witnessed the incident, told AFP that he saw the assailant fleeing from a crowd of people. The suspect was wielding a 10- to 11-inch knife and an iron bar.
"There were around 20 people chasing him. They started throwing Pétanque balls at him," Najah told AFP. Pétanque, also known as boules, is a popular sport played in France. "Around four or five balls hit him in the head, but they weren't able to stop him."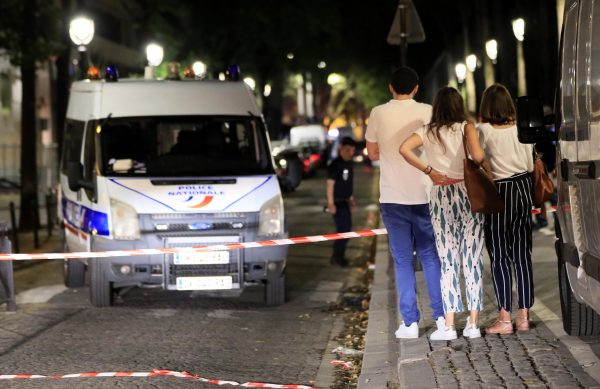 Witnesses said the assailant attempted to lose the crowd by hiding in an alley. Unfortunately, two British tourists who were in his way became victims of the attack when the assailant "tried to hide behind" them and ended up attacking them.
The witnesses say they tried to warn the tourists that the suspicious man was armed. "We said to them: 'Watch out, he has a knife.' But they didn't react," they told AFP.
The suspect, believed to be in his thirties, was overpowered by bystanders and was unconscious when officers arrived on the scene and took him to the hospital, police said. Officials have opened an investigation, a judicial source told AFP.
A source close to the investigation told AFP that the assailant is believed to be an Afghan national and there are no initial indications that the attack was linked to terrorism. The attacker appeared to target "strangers in the street," the source told AFP. "Nothing at this stage shows signs of a terrorist nature in these assaults."
The ISIS terror group was quick to claim responsibility for the attack, but without any evidence of an association.
"It appears the criminal had serious psychiatric problems," French Interior Minister Gerard Collomb told local media.
"He was known (to police) for advocating terrorism, but it seems he was a disturbed person rather than someone who could respond to calls for action from terrorist organisations like Daesh," Collomb said, using the Arabic acronym for ISIS.
The attack is the latest of multiple knife attacks seen in France over the last few months as the country remains on high alert since the 2015 Charlie Hebdo massacre.
Just last month, two similar attacks shook France.
A 19-year-old Afghan asylum-seeker was apprehended and charged with aggravated assault after using a knife to attack four people on Aug. 13 in the southwestern French city of Perigueux, RFI reported. In another incident, a 36-year-old man who had been on a terror watch list since 2016 for expressing extremist views, stabbed his mother and sister to death on Aug. 23 before being shot by police.
Reuters contributed to this report.
From NTD.tv