A man linked to a theft at a Buddhist temple was taken into custody on Jan. 18, according to the Chino Hills Police Department.
The suspect, 32-year-old Daniel Lee Warn of Bloomington, California, was captured on camera sneaking into a room and stealing about $1,000 cash from a donation box.
The police said in a statement that the incident occurred in the 5600 block of Howard Street, an unincorporated area of Montclair. Warn found his way into the Buddist Temple of American through an unlocked door around 2:30 p.m. on Jan. 15.
The 5-minute surveillance video shows Warn first searching for valuables in a container placed above a donation box. But soon he located the donation box below and attempted to open it.
Video Shows Man Stealing $1K From Donation Box at Buddhist Temple Outside Ontario; Suspect Arrested https://t.co/Mt0bDVlEhL pic.twitter.com/IDTogVGueZ

— KTLA 5 Morning News (@KTLAMorningNews) January 22, 2019
When he realized there was no other way he could open the donation box, Warn starts to hit it with a decorative item he grabbed from a nearby table.
However, this method soon also seems not practical and Warn apparently hurts himself at one point and stops his efforts for a while. In the meantime, he also tries to force the box open by kicking it and dropping it on the floor. That didn't work either.
In his last attempt, Warn flipped the donation box over and jumped on it. After a 4-minute struggle, Warn finally broken the box to find about $1,000 inside. He then left the room after loading the money into his backpack.
Three days later, after conducting a thorough investigation, deputies identified the theft suspect as Warn, who initially provided a false name.
Warn was later charged with grand theft. He was booked at West Valley Detention Center and held on $50,000 bail.
In fact, it turns out that Warn has been arrested multiple times for burglaries in the areas.
In February 2017, Warn was taken into custody after being suspected of burglarizing four commercial businesses at San Bernardino County, according to a statement from the San Bernardino County Sheriff's Department.
In July 2014, KTLA reported that Warn was busted in Costa Mesa, California, when he was waiting for his order at a restaurant that he had just broken into a few hours earlier.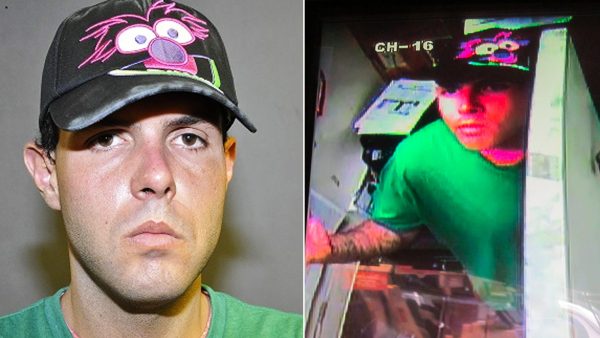 The restaurant's surveillance video captured Warn wearing a very distinctive hat and bright green shirt, climbing through a drive-thru window and trying to find money in the cash register drawers.
The restaurant called the police and reported the burglary.
When Warn showed up at the same restaurant to order his food in the same hat and clothes, he was immediately recognized by the restaurant's manager and was arrested while waiting for his food.
At that time, police also believed he was the suspect in a string of burglaries that had occurred in the area.
Warn was on post-release community supervision out of San Bernardino County under AB 109 Realignment, KTLA reported.
As part of California's Criminal Justice Reform, AB 109 was designed to address the overcrowding issue in state prisons by moving inmates to county jails. The law has since been criticized, together with Prop. 47 and 57, for contributing to the increasing crime in California.
Watch next:
North Korean Defector Ji Seong-Ho: North Korea Was Bad, China Was Worse