New Jersey state Sen. Tom Kean Jr., a Republican, fell 5,329 votes short—less than 1 percentage point—of unseating Democrat Rep. Tom Malinowski (D-N.J.) in their 2020 New Jersey's 7th Congressional District race.
Kean, the son of former New Jersey Gov. Thomas Kean Sr., also a Republican, earned a 2022 midterm rematch with Malinowski on June 7, when he defeated six rivals in the district's Republican primary.
With post-census reapportionment adding about 10,000 more registered Republican voters to the suburban swing district, Kean is now regarded by many forecasters as a narrow favorite to win one of the nation's most-watched congressional elections on Nov. 8.
Malinowski–Kean II is New Jersey's marquee 2022 midterm battle and is among 22 elections nationwide where congressional seats now held by Democrats are up for grabs in "tossup" races.
Along with contests in Virginia's 2nd Congressional District and 7th District, analysts say how New Jersey's 7th District race unfolds on Nov. 8 could be a bellwether in presaging which party wins the rest of the day and controls Congress beginning in 2023.
The Republican Party needs to gain five seats on Nov. 8 to secure a majority in the U.S. House. New Jersey Republicans believe they can flip one or possibly two seats to red from the blue for the cause.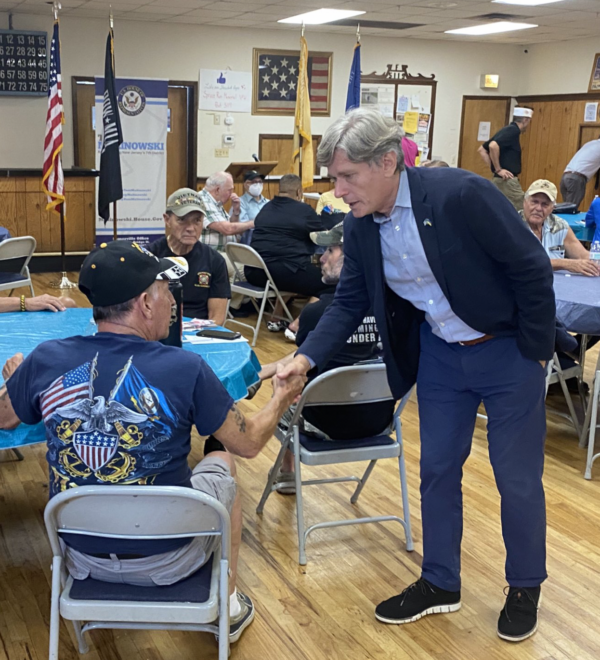 Democrats hold 10 of New Jersey's 12 seats in Congress. Eleven incumbents, including both Republican representatives, are seeking reelection in November. All but Malinowski and Rep. Andy Kim (D-N.J.) are expected to win convincingly.
Kim, seeking a third term in the state's 3rd District, faces a stiff challenge from Republican Bob Healey, executive co-chair of the Viking Group, a New Jersey shipbuilding company. Cook Political Report classifies that district as leaning Democratic, giving the incumbent a marginal edge in the "tossup" race.
The 7th District ranks among the nation's 10 most affluent congressional districts and includes former President Donald Trump's Bedminster golf club. It was the nation's "median" congressional district in 2020, with 217 of the 435 House districts more Democratic and 217 rated more Republican before post-census redistricting tinged it slightly red.
The district is rated by the Cook Political Report and Larry J. Sabato's Crystal Ball as "leaning Republican." Inside Elections with Nathan L. Gonzales rates the Kean–Malinowski race as a "toss-up," while Fivethirtyeight has Kean "slightly favored" to win.
Polls appear to confirm those forecasts with the latest, a July 23 to July 28 RMG Research survey of 400 likely 7th District voters, giving Kean an 8-point advantage—46 percent to 38 percent—over Malinowski.
Stealth Campaign
Armed with favorable reapportionment-assisted demographics and trends that appear to position him as the frontrunner, Kean has been orchestrating a stealth campaign with rare, scripted public appearances—his website doesn't include an event schedule—and few media interviews.
Unlike 2020, when Kean and Malinowski debated three times, there has been no agreement between the camps thus far to meet face-to-face in the rematch, although the candidates did cordially shake hands in a brief encounter while marching with supporters in a Labor Day parade in Mendham.
Making his fourth run for a seat in Congress, "Quiet Kean" is pounding away at Democrats and Malinowski over the economy and federal spending in his campaign platform and in statements.
"Tom Malinowski ignored the warning of economists, listened to Nancy Pelosi, and backed billions in wasteful spending. Now we are all paying more. I'm running for Congress to work across the aisle to get prices down and stop the reckless spending," Kean says on his website.
If elected, Kean has vowed to "end wasteful spending to break the back of inflation; promote American industry to open up supply chains; support middle-class tax relief; back energy independence to lower gas prices."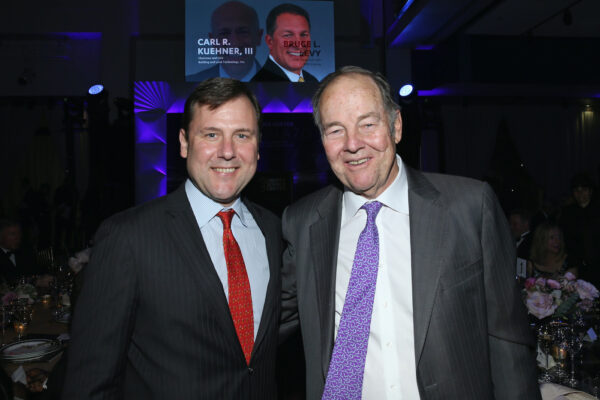 Kean's campaign, in its June 30 Federal Elections Commission (FEC) filing, reported raising $2.668 million, spending $1.452 million, and having $1.3 million in cash on hand. His 2020 campaign finished with $3.869 million in contributions.
He's receiving an assist from, among other groups, the Congressional Leadership Fund (CLF), a super PAC allied with congressional Republicans, which sponsored a TV ad last week slamming Malinowski for supporting "out-of-control spending."
"No one blows taxpayer cash like Tom Malinowski," states the ad, which is one of 22 new ads in 21 districts across the U.S. launched by the CLF since Labor Day. "He voted for a bill that gave millions to golf courses, ski slopes, and luxury resorts and another billion dollars of stimulus checks for prisoners. Even worse, he sponsored a bill to raise your payroll taxes nearly 20 percent. Don't like it? Malinowski voted to double the size of the IRS, and you could pay. It's time to pull the plug on Tom Malinowski."
Kean has also rallied behind parents in battles with school boards in the 7th District and across the state over input on curriculum and policies in a heated debate over new sexual education standards that many object to.
According to his campaign website, which includes a Parents Voice Coalition Petition "against (New Jersey Democratic) Gov. Phil Murphy's 'CRT agenda,'" Kean believes that "it is wrong" for "young children to be taught sex education which focuses on gender-identity instruction and normalizing pornography."
Malinowski "doesn't want parents to have a voice," Kean wrote in a Twitter post.
Kean reported on Sept. 8 that he had an "outstanding" meeting with the Parents Voice Coalition in Warren.
"Passionate Moms and Dads advocating on behalf of New Jersey families. My opponent mocks and demeans your concerns—I've always listened and led. I'll always be your voice in Congress," he wrote on Twitter.
Kean's post drew a mocking Sept. 9 response from Malinowski, who said Kean's event in Warren was closed to the public and media, as is typical of his opponent's campaign.
"This was a fundraiser. Moms and dads had to give my opponent money to get in. The press, and parents opposed to censorship, were barred," Malinowski wrote in a Twitter post. Kean has "had zero town halls in his 20-year political career. I've had 130 public meetings since 2019. All are welcome!"
Aggressively Stumping
Malinowski, a former U.S. State Department official and Human Rights Watch analyst who was born in Poland when it was under Soviet rule, has been aggressively stumping like an underdog.
He says post-Roe repeal angst, improving economic fortunes, his record in garnering federal dollars for local projects, and independent candidate Veronica Fernandez's decision to drop out of the race are signs that he's bound for "another landslide win" of 1 percent in November.
His campaign hasn't only been targeting Kean as an empty suit—literally—but also as a fawning "far loony right" Donald Trump lackey even after his father, the state's popular former Republican governor, denounced the former president as "not fit" for reelection in a July 2 appearance on NJ News 12's "Power and Politics" talk show.
The Malinowski campaign's third ad, released on Sept. 7, features a mailer that Kean dispatched to Republican voters during the primary endorsing a national ban on abortion and Trump's agenda, vowing that he would have a future President Trump's "back no matter what."
"Having Trump's back? Or having a backbone?" the ad asks. "Tom Kean Jr. made his choice. Following Trump, no matter what. After all that's happened—the violence, the lies. And all that would mean—more chaos, more division. A national abortion ban. Trump and the MAGA crowd know they can count on Tom Kean Jr. Because Tom Kean Jr. promised them—no matter what."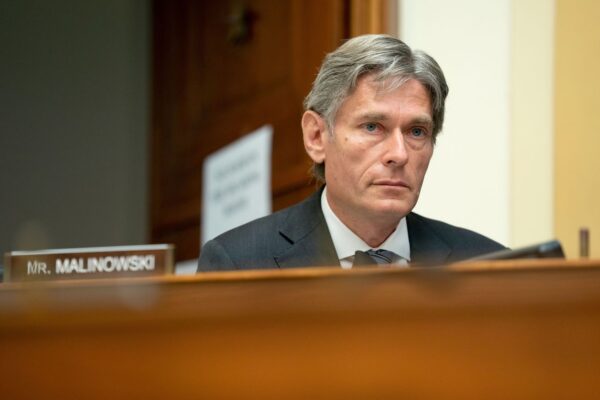 During a Sept. 5 meet-and-greet in Rahway, Malinowski said that "election denial has only gotten worse" among Republican candidates who can no longer claim to be the party of "law and order."
"We have a party that used to accuse Democrats of being anti-law enforcement calling the FBI the Gestapo," he said, questioning if Kean is "someone who's going to stand up for our democracy" and, while "speaking Jersey," describing the midterms as races between "people who get [expletive] done and people who are bat[expletive] crazy."
Malinowski's campaign maintains that the Republican challenger has little choice but to be "Quiet Kean" if he's to distance himself from Trump and avoid alienating the moderate and independent swing voters that define the purple district.
Democrats outnumber Republicans by about 1 million voters in New Jersey but are a slight minority in the 7th District after reapportionment. However, there are more than 210,000 unaffiliated voters registered in the district, a constituency that Malinowski has appealed to in promoting a return to "fusion voting" in the Garden State.
In fact, Malinowski has been endorsed by the state's nascent Moderate Party, which wanted to place him on the Nov. 8 ballot under its banner as well as on the Democratic party's line.
However, New Jersey is among the 43 states that don't permit a candidate to run under more than one party banner, outlawing "fusion" voting nearly a century ago.
The Moderate Party, "formed by a group of New Jersey Republicans, independents, and Democrats turned off by both major parties' drift to ideological extremes," filed a petition with Secretary of State Tahesha Way to allow it to place Malinowski on the ballot as its candidate in addition to his berth as the Democrat's entry.
Way rejected the petition and Moderate Party founders, which include East Amwell Township Committeeman Richard Wolfe, a lifelong Republican, challenged the denial in court.
In August, all parties agreed to allow the case to matriculate through the courts rather than try to fast-track it before New Jersey county clerks must begin sending out vote-by-mail ballots on Sept. 24. It will likely be heard in 2023.