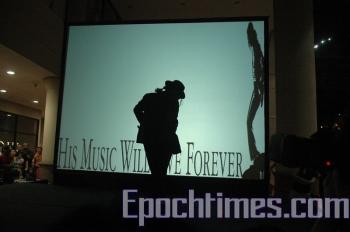 PETALING JAYA, Malaysia—Hundreds Michael Jackson fans gathered to commemorate the 'King of Pop' outside the One Utama shopping mall in Petaling, Jaya on June 28.
The activity, organized by SONY BMG recording company, gave fans a chance to pay their tribute to the recently deceased superstar.
A one minute silent tribute kicked off the series of programs.
Later, a compilation of Michael Jackson music videos, concerts, and interviews were played on the big screen. Fans were captivated and cheered when they saw his signature dance moves.
Some hardcore fans, dressed like Jackson, danced and sang his tunes to entertain the crowd. The outstanding performances garnered approving shouts and applause as though they were actually seeing Jackson on stage.
The organizer also prepared a giant white board for fans to write their messages to Jackson.
The activity didn't lack for touching moments. Hundreds of fans carried lit candles as they sang together the star's most popular songs including "Man In The Mirror," "You Are Not Alone," and "Heal The World."