Malaysia's Defence Minister Hishammuddin Hussein is contemplating a trip to China to discuss the newly minted AUKUS alliance between Australia, the United States (U.S.), and the United Kingdom (UK).
Malaysian and Indonesian authorities have raised concerns about a potential arms race in the region, which is in contrast to the Philippines government who backed the agreement.
"We need to get the views from the leadership of China, especially China's defence, on AUKUS that was announced by the three countries and what are their actions following the announcement," Hishammuddin told Malaysia's Parliament on Sept. 22.
"Our strength is not when we are alone. Our strength is when these 10 ASEAN member countries are united to see the position and security of the region be defended," he said.
He went on to say that he had spoken with Australian Defence Minister Peter Dutton in recent days and called for more dialogue with the Association of Southeast Asian Nations.
"This is because it has the potential to disrupt security and stability in the South-East Asia region," Hishammuddin said. "Therefore, all parties should refrain from using any military action that can be considered provocative."
The announcement of AUKUS last week saw the three allies sign up to a new pact that would see increased collaboration across fields such as artificial intelligence, quantum technologies, cyber, and undersea capabilities.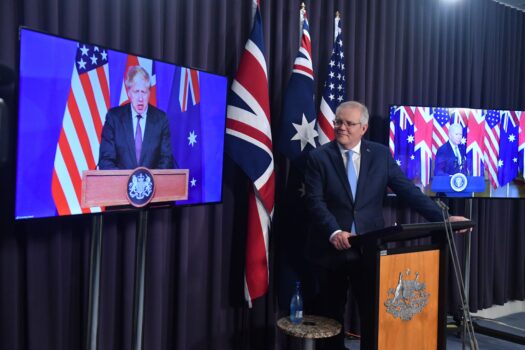 However, at the heart of the agreement is a pledge from the U.S. and UK governments to assist the Australian government with acquiring nuclear-powered submarines.
The move is argued to significantly influence the power balance in the Indo-Pacific while elevating the potency of Australia's naval capability, making it one of the six nations globally to operate nuclear-powered subs, despite being a non-nuclear power.
Currently, only India, the UK, the U.S., China, France, and Russia have similar capabilities.
The formation of AUKUS comes amid increasing concern over Beijing's posturing and aggression in the Indo-Pacific region, from actions such as the takeover of Hong Kong, building artificial islands in the South China Sea, economic coercion against Australia, and an ongoing military build-up.
Indonesian authorities issued a statement on Sept. 17 in response to AUKUS saying it was "deeply concerned" over a potential arms race and power projection. It also stressed the importance of Australia's commitments to the nuclear non-proliferation treaty.
Evan Laksmana, a senior research fellow with the Centre on Asia and Globalisation at the National University of Singapore, said the deeper problem was of Indonesia becoming a "strategic spectator."
"What can we do other than watching from the sidelines—perhaps with occasional ASEAN cheer—as its regional environment continues to deteriorate and regional states are out for themselves?" he wrote on Twitter on Sept. 16.