Malaysia announced that it will block all cruise ships that have traveled to China from entering the country, and that it will refuse passengers from Holland America's Westerdam cruise ship after a woman tested positive for COVID-19.
The 83-year-old woman, an American, flew to Malaysia on Friday after the cruise ship that was rejected by five countries was allowed to dock in Cambodia. She tested positive for the new coronavirus upon her arrival at Kuala Lumpur International Airport Saturday, Malaysia authorities confirmed, marking the 22nd case in the country.
Speaking during the central disaster management committee on Sunday, Deputy Prime Minister Wan Azizah Wan Ismail said the decision to bar remaining Westerdam passengers from flying into Malaysia was made because they had come into close contact with the infected woman.
"The remaining passengers of the MS Westerdam cruise ship in Cambodia will not be allowed to enter Malaysia considering that all passengers are now considered close contact of the confirmed case," Wan Azizah said in a statement.
"For the time being, the government has decided not to allow any cruise ship that has originated or transited China from entering Malaysia," she added.
The 83-year-old's diagnosis came after all Westerdam cruise ship passengers were initially cleared by authorities in Cambodia. Her husband, 85, who is also a U.S. citizen, tested negative despite showing symptoms of the virus.
The woman is in stable condition and is in isolation at Sungai Buloh Hospital while her husband is still receiving treatment and is being monitored, the health ministry said.
All 143 passengers who arrived in Malaysia on the same Malaysia Airlines (MAS) flight as the 83-year-old, which was chartered by the cruise ship's owner Holland America Line, have all been screened, Wan Azizah said.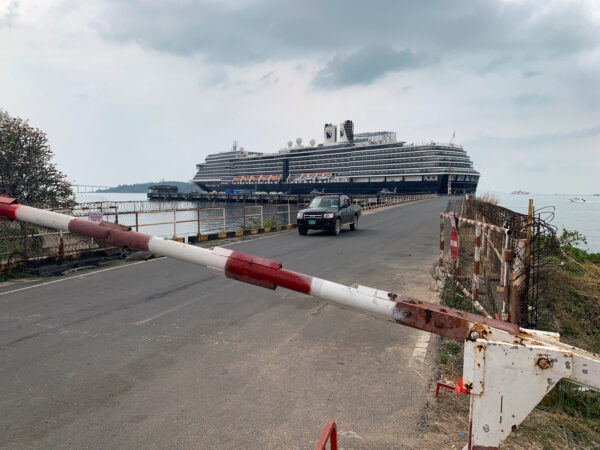 Of those passengers, six—Dutch and American citizens—will be examined by medical officials for COVID-19 before they are allowed to continue onto their final destination.
Three other flights that were scheduled to bring more Westerdam passengers into Kuala Lumpur were canceled, Wan Azizah said.
Before the Westerdam was allowed to enter Cambodia last week, multiple countries declined to let the ship dock over concerns about the new virus after seeing hundreds of cases on the Diamond Princess cruise ship that docked in Japan. Two Malaysians on board the ship quarantined in Japan tested positive for the virus on Feb. 18, with a further two pending results, the health ministry confirmed.
Cambodia allowed the ship to dock on Thursday night. The Cambodian Health Ministry tested 20 people and all samples came back negative. "There were never any suspected cases of coronavirus on board," Holland America said in a Feb. 13 statement.
"All guests on board are healthy and despite erroneous reports there are no known or suspected cases of coronavirus on board, nor have their ever been," the company stated on Feb. 12.
The Westerdam departed Hong Kong with 1,455 passengers and 802 crew on board. The cruise was slated to run for two weeks and end in Yokohama, Japan. Holland America has said passengers on the Westerdam will be offered a full refund and that flights back home will also be covered by the firm.
Worries about the new virus have mounted because of fears that with no natural immunity among the world's population, it could spread to infect millions if unchecked.
The websites of both the CDC and WHO give an estimated incubation period for the virus of up to 14 days. However, the initial results from Feb. 9 study by Chinese doctors found that the incubation for the disease could be as long as 24 days. The results have yet to be corroborated.
Zachary Stieber and Reuters contributed to this report.