Forest City, a multi-billion dollar property development near Singapore largely financed by mainland Chinese investors, is facing uncertainty after Malaysia's prime minister, Mahathir Mohamad, publicly condemned sales of its property to foreign investors.
In a bid to ward off further inflation of Malaysia's housing market, the 93-year-old leader said in a news conference on Aug. 27, "One thing is certain, that city that is going to be built cannot be sold to foreigners."
The leader later backtracked and said he meant foreigners will not immediately be granted long-stay visas for purchasing property in Forest City.
He said, "We are not going to give visas for people to come and live here."
"Purchase of properties does not guarantee automatic residency in the country," Mahathir's office explained in an official statement.
Mahathir's comments have caused worry for residents, buyers, and salesmen of the Forest City development—a mega-project built on reclaimed land just one hour north of Singapore in Malaysia's special economic corridor of Iskandar.
The controversial $100 billion Forest City project was first announced under Malaysia's development corridor plan in 2013. Developed by Country Garden Pacific View (CGPV), a joint venture between Country Garden Holdings Co Ltd—a real estate giant based in South China—and a firm owned partly by a Malaysian sultan, Forest City boasts thousands of residential suites, parks, hotels, international schools, and a golf course designed by American golf legend Jack Nicklaus.
According to Forbes Asia, the ambitious private project planned to house up to 700,000 people upon completion in 2035.
It has encouraged a large influx of foreign investment, especially from wealthy developers and buyers from China, into the "five-star" properties which are double the price per square meter of homes for Malaysian citizens in the area.
The average cost of a one-bedroom apartment is being offered for $170,000, according to reports.
Mahathir's Concerns
The Malaysian leader took a tough line last month when he objected to the multi-billion-dollar project saying, "it was built for foreigners, not built for Malaysians. Most Malaysians are unable to buy those flats."
Earlier this month, Mahathir voiced concerns that Forest City is not beneficial for the people of Malaysia.
He said in a joint interview with Sinar Harian and Malaysiakini, "Who will be the owners (of businesses and investments): Malaysians or foreigners?
"They [foreigners] are business-savvy and can build beautiful buildings, but we will live in wooden houses with leaking roofs."
Malaysia's finance minister, Lim Guan Eng, expressed concern that the project is effectively "building a huge Chinese city in Malaysia."
According to The Strait Times, the project had been primarily marketed to foreign Chinese buyers.
Speaking to The Epoch Times, Mr Syed Ahmad Israa', Chief Executive Officer of the Interdisciplinary Research & International Strategy (IRIS) Institute, said the mega project is not seen as a "real development" for the nation.
"Nor it is an investment that would warrant new jobs or boost the national economy," he added.
"It is largely viewed as a private investment to create wealth for investors, and provides a chance for foreigners to own land near Singapore."
The Johor chief minister Datuk Osman Sapian had refuted such claims earlier this month. "The company has employed 1,545 workers for the project, of which 80 percent are locals and all of them pay income taxes amounting to RM 51 mil [$12.3 million]," Osman told The Star.
'Country Takes Precedence'
Mahathir's comments came just days after his coalition government, Pakatan Harapan (PH), cancelled two major Chinese state-backed infrastructure projects in the country under Chinese President Xi Jinping's Belt and Road Initiative, during an official visit to Beijing—the East Coast Rail Link and the Trans-Sabah Gas Pipeline.
The mega-projects were signed under the administration of his scandal-ridden predecessor, Datuk Seri Najib Tun Razak, who he accused of selling Malaysia to China.
The veteran leader took the new tough stance to cut the Chinese state-led projects, worth an estimated $22.3 billion, saying Malaysia's top priority is now to minimize its debt and loans.
But in a move to reassure foreign investors that Mahathir's recent decisions weren't deliberate aims at China, Anwar Ibrahim, official leader of Pakatan Harapan and in line to be Malaysian prime minister, told Bloomberg this week: "Mahathir took the initiative, visiting China, assuring them that the bilateral relations, trade, investments with China must and will continue.
"We've accepted the fact that the country must be saved, that the country takes precedence," the 71-year-old said.
Mahathir scrapped the infrastructure projects over fears the deals signed under the former government could leave the country financially dependent on China. Malaysia's national debts currently stand at a figure of around $250 billion.
Stakeholder Response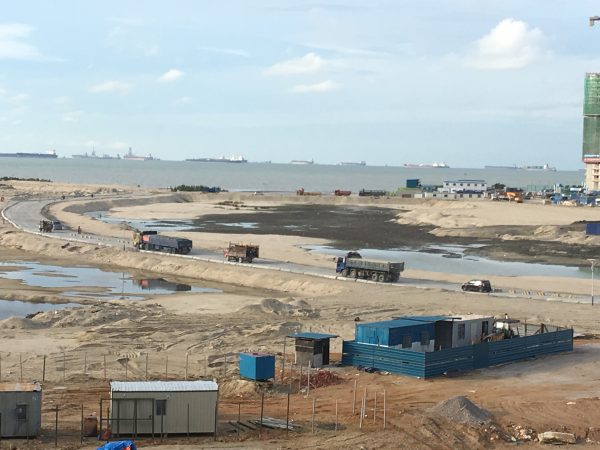 Marsha Sawyer Peter, Head of English as an Additional Language at the Minnesotan Shattuck-St. Mary's school in Forest City, told The Epoch Times there have been worries about Mahathir's comments regarding resident status.
"I would be concerned if my child were studying here and that sort of statement was made—I think it's concerning for many people," she said.
Peter added, "The investors in our school have spent I believe $250 million. If I were spending this kind of money, I would be very concerned."
Out of the estimated 100 pupils currently enrolled in the private school, which can cost up to US $41,000 per year, 80 percent are Chinese nationals, according to Peter. Due to low numbers, the school—which has a capacity of several thousand students—is currently enrolling on an ongoing basis.
Johor-based Robin Gan, who works in Singapore and has invested in Iskandar Malaysia property, thinks Mahathir's recent comments are reasonable, because, he says, property in Forest City is typically too expensive for Malaysian citizens to afford.
"Malaysians don't make as much money, and foreign buyers will probably buy the properties as vacation homes, or as a weekend home.
"But I think Mahathir's statement is actually politically motivated, and whatever he says now I think is to fulfil part of his election pledge," Gan told The Epoch Times.
In a stunning election win, Mahathir, who took office in May as the seventh prime minister of Malaysia, had made a pledge to diminish the country's suffocating debt.
Foreign Investors May be Deterred
Jens Roehrich, a Professor of Supply Chain Innovation at the University Bath, School of Management (UK) believes that unless it is made clearer what buyers can expect from purchasing property in Forest City, foreign investors may be deterred from Malaysia.
He said, "There needs to be a clear statement of what foreign investors can expect from investing in projects in Malaysia, and especially Forest City.
"Uncertainty, a changing political environment, and attitude towards foreign investments may dampen foreign appetite for investing in large-scale projects in Malaysia."
But Israa' thinks the Malaysian prime minister could soon backtrack on his comments, which he said may be "a political play against the Sultan of Johor."
"Mahathir could also retract the comments and do a U-turn regarding Forest City," Israa' said.
Mahathir's office said it welcomes foreign investment that "contributes to the transfer of technology, provides employment for locals and the setting up of industries."
Stricter Rules For 'Malaysia My Second Home' Visa?
Non-Malaysian citizens, who are at present legally able to purchase property priced at RM1 million (US$241,000) and above in Johor, have been left spooked by the prime minister's comments.
CGPV told The Epoch Times that commission-driven property agents had listed Forest City apartments on unofficial marketing sites, offering to assist clients in applying for long-stay visas—valid for up to 10 years—through the Malaysia My Second Home (MM2H) program which is aimed at wealthy foreigners.
MM2H was introduced in 2002 during the last year of Mahathir's previous term as prime minister. At the time, Asia was in the woes of the 1997-1998 financial crisis.
The scheme, whose largest group of participants are Chinese nationals, could now be looking at stricter laws imposed by the Housing and Local Government Ministry, according to the minister in charge, Zuraida Kamaruddin.
It is uncertain just how Mahathir's government could curb foreigners from obtaining a visa through MM2H.
At present, the Housing and Local Government Ministry is also examining the possibility of imposing a quota for local ownership to better opportunities for Malaysians to purchase Forest City property, Kamaruddin said.
"For now, our key concern regarding this project is the government policy allowing 70 percent ownership by foreigners.
"I feel this issue needs to be studied and reviewed to ensure our people's rights are not side-lined."
A CGPV spokesperson said it does not expect changes to Malaysia's MM2H program to impact and of its projects as "the success of the Forest City project is not determined by the granting of residential visas to foreign home-buyers."
Correction: A previous version of this article incorrectly mentioned a program for free units in Forest City in exchange for investment in China. The Epoch Times regrets the error. 
Watch Next:
UraniumOne: How Clinton Sold Out the U.S. to Russia
The Uranium One scandal saw major U.S. and foreign uranium mines passed to Russia. Millions of dollars made their way to the Clinton Foundation from individuals tied to the deal.