Qantas' billion-dollar profit will allow the airline to invest in new aircraft, upgrade its customer lounge, and deliver bonuses to employees, explained CEO Alan Joyce.
Australia's flag carrier delivered a $1 billion (US$680 million) net profit for the six months to Dec. 31, following a $456 million net loss a year earlier, as well as accumulated losses of $7 billion due to the pandemic lockdowns.
The positive financial recovery of the company has received criticism from Labor Senator Tony Sheldon, who claimed Qantas made its profits by "illegally sacking" thousands of workers and "ripping off customers with extortionate airfares."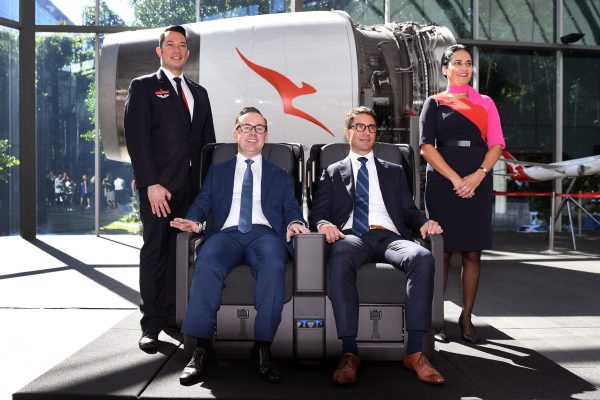 "The 'Spirit of Australia' should not be about making a sly buck at everyone else's expense," he wrote on Twitter.
Many Qantas staff were, in fact, stood down—and later recalled—during the pandemic in response to lockdowns on air travel.
Airfares in Australia have yet to drop to pre-pandemic levels due to a combination of pent-up demand, high fuel prices, and lower flight availability—partly due to staff shortages.
Joyce Plays Down Senator's Comments
In response to Sheldon, CEO Joyce said he should "act like a senator" instead of the head of a union.
"What I will say is making a profit like this is good for our customers, good for our employees, and good for our shareholders," he told Sunrise on Feb. 24.
"Making this money now means we can buy a new aircraft every three weeks, which we aren't doing or will do now for the next three years.
Joyce said the company was set to spend $100 million on improving its lounge network and would look to continue employing "thousands of people."
Qantas would also be paying staff $12,000 bonuses outside of enterprise agreements, as well as pay increases.
"Making money is actually a good thing. Making money actually benefits all stakeholders out there. And people should be celebrating that and saying that's what good companies should be doing because they reward shareholders. They reward employees. They will reward customers."
Qantas management is banking on high travel demand continuing to grow, which in turn, should drive its recovery.
The rebound in travel has helped Qantas notch up $9.9 billion in revenue, three times the figure from a year ago.
"When we restructured the business at the start of COVID, it was to make sure we could bounce back quickly when travel returned," CEO Alan Joyce said on Feb. 23 during the company's financial results announcement.
"That's effectively what's happened, but it's the strength of the demand that has driven such a strong result."
Qantas' Half-Year Results
The company has reported domestic flying levels were close to matching pre-pandemic levels (at 94 percent), and international capacity had doubled to 60 percent of previous levels.
Demand domestically will push past pre-COVID level due to high demand, while international capacity is estimated to reach 81 percent of 2019 levels.
"While interest rates and inflation are expected to hit discretionary spending at some point, we have yet to see any signs of that," Joyce said.
"The research is telling us that while people are looking at areas to cut back on, they are prioritising air travel and experiences over other forms of expenditure."
Joyce said the airline did benefit from high airfares, which were up 20 percent compared to 2021 levels.
He said a key cause behind this was that fuel prices were up 65 percent compared to 2019 levels, with the Ukraine War impacting global supply chains.
Joyce expected Qantas airfares to moderate, but it was unlikely to drop below pre-pandemic levels due to availability issues.