More than half of Canadians think Canada should take a more aggressive approach in trying to get Michael Kovrig and Michael Spavor released from detention in China, a new poll finds.
The Nanos Research poll, commissioned by CTV News and the Globe and Mail, also found that two-thirds of respondents think the Meng Wanzhou case should be decided by the courts rather than exchanging the Huawei executive for the "two Michaels" in a prisoner swap.
Asked which approach Canada should pursue when it comes to trying to secure the release of Kovrig and Spavor, 53 percent said Canada should take more aggressive actions such as blocking Chinese companies from buying Canadian firms or denying entry to Chinese government officials and their families from living or studying in Canada.
Thirty-six percent said Canada should focus on diplomatic efforts, six percent thought Canada should ask the United States to intervene, and six percent were unsure. 
"Canada's default position all along has been to focus on diplomacy because we are a middle power," said Nik Nanos, the president of Nanos Research.
"Usually being tough with super powers is not part of the Canadian DNA, but it looks in this current environment that Canadians are at the point where they would be supportive of the government being much more aggressive with the Chinese."
According to the poll, which surveyed 1,049 Canadians between June 28 and July 2, more than 40 percent of respondents oppose exchanging the Huawei executive for Kovrig and Spavor, 16 percent somewhat oppose, and just 16 percent support or somewhat support.
When it comes to Meng's extradition, 68 percent say it should be decided by the court rather than the government, while 22 percent think the government could make the decision and percent are unsure.
"We can see Canadians are open to everything from blocking [Chinese] transactions to stopping travel of Chinese officials to Canada," says Nanos. "Any kind of political deal would probably not be well-received. The preference would be to focus on the courts and the rule of law."
A similar poll by Angus Reid released in May found that not only two-thirds of Canadians say the case should play out in the courts, but 81 percent say Chinese goods should be boycotted in Canada in response to the detention of Kovrig and Spavor.
On June 19, Beijing filed charges against former diplomat Kovrig for "spying on state secrets and intelligence," while Spavor, a businessman, was charged with "spying and illegally providing state secrets."
The two men were detained in December 2019, shortly after Meng's arrest in Vancouver on a U.S. warrant relating to multiple charges, including bank fraud and violating U.S. sanctions against Iran.
On June 23, 19 former federal cabinet ministers, parliamentarians, and diplomats issued an open letter urging the federal government to intervene in the extradition case against Meng in exchange for the release of Kovrig and Spavor, but the idea was rejected by Prime Minister Justin Trudeau, who said such a move could endanger Canadians abroad.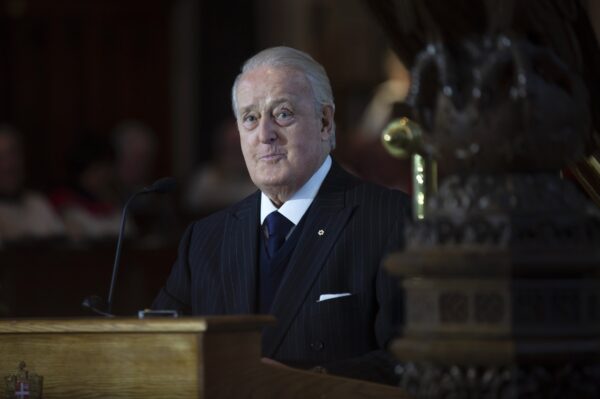 Earlier this month, former prime minister Brian Mulroney urged the Trudeau government to undertake "an immediate and urgent rethink" on relations with China, while suggesting Canada should ban Huawei from the country's 5G networks.
"You can see it everywhere from the South China Sea to our two citizens who were bundled off to jail for no reason at all except to protest an extradition decision in Vancouver," Mulroney said in an interview with the Globe and Mail. "There has to be an immediate and urgent rethink of our entire relationship."
"Get it done. Come up with a rethink of what our relationship should be with China. The world has changed," he said.
A poll conducted in mid-June by the Macdonald-Laurier Institute indicates 80 percent of Canadians think Ottawa should speak out more strongly against China's human rights abuses and defiance of international rules, with 40 percent saying the government should speak up "a lot more."