Majority of New York's Needy Children Miss Out on Free Summer Lunches
May 30, 2014 1:48 pm Last Updated: May 30, 2014 1:48 pm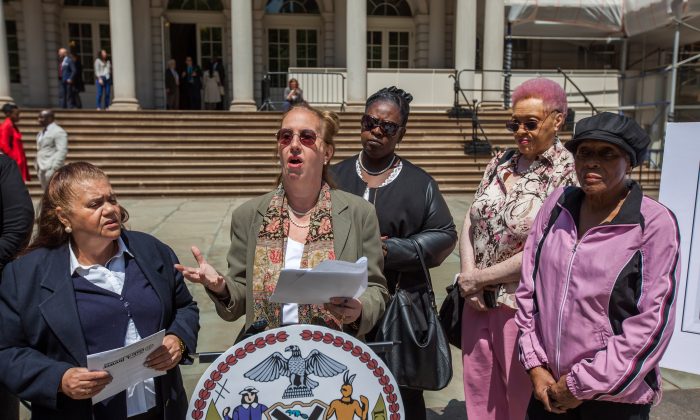 NEW YORK—Thousands of children would be eating for free all summer, if only they knew they could.
Children under age 19 can pick up free breakfasts and lunches under the federally funded Summer Food Service Program. It has been around for almost 30 years, administered by the city's Education Department.
Yet only a third of the city children who may need it eat it, primarily because the rest don't know about it, according to a survey by Food Bank for New York City, a non-profit in hunger relief. Food Bank learned so by asking some 1,200 people standing in lines at soup kitchens and food pantries across the city.
Manhattan Borough President Gale A. Brewer called for better advertising and organization of the program at a Thursday press conference in front of City Hall.
From what she heard on the ground, many would be interested, if informed. "Please tell people about it," she said.
Children can get the food in hundreds of schools, dozens of public housing complexes and public pools. Three trucks drive around the city to distribute the meals too. No documentation or identification is required.
Roadblock
The main roadblock is that the list of pick-up locations is released too late, preventing effective advertising. The program runs between June 27 and August 29, but the list of locations is released usually just a few days before. Last year, it was released June 25, Brewer said.
The administration's response was that the list needs to be complete and accurate to be released. But Brewer didn't buy such an argument. "We get information that is not correct all the time," she said, pointing out the Education Department can update the information continuously on its website.
But Brewer did note that the quality of the food improved in recent years. She said she tasted the food and it was good.
New York City Coalition Against Hunger, an organization representing 1,100 soup kitchens and food pantries in the city, steps in to do outreach for the summer food program, printing tens of thousands of fliers every year. But it can't possibly reach about million school children, its Executive Director Joel Berg said.
Public housing project Amsterdam Houses hosted the program last year, but had to close down for a lack of participants, said Margarita Curet, Resident Association president. This year she has been talking about the program during tenants meetings and found out the majority of families showed interest. "It's a good program. We just have to get the people involved," she said.
By the time of publication the city's Department of Education did not respond to a request for a comment.