Major Reforms Needed to Save Newspapers, says Expert
B.C.'s biggest newspapers latest to face financial woes
April 30, 2013 11:25 pm Last Updated: May 1, 2013 8:25 pm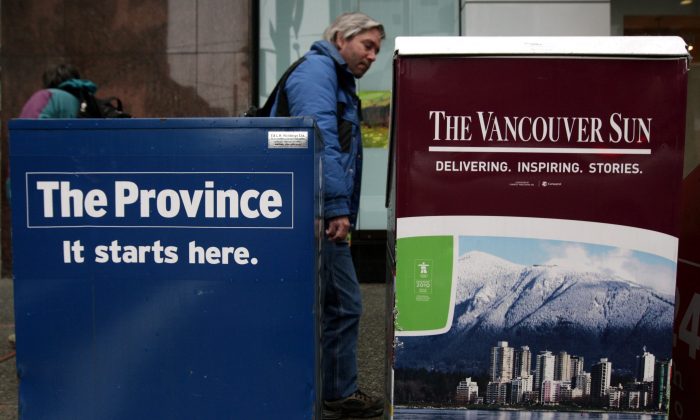 In light of recent revelations that two of B.C.'s biggest newspapers are in financial trouble and facing dramatic cuts, a communications expert says quality journalism in North America may be even further compromised unless news outlets can find a sustainable business model.
Last week Gordon Fisher, the president and publisher of Postmedia's Pacific Newspaper Group, sent a memo to Vancouver Sun and Province employees warning the papers will face a round of voluntary buyouts followed by forced economic layoffs, affecting both senior and junior staff.
The move follows "alarming and unprecedented revenue declines" said the memo, mostly from the loss of print-based advertising. Fisher noted in the memo that print revenue has so far fallen an alarming 16 percent in 2013 alone.
The Toronto Star and Globe and Mail have also announced buyouts in the last month as they try to align costs with revenue. The trend has been consistent across North America for years as media companies rapidly lose their print advertisers to digital alternatives.
"Throughout North America, newspapers are suffering from under-investment and challenges to revenue. Vancouver may be heading the way of many U.S. cities of having only one local daily," says Robert Hackett, communications professor at Simon Fraser University.
"It's questionable whether there is a viable, market-based model in North America for independent and accountability journalism—right now nobody can find a sustainable model that's entirely market-based."
While some newspapers are adopting online only models or paywalls, very few have been financially sustainable either, Hackett says.
For decades, Hackett has researched and written about media activism, political communication, and news analysis. He was the former co-director of NewsWatch Canada, a news media monitoring program based at SFU, and has also co-founded several community-based media action and education initiatives.
Because newspapers continue to be the mainstay of original newsgathering, he says, they fill an essential role that citizen reporting and blogs cannot.
The work of professional journalists needs to have a strong and stable medium in order to thrive as a tool for democracy and informing the public, Hackett notes. Loss of revenue not only threatens the quality of reporting, but also the selection and diversity of stories as they become more suited to the needs of the advertiser rather than that of the public.
More independence in journalism is essential, he says, but that will require public policy supports. "We need public policy supports for independent journalism—public interest-oriented journalism."
Newspapers Still Widely Read
Although experiencing financial problems, newspapers remain an influential information source in Canada; nearly 80 percent of Canadian adults read a daily newspaper each week—14.2 million in print and 6.7 million online, according to figures from the Newspaper Audience Databank Inc.
Hackett has several recommendations that he believes "could help support the kind of independent, newsgathering, and investigative journalism that is so important to democracy and an informed public."
One recommendation is "cross-subsidization within the entire media system, from major media conglomerates that are under-investing in journalism, towards independent and local media."
An example would be using proceeds from the sale of broadcast spectrum frequencies to help finance local broadcast journalism by community journalism co-ops.
He also suggests giving non-profit news organizations charitable status to enable them to receive tax-deductible donations, and encouraging journalism educators to deepen their commitment to public interest journalism.
Restoring funding to CBC and strengthening its political independence, while creating a stronger divide between advertising interests and editorial in private media companies would also be an essential reform, says Hackett.
But any fundamental media reform should start on the ground, driven by a coalition of change makers nationwide that would work to hold media outlets accountable for quality journalism, he notes.
Such a coalition—which could include alternative media producers, students, educators, community leaders, and engaged citizens—would not wait for government or industry to lead reforms.
Some Success in the US
Although newspapers south of the border are generally in even worse financial shape than those in Canada, some have started to rally, according to a February report from the Pew Research Center.
One paper, contrary to a downward industry trend, has enjoyed an increase in overall revenue in both 2011 and 2012, according to the report. Another has seen digital revenues average nearly 50 percent annual growth since 2010. A third has developed a fast-growing revenue stream outside of the core business, while the fourth has seen the growth of digital revenue largely offset print losses.
"These four newspapers offer some hope and valuable lessons for a newspaper industry that has faced enormous economic and technological disruption," report author Mark Jurkowitz, associate director of the Pew Research Center's Project for Excellence in Journalism, said in a press release.
"Our research shows that a few key traits underpin the success at these four newspapers: strong leadership, the ability to change the internal culture, and commitment to improving the editorial product—even with reduced resources."