Mainland Chinese Request Independent Earthquake Relief Distribution Channels
May 18, 2008 12:00 am Last Updated: May 18, 2008 12:00 am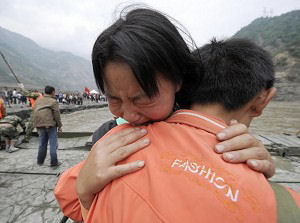 As of the fifth day after the devastating earthquake in China, the victims are still in despair. Daily necessities and medical supplies have reached few of them.
Currently, the Chinese regime started to organize domestic donations; however most people are suspicious of the government monopolized rescue relief management and worry their donations could end up in corrupt officials' pockets. The public is appealing for independent channels to send relief directly to the disaster areas.
Mr. Huang Qi, the owner of mainland human rights watch website "64Tianwang" told the Epoch Times, "The Taiwan charity organization, Tzu Chi Foundation was denied entry to distribute relief on site. Chengdu authorities emphasized that private organizations should respect the government regulations requiring that all relief should be centrally controlled by the government.
Huang also disclosed that one rights activist, Huang Xiaomin, was punished with 14 days detainment for arriving at the earthquake area to distribute relief aid by himself.
Some mainland surfers also complained that relief aid was held by the local regime, thus the supplies did not reach to those that needed it most urgently.
We Need Money—Food and Blankets are Plentiful in the Warehouses
A surfer named Amanda narrated her own experience, "I went to Shenfang and Pengzhou yesterday with a friend from a real estate company. My friend's company planned to donate ten million yuan (approximately US$ 1.43 million). When the government heard about this, the local authority immediately met us at the exit of the highway and held an evening banquet for us. One could not tell a plague has hit the area from their behavior."
"The head of the Civil Affairs Bureau even took out a bottle of Wulianye (a famous brand of Chinese liquor), we were so angered about this we could hardly eat. When they heard that our donation was in goods, they immediately told us that what they needed was money. Food and blankets were already plentiful in the warehouses."
"This is the real situation. The disaster reports that we saw have all been censored, they were all singing praises. When we distributed the food to the victims face to face, we were all sad to see so many of them had nothing to eat or wear, some were still covered with blood."
Mr. Huang Qi in the earthquake area said, "It is very hard for private organizations to deliver relief goods. The only channel is to go through the authorities. No matter how the regime propagandizes its rescue achievement, many people do not trust them because of corruption scandals that happened in past disaster relief dispatching efforts."
Huang also disclosed that many people he knew of expressed clearly they were not going to donate money if it went through official channels.
Professor Sun Wenguang from Shandong University told the Epoch Times, "All government systems have started large scale donation activities in the last two days, some working units even held meetings to force their employees to donate. Some units disclosed to their employees that the target has been set by higher authorities.
Sun also said, "Many wanted to help but were not willing to donate money to the government in fear of its under-the-table operation and the money would not reach the hands of the victims. Many people complain that the authorities monopolized the relief control, and there is no transparent supervision system, but it still restricts independent social efforts to provide help on this matter. Some even initiated boycotts of the officials' fund raising activities.
Mr Huang Qi believes the most important thing is to establish direct channels to the victims.
Renowned Chinese democratic activist Wei Jingsheng suggested, "The only way to solve this problem is to pressure the Chinese regime to open the door for non-government organizations to be involved in the relief work. Just after the earthquake, the regime denied the entry of foreign rescue teams, but [the regime] backed down three days later—no pressure, no change."